2D CAD online tools are usually a good starter for anyone to get down to 2D drawings and designs without any software installation. You can access these web-based services from any device with an internet connection. Better yet, you can start or continue designing whenever an idea pops up in your mind. That also makes it easy for team members to collaborate remotely or in different locations.
Here we bring in the 7 top picks of 2023 including free drawing online options. Now, take your time to check out the features and capabilities of each one and see which one is best suited for your needs.
---
Contents
---
The 7 Best 2D CAD Online Introduced
We'll walk you through the online 2D CAD tools with an in-depth introduction plus pros and cons. Now, let's kick in and get the best pick to start.
Top 1. SmartDraw
SmartDraw is an affordable pick that offers a wide range of diagramming and drawing tools. It enables you to create professional-quality 2D drawings, diagrams, floor plans, schematics, and more without any software. This online 2D CAD tool makes it accessible to both beginners and experienced CAD users. It also works with popular apps like Microsoft Office, Google Workspace, Atlassian apps, etc.
As one of the best CAD software for beginners, SmartDraw provides an extensive library of pre-drawn symbols and templates for every diagram type including flowcharts, UML diagrams, floor plans, org charts, network diagrams, and much more. You can easily get down to your drawing with any of the built-in CAD templates and symbols. This saves time and allows you to create accurate and detailed drawings quickly.
Moreover, it's a piece of cake to make scaled drawings of all kinds. It lets you quickly select a common standard architectural scale, a metric scale, and more. You can also easily change the scale at any time even in the process of drawing. After you've done drawing, you can save it directly to SharePoint, OneDrive, Google Drive, or DropBox. You're allowed to share a link to your design with anyone to work on the same project and get feedback. Simply put, SmartDraw is a multi-functional choice to hit on.
Pros
Cons

Easy to scale and draw for anyone.
Work with many office apps.
Save drawings on the cloud or other cloud services.
Share drawings in PNG/SVG or as a link.
Offer a library of thousands of templates and symbols.

Paid to use.
Have bad performance under dodgy internet.
Top 2. Onshape
Onshape is an innovative cloud-based CAD platform. It is a comprehensive tool designed to simplify the process of creating and documenting 2D engineering drawings online. It lets you create and share fully detailed and dimensioned drawings from anywhere. With Onshape's cloud-based approach, you can access and collaborate on your drawings on any device with a web browser.
You can quickly add dimensions, geometric tolerances, text annotations, and symbols to your drawings. Onshape can automatically infer and align dimensions based on your design intent to simplify the dimensioning process. It intelligently handles linear, angular, and radial dimensions so as to reduce repetitive tasks and save you time. The tool offers a wide range of industry-standard annotation options that conform to ASME Y14.5 and ISO GPS standards. That ensures compliance and accurate documentation.
Onshape also supports photorealistic renderings that enable you to render 2D drawings to 3D blueprints. Therefore, your stakeholders can better understand your product designs in both 2D and 3D. Moreover, it offers rich CAD drawing resources for you to drill down your CAD techniques. Though Onshape has free 2D CAD software, it will store all your data in a public workspace.
Pros
Cons

Send a link or create a mobile QR code for sharing.
Formulate BOM tables or linked information.
Support photorealistic renderings.
Offer tech tips and courses.

Store data in a public workspace for free.
Very expensive to use.
Not good for beginners.
Top 3. Cedreo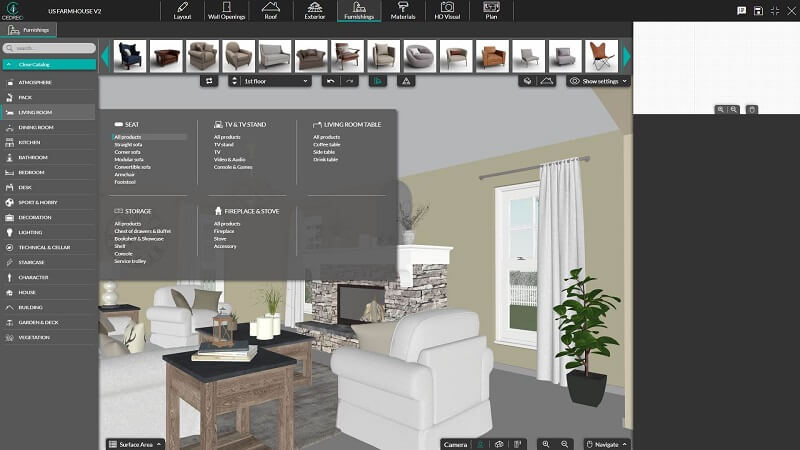 Cedreo is an online drafting tool for home design in 2D and 3D. It enables you to design a site plan, floor plan, roof plan, elevation plan, cross-section plan, terrain modeling, and all types of surface areas.
You can quickly draw a plan from scratch on your own or directly import an existing 2D plan in JPG/PNG. This online 2D CAD tool also offers a range of predefined templates for common architectural layouts such as houses, apartments, offices, and retail spaces. You can quickly generate basic plans that can be customized to meet specific project needs.
Moreover, you can resize and rescale the layouts of your design. Meanwhile, add interior measurements to make it more clearly. After that, you can turn your plan into 3D with just one click and save it as a template to quickly modify it for each new client. If you're a professional home builder, remodeler, or interior designer, Cedreo can be a free online CAD drawing 2D tool to get started. Its free edition allows you to create one project with 5 renderings chances.
Pros
Cons

Customize 2D dimensions.
One-click to render 2D drawing to 3D.
Allow color coding for the design.
Easy to create surface area tables.
Import existing plans to modify.

Offer a free trial for one project.
Only suitable for home design.
Top 4. ARES Cloud CAD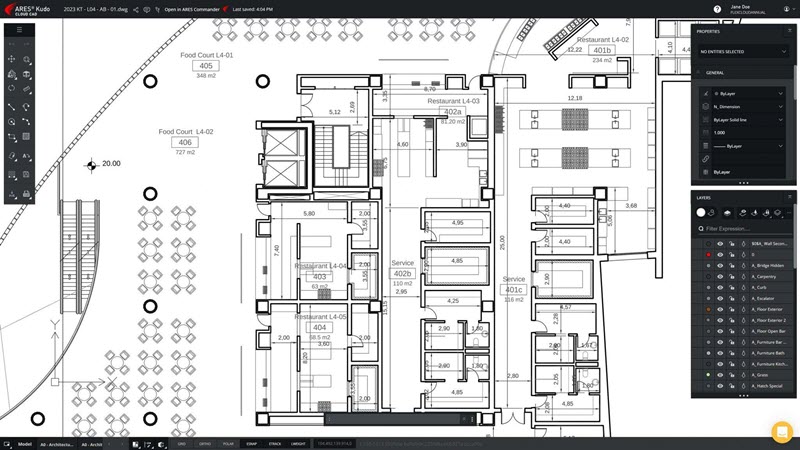 ARES Cloud CAD is a cloud-based service that enables you to create, modify, and store DWG files on any browser. It also works with various cloud storage services including Box, Dropbox, Google Drive, OneDrive, and OneDrive for Business or industry-specific ones such as Onshape or Trimble Connect. Thus, you can save your DWG files to these cloud storage services or open DWG files from these sources.
This online drawing tool leverages cloud storage to securely store and manage your design files. That eliminates the risk of data loss and allows you to access your drawings from any device at any time. Also, it offers a rich set of CAD tools and functionalities that empower designers and engineers to create precise and complex drawings. You can create 2D drawings & 3D models, annotate designs, manage layers, and perform advanced editing operations, all within an intuitive and user-friendly interface.
ARES furthermore takes collaboration to the next level by enabling real-time collaboration among team members. Multiple users can work simultaneously on the same drawing, making it ideal for design reviews, project coordination, and remote teamwork. With ARES Cloud CAD, you can create, edit, and share your CAD drawings effortlessly.
Pros
Cons

Access it on any operating system.
Compatible with a range of cloud storage services.
Enable seamless collaboration.

Only support modifying DWG files online.
Top 5. AutoCAD Web
AutoCAD also offers an online 2D CAD service that allows designers to quickly create, view, edit, and share designs from anywhere. With AutoCAD Web, you can access the robust capabilities of AutoCAD, a leading CAD software, directly from your web browser. AutoCAD Web integrates with Autodesk's cloud storage service which allows you to save and access your design files securely.
AutoCAD Web provides a user-friendly interface that is similar to the widely-used AutoCAD desktop software. Whether you are a seasoned professional or new to CAD, you can easily navigate the tools, commands, and menus to create and edit your designs efficiently. The familiar interface enables a smooth transition for existing AutoCAD users.
It also offers a wide range of powerful design tools that enable precise and accurate drafting. With features like drawing and editing tools, layers, dimensions, and annotations, you have everything you need to create detailed and professional drawings. AutoCAD Web facilitates seamless collaboration between team members and stakeholders. You can invite others to view or edit your designs, making it easy to review, comment, and iterate on projects in real-time.
Pros
Cons

Integrate with its cloud service.
Work with Microsoft OneDrive, Box, Dropbox, or Google Drive.
Offer excellent features as the desktop software.
Allow smooth collaborative workflows.

Only support DWG files.
Complicated for beginners.
Top 6. RoomSketcher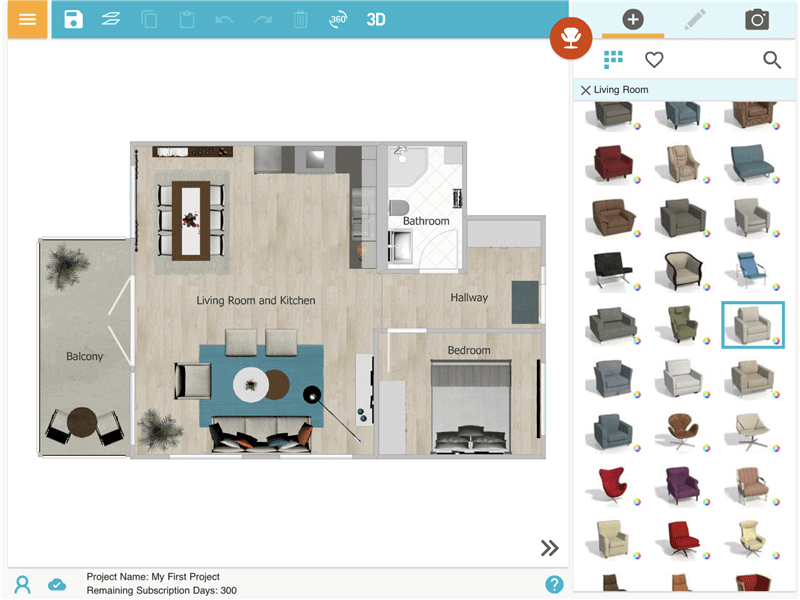 RoomSketcher is an excellent online platform for interior designers and home designers at a totally affordable price. Moreover, it has a free 2D online trial available for newcomers. It lets you create professional 2D and 3D designs for floor plans, site plans, house plans, home designs, etc. It also works as a planner that enables you to decorate your bathroom, kitchen, room, office, bedroom, and so on with its virtual library.
It provides an extensive library of objects, including furniture, decor, appliances, and architectural elements. With a wide range of options at your fingertips, you can easily furnish and decorate your plans to achieve a realistic representation of your design vision. RoomSketcher's measurement tools allow you to input measurements directly to ensure that your plans are accurately scaled to real-world dimensions.
It offers compelling 3D visualization capabilities that allow you to view your floor plans and designs from different angles and perspectives. This immersive feature enables you to visualize your designs in a realistic manner. Whether you're an interior designer, homeowner, or real estate professional, RoomSketcher offers a user-friendly and comprehensive toolkit to bring your design ideas to life.
Pros
Cons

Affordable to use.
Offer an extensive library.
Ensure precise measurements and scaling.
Download plans in JPG, PNG, and PDF formats.
Convert 2D plans to 3D rendering in one click.

Only work for home designs.
Top 7. FloorPlanner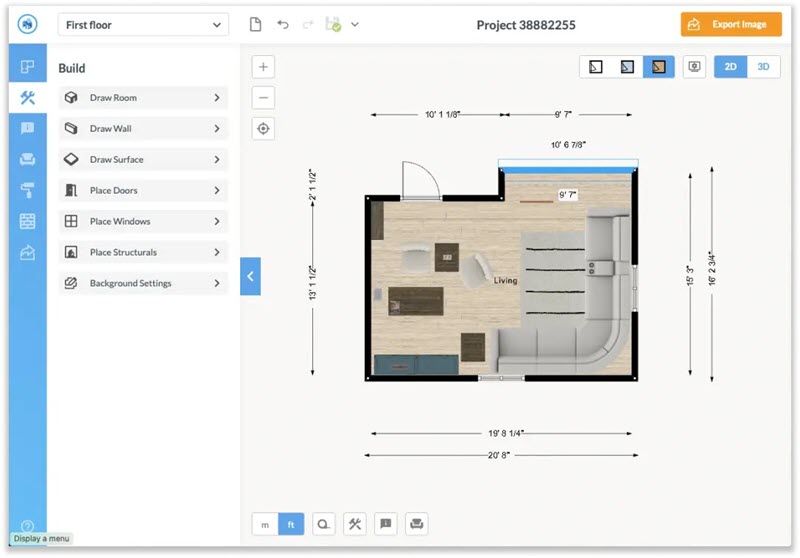 FloorPlanner is a free online 2D CAD service that is dedicated to designing floor plans. It's enough for casual use and allows for paid upgrades with credits. It offers powerful 2D and 3D floor planning tools to bring your design ideas to life. You can easily resize and shape rooms, add walls, doors, windows, and stairs, and even adjust ceiling heights to customize every aspect of your rooms.
It boasts a user-friendly interface that allows both professionals and homeowners to easily navigate and utilize its tools and features. The platform's intuitive design ensures a seamless and enjoyable floor planning experience, even for those with limited design or technical knowledge. It gives you a realistic preview of your designs and view your floor plans from different angles and perspectives in stunning detail.
It offers an extensive library of over 260,000 3D models, including furniture, decor, appliances, and architectural elements. This allows you to furnish and decorate your floor plans with ease. With a wide variety of objects to choose from, you can create realistic and detailed representations of your designs. Whether you're an architect, interior designer, real estate professional, or a homeowner, Floorplanner provides an intuitive and comprehensive solution for creating stunning floor plans.
Pros
Cons

Easy to learn for children and beginners.
Provide a vast and diverse library.
Offer flexible plans and pricing.

Only support floor plan designs.
Try the Best 2D CAD Software for Free: Advanced Features Provided
Online 2D CAD tools are no doubt a handy helper if you're looking for a more accessible way to catch every design idea. However, they not only come with limited functionality but also cannot ensure seamless performance at a fast speed. What's more, you cannot use such tools without the internet. In addition, some of them also only support the DWG file format. Therefore, professional desktop 2D CAD software is preferable.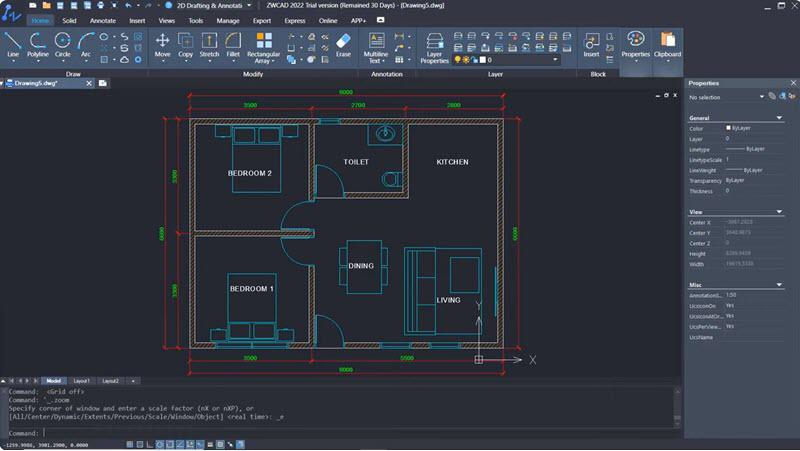 ZWCAD is a fully-fledged CAD solution for 2D drawing and 3D modeling that enjoys great royalty. It enables you to streamline your design process and is suitable for all industries. Compared to online tools, it's compatible with more CAD file formats like DWG, DXF, DWT, etc. If you already started a design project online, you can export it to such formats and then work seamlessly with ZWCAD.
Thanks to a familiar interface, commands, and aliases, it's a breeze for anyone to get started with ZWCAD. Apart from a robust set of 2D and 3D tools, it comes with useful and smart features like Smart Plot to plot several drawings at a time without opening them, Smart Select to choose multiple objects in an intricate design, and Smart Voice to annotate with voice messages.
Meanwhile, it also allows you to store your designs in the cloud and access them on its mobile app at any time. As a first-rate CAD program, ZWCAD outperforms AutoCAD at a 1.7x faster rate with its state-of-the-art hardware acceleration. To ensure a fast and seamless design process with powerful features, ZWCAD is an optimal CAD tool for both beginners and professionals.
FAQs About 2D CAD Online Tool
What Is the Easiest Online 2D Cad Software to Use?
If you never used an online 2D CAD tool before, you may consider beginning with FloorPlanner or SmartDraw. FloorPlanner is free to use with an intuitive interface and provides a vast library of over 260,000 models to get started. On the other hand, SmartDraw lets you start from built-in CAD templates and symbols along with more advanced scaling features.
Is There a Free Online Version of AutoCAD?
No. AutoCAD Web is available for subscription only. It charges $10 per month or $100 per year according to your preference. Also, please note that you have to pay additionally for its desktop software even if you pay for the AutoCAD web.
Conclusion
| | | | | | |
| --- | --- | --- | --- | --- | --- |
| | Type | Best for | Ease of Use | Platforms | Price |
| SmartDraw | 2D | Anyone | Easy | Online | $9.95/month |
| Onshape | 2D | Professionals | Difficult | Online | $1,500/year |
| Cedreo | 2D & 3D | Home Designer | Medium | Online | $40.83/month |
| ARES | 2D | Professionals | Difficult | Online, Windows, macOS, and Linux | $120/year |
| AutoCAD Web | 2D | Professionals | Difficult | Online, Windows, macOS, and Linux | $100/year |
| RoomSketcher | 2D & 3D | Home Designer | Easy | Online, Windows | $24/year |
| FloorPlanner | 2D & 3D | Home Designer | Easy | Online | Use credits |
| ZWCAD | 2D & 3D | Anyone | Easiest | Windows, Linux | Subscription starts at $322/year; Perpetual purchase starts at $899 |
As the comparison table shows, you may opt for the best 2D CAD online tool according to the level of your CAD skill. If you're a beginner, you might as well give it a shot at SmartDraw. If you're interested in home designs, go for FloorPlanner. If you want to work seamlessly on both mobile and desktop, ZWCAD is a professional CAD solution with an intuitive interface and smart features.