Professional CAD tools like AutoCAD boast powerful features, but they often come with a high price tag that isn't within everyone's reach. This is where free 2D CAD software steps in. Whether you're a beginner looking to dip your toes into the world of design, a student, or a professional seeking cost-effective alternatives for home projects, the realm of free 2D CAD software offers a welcoming refuge.
This article embarks on a journey through the 7 best options available, tailor-made for both beginners looking to refine their skills and professionals who are unwilling to alter their workflow, yet no longer wish to bear the burden of a hefty price tag. We've extensively tested these 7 programs in terms of basic features, highlights, compatibility with various operating systems, supported file formats, and more, providing you with a comprehensive review. Check them out!
---
Read Also: How to Convert DXF to PDF for Free (A Complete Guide)
---
Top 1. ZWCAD
Operating Systems: Windows, Linux
Supported File Formats: DWG, DXF, DWT, SAT, STL, PDF, IFC, JPG, PNG, etc.
Best for: Any industry and students
Developed by ZWSOFT, ZWCAD is the best free 2D CAD software offering powerful 2D CAD and 3D CAD solutions to help you create exceptional works for free. It aims to provide advanced design tools and features for professionals in various industries such as designers, engineers, architects, educators, and more.
This software supports a wide array of file formats, including DWG, DXF, DWT and so on. This means that drawings created in software like AutoCAD can seamlessly be opened, edited, and modified in ZWCAD. Designed to be user-friendly, ZWCAD ensures a quick and smooth initiation for users. Additionally, this program takes full advantage of multi-core CPUs to deliver a seamless experience from start to finish, because efficient software should never keep you waiting.
However, unlike other free software, ZWCAD only allows users to use it for free for 30 days with no limitations during this period. After the trial, you can choose to subscribe annually or make a one-time purchase for permanent use.
 Key Features:
Smart Plot: This feature allows you to plot all sheets into a PDF at once, so you don't need to combine them later on. Moreover, it can also generate JPG and PNG or send the output directly to your printer plotter with a single click.
Smart Mouse: You can set up your own gestures and personalize the commands you use most frequently, so that tasks can be completed without constant keyboard inputs.
Smart Select: You can easily and accurately select specific objects or groups of objects based on various criteria such as color, layer, type, or property. When you're working on a complex project, this feature saves you time and effort while maintaining precise selection.
Smart Voice: The Smart Voice feature lets you easily record your voice as an annotation for the entire drawing or a specific region, saving you time and keeping your workspace organized.
Area Table: With one click, it can not only calculate the area and provide error-free and rescue results but also allow you to export the data in the form of an Excel sheet, so you don't have to manually place area statements, create separate tables, or enter data sheets for each polyline.
File Compare: This file comparison feature can find out the changes between two objects in a short time and utilize intuitive highlighting to visually represent modifications, so you can identify differences between drawings accurately.
Top 2. DraftSight
Operating Systems: Windows, Mac
Supported File Formats: DWG, DXF, DWF, SVG, and more.
Best for:  Basic 2D drafting and simple 3D design.
DraftSight, our second pick, is professional-grade 2D CAD software developed by Dassault Systèmes. It is designed for creating, editing, and viewing DWG and DXF files, DraftSight offers a comprehensive collection of tools for essential 2D design and drafting requirements, encompassing editing, design, and automation functionalities for engineers and architects. Additionally, this program provides sufficient architectural elements and libraries, making it easier to quickly incorporate standard architectural components into designs.
It offers a 30-day free trial period, providing a taste of its impressive capabilities before committing to a full license. During the trial period, you gain access to a range of tools and functions such as 2D drawing and documentation, 2D constraints, and 3D modeling capabilities. Overall, it's one of the best architectural CAD software.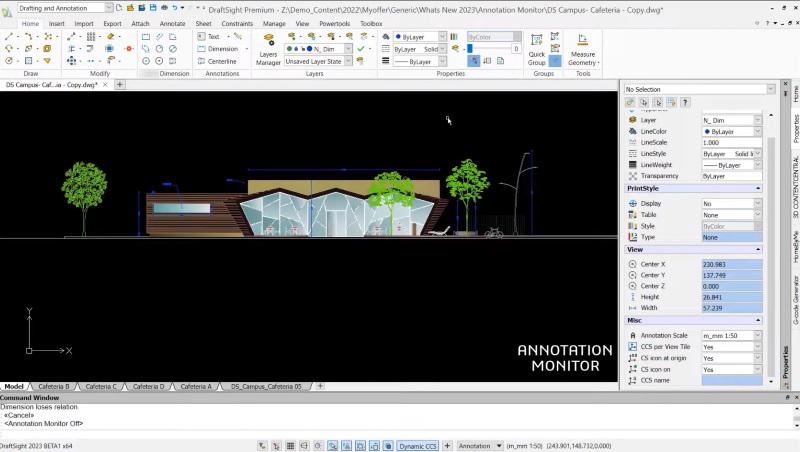 Key Features:
Data Extraction Wizard: The data extraction feature allows you to extract selected entities and blocks within the drawing, save the data in Excel or CSV format, and streamline the design process.
Layer Management: DraftShift can save your print configurations within the drawing or drawing templates in the page layout, saving you time when adjusting print settings.
Contextual Ribbon Tab: This feature optimizes the design workflow and provides a maximized viewing and working area. You can also set up relevant options and related commands for creation and modification in the ribbon tab, ensuring that you see only what you need to speed up your design.
Cycling Selection: Cycling Selection is a new tool that declutters overlapping entities and streamlines the design workflow. You can choose from the dialog box and easily select the highlighted object among the overlapping entities.
Top 3. LibreCAD
Operating Systems: Windows, Mac, Linux
Supported File Formats: DXF, LFF, CXF, and more.
Best for: Beginners
LibreCAD is a free 2D drafting software that offers essential features for creating basic drawings and designs using a variety of tools. Being an open-source 2D CAD program, there are no trials, subscriptions, licensing costs, or annual fees to worry about.
One notable aspect of LibreCAD is its simplicity, making it an excellent choice for newcomers to CAD who want to grasp the fundamentals. While it may lack some of the advanced functionalities found in other software, its straightforward approach ensures a smooth learning curve for users looking to develop their skills.
LibreCAD has a vibrant user community that has brought together programmers, writers, testers, and translators from around the world. This allows users to ask questions, share tips, and work together to improve the software. That's why it's considered one of the best free CAD software for beginners.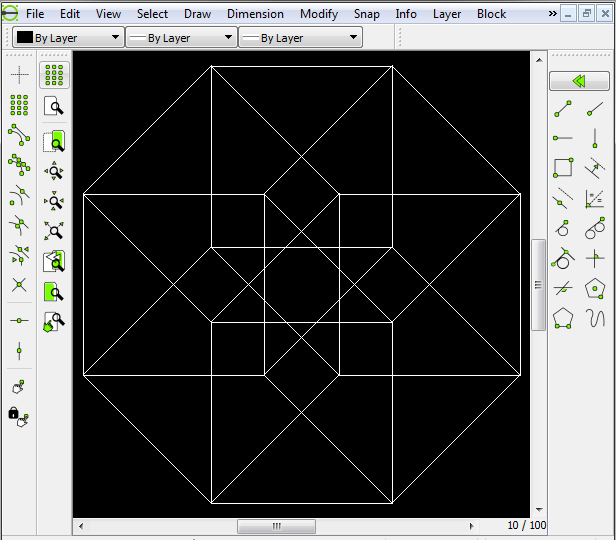 Key Features:
Open Source: LibreCAD is an open-source software, meaning it's free to use and copy and its source code is accessible to the public.
No Language Barriers: It's available in over 30 languages with cross-platform.
Customization: You can tailor the software to your preferred workflow through themes and plugins.
Support for DXF and DWG: LibreCAD supports both the DXF (Drawing Exchange Format) and DWG (AutoCAD's native format) file formats, making it compatible with other CAD software.
Layer Management: It offers the ability to manage layers, which helps in organizing complex drawings and designs.
Extensible with Plugins: The software allows users to extend its functionality through plugins, enabling them to add features according to their needs.
Top 4. QCAD
Operating Systems: Windows, Mac, Linux
Supported File Formats: DXF, DWG, DWF, DGN, PDF and more.
Best for: Floor plan designers
For those who focus on floor plans and architectural layouts, the free 2D CAD program QCAD offers a tailored experience. It allows you to create technical drawings such as building plans, interior layouts, mechanical parts, or schematics and diagrams. Its feature set is tailored to the precise needs of floor plan design.
What makes QCAD so attractive is its intuitive user interface. With a specific focus on this niche, QCAD provides tools that streamline the process of creating intricate architectural designs, making it an indispensable free floor plan tool for architects and interior designers. Even if you don't have any CAD experience, you can get started right away.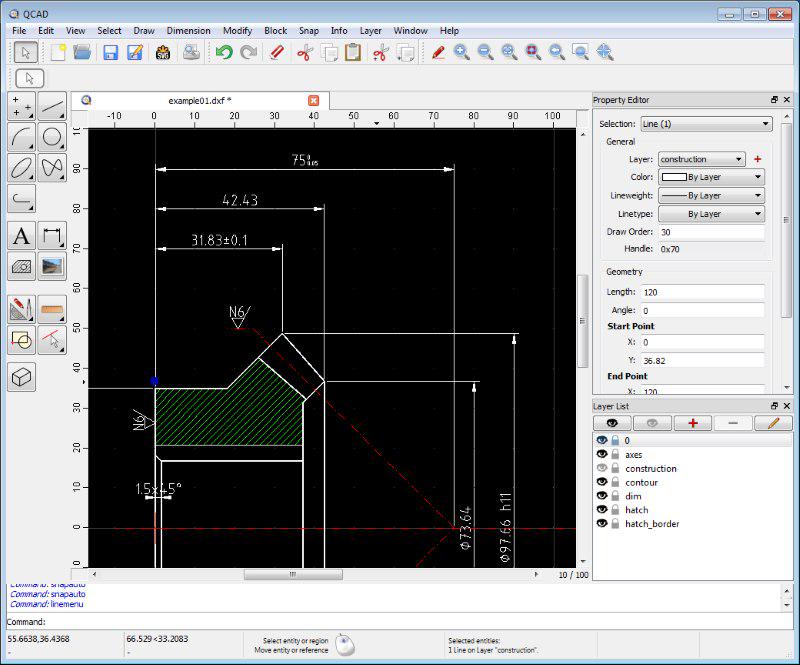 Key Features:
Entity Editing and Manipulation: Users can easily edit and manipulate entities, with options for moving, rotating, mirroring, trimming, and more.
Block and Reference Support: The software offers support for creating and using blocks (symbols) and external references, streamlining the design process and enhancing reusability
Dimensioning and Annotation: QCAD provides tools for adding accurate dimensions, annotations, text, and labels to your drawings.
Printing and Plotting: QCAD includes printing and plotting capabilities, allowing you to generate physical copies of your drawings.
Modular Design: The modular architecture of QCAD enables additional functionality to be added through plugins, enhancing its capabilities as needed.
Geometric Construction Tools: QCAD offers various tools for constructing complex geometric shapes, curves, lines, arcs, and circles.
Top 5. ARES CAD
Operating Systems: Windows, Mac, Linux
Supported File Formats: DWG, DXF, PDF, and more.
Best for: Designers who need cross-device or platform operation
ARES CAD is a dependable tool for creating and editing both 2D and 3D technical drawings, with a legacy spanning over 40 years. It serves as feature-rich yet simple 2D drawing software, offering unparalleled compatibility with AutoCAD and similar programs. This means you can effortlessly read, modify, and save your work directly in DWG format, thanks to its intuitively familiar user interface.
Furthermore, this software's versatility extends to its seamless compatibility with various industry-standard file formats. It goes beyond allowing the importation of Revit and IFC files, streamlining the production of drawings for BIM projects.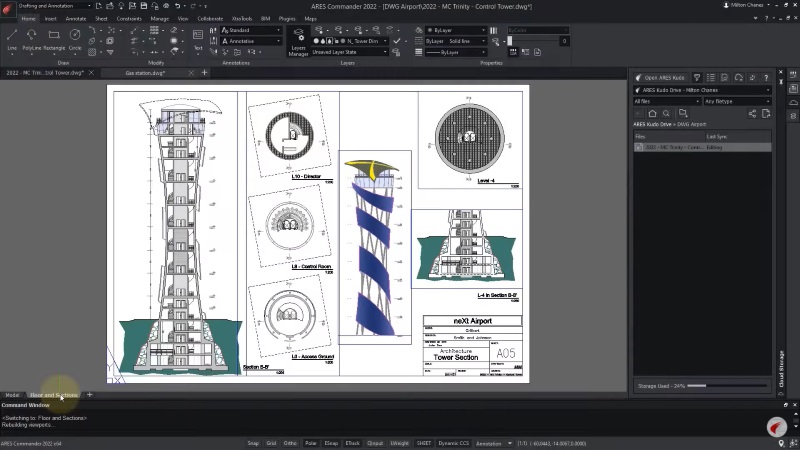 Key Features:
Tool Palettes: It features a tool palette that combines ready-to-use blocks and preconfigured entities. You can import tool palettes previously created with AutoCAD and retain your customized tools and data for frequent use in similar projects.
Ribbon UI: No matter if your computer is running on Windows, Mac, or Linux operating systems, contextual ribbons, such as accessing tools without hidden levels or easily recalling commands with icons, can be enjoyed on all three platforms.
Cloud Storage Palette: With ARES CAD, you can work both locally, and with files stored in the cloud to keep modifications synchronized. This feature is valuable and enhances collaboration with remote team members.
ARES Trinity: Collaborating with ARES Trinity allows you to receive email notifications when your customer comments on your drawing. You can even zoom in on the related entities. ARES CAD embraces cloud and mobile technologies across devices and platforms, making it an industry-first for CAD software.
Top 6. FreeCAD
Operating Systems: Windows, Mac, Linux
Supported File Formats: STEP, IGES, STL, DXF, and more.
Best for: Those needing both 2D and 3D capabilities
As free 2D CAD software, FreeCAD stands out as an excellent choice for people looking for a comprehensive solution that seamlessly bridges the gap between 2D and 3D design. As its name suggests, FreeCAD is free and open-source software, making it accessible to everyone. Its primary purpose is to design real-world objects of any scale. In addition, FreeCAD allows you to create geometric 2D shapes that can be used as the basis for constructing more complex objects.
Its extensive feature set makes it a valuable tool for professionals who need the flexibility to work seamlessly in both dimensions. FreeCAD addresses a wide range of design needs, including product design, mechanical engineering, and architecture. While it's not exclusively focused on 2D drafting, it serves as an excellent starting point for learning the basics or completing projects when working within budget constraints.
Key Features:
Solid-based Geometry Kernel: It supports solids, Boundary Representation (BRep) objects, as well as Non-uniform Rational B-spline (NURBS) surfaces and curves. You can use the tools it provides for creating and modifying these entities.
File Format Versatility: FreeCAD offers the flexibility to import and export models and various other types of data to a wide range of file formats. These formats include STEP, IGES, OBJ, STL, DWG, DXF, SVG, SHP, DAE, IFC, OFF, NASTRAN, VRML, OpenSCAD CSG, and many others.
Top 7. Solid Edge 2D Drafting
Operating Systems: Windows
Supported File Formats: DXF, DWG, and more.
Best for: Individuals who need to integrate Python into their workflow
Solid Edge 2D Drafting is free 2d drafting software in Solid Edge's portfolio, which is a well-known 3D parametric CAD program by Siemens. It stands out for its integration capabilities, particularly for those who use Python scripting in their design process. With easy-to-use tools, Solid Edge 2D Drafting offers everything you need, such as simple drawing layout, diagramming, annotation, and dimensioning controls.
If you are seeking a free alternative to AutoCAD, Solid Edge 2D Drafting is your ideal choice. This program offers a familiar user interface and boasts strong compatibility with AutoCAD. It allows for the seamless import and export of AutoCAD files, enabling you to work in Solid Edge while maintaining effective communication with clients or team members using AutoCAD.
 Key Features:
Enhanced DWG Import Control: It allows you to start a drawing from scratch or import existing DWG files. You can also preview the drawing, including individual layers, and adjust settings like background color, drawing size, line type, font, and more.
Streamlined Accessibility: It offers multiple ways to access commands. So, you can use a familiar ribbon toolbar, a straightforward text search, and a customizable radial menu for quick access to your favorite tools.
Flexible Output Formats for Cross-Platform Collaboration: You can save your files in either Solid Edge or DWG format, allowing for seamless collaboration with customers, colleagues, and associates. This flexibility ensures that your 2D CAD files can be easily opened in nearly any 3D CAD software.
Benefits of 2D CAD Drawing Compared to Manual Drawing
2D CAD drawings offer several advantages over manual drawings:
Efficiency and Speed: Creating drawings using 2D CAD software is significantly faster compared to manual methods. CAD tools allow for quick editing, copying, and duplication of elements, resulting in a more efficient design process.
Accuracy: 2D CAD tools ensure precise measurements and consistent scaling, reducing the risk of errors that might occur in manual drawings due to human inaccuracies.
Layer Management: CAD software lets you work with different layers, making it simpler to organize, hide, or display specific parts of the drawing. This enhances clarity and ease of understanding.
Archiving and Documentation: Digital CAD files are easy to store, retrieve, and archive. They also take up less physical space compared to manual drawings, which might degrade over time.
Additionally, 2D CAD drawings are easy to modify, allowing elements to be moved, resized, or deleted with changes automatically updating related parts of the drawing to maintain accuracy. When working in a team environment, 2D CAD drawings are more convenient because everyone can work on the same file at the same time, and changes can be tracked and merged effectively.
In summary, 2D CAD drawings offer increased efficiency, accuracy, and flexibility compared to traditional manual drawing methods, making them the preferred choice for design and documentation in a variety of industries.
FAQs About the Best Free 2D CAD Software​
How Do Free 2D CAD Software Differ from Paid Alternatives?​
Free 2D CAD tools often provide basic drawing and editing functionalities. They might lack integration with industry-specific software or workflows, limiting their suitability for professional contexts. Also, updates for free tools can be less frequent or might depend on community contributions. And bugs and issues might take longer to be addressed. On the other hand, paid software not only offers more comprehensive and user-friendly features but also undergoes regular maintenance to optimize the software, making it a worthwhile investment.
Some paid options such as ZWCAD offer unrestricted trial versions. If you still prefer to use free software or you're working on complex projects, you may want to give them a try.
Does Free 2D CAD Software Support Multiple File Formats?​
Yes, many free 2D CAD software options do support multiple file formats. However, the extent of format support can vary depending on the specific software. Before selecting a free 2D CAD program, it's recommended to review its documentation or feature list to determine the range of file formats it can handle. This ensures that the software aligns with your needs for importing, exporting, and collaborating with different file formats commonly used in CAD and design workflows.
Conclusion​
In conclusion, these top 7 free 2D CAD software options provide a diverse range of features and functionalities, catering to the needs of beginners, professionals, and niche industries. Whether you're seeking a straightforward introduction to CAD, specialized tools for creating floor plans, industry-specific capabilities, integration with 3D design, or scripting capabilities, there's a software option that suits your unique requirements.