In the past, designers and engineers relied on various drawing tools to manually create design blueprints. This process was not only labor-intensive but also hindered collaboration across different geographic locations. Fortunately, the advent of CAD technology changed the game. Today, CAD has become indispensable in various fields, ranging from architecture and engineering to animation and gaming. It not only enhances precision and accuracy in design but also significantly expedites the design process. Moreover, CAD empowers the creation of intricate 3D models, adding a new dimension to visualization.
At the forefront of CAD tools stands AutoCAD, a software known for its versatility and robust capabilities. Its application spans vast and diverse fields, from architectural marvels to product innovations. But what makes AutoCAD the go-to choice for professionals and enthusiasts alike? In the following pages, we embark on a comprehensive AutoCAD review, dissecting AutoCAD's features, pros, and cons, pricing models, and its worthiness. Keep reading and check them out!
Content
Overview of AutoCAD: What Is AutoCAD Used for?
Before we dive into the AutoCAD review, let's first address the question: What is AutoCAD? What is it used for? AutoCAD is a versatile and robust computer-aided design software, developed and marketed by Autodesk, Inc., and available since 1982. It offers a comprehensive set of tools for creating, editing, and documenting 2D and 3D designs, which enable architects, engineers, and designers to produce precise and detailed drawings, schematics, and models.
AutoCAD's fundamental features include drawing and editing tools, layer management, dimensioning, and annotation. It has revolutionized the way we design, engineer, and create in various industries. Now, this software is extensively utilized in fields such as architecture, mechanical engineering, civil engineering, interior design, and more, playing a pivotal role in designing everything from buildings and infrastructure to mechanical parts and electronic circuits. With AutoCAD, professionals can streamline the design process, enhance accuracy, and improve collaboration.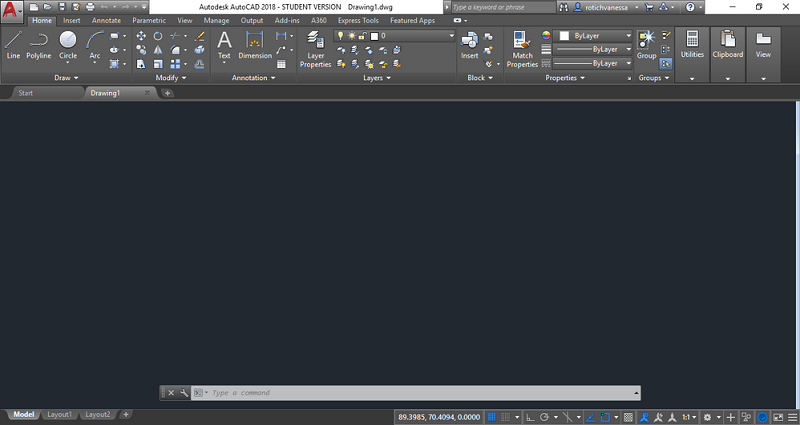 AutoCAD Review: Pros and Cons
Given AutoCAD's esteemed reputation within various industries, it's vital to examine both its pros and cons. Compared to many other CAD software, AutoCAD is known for its exceptional professionalism, allowing users to draw as though using pen and paper. Moreover, its 3D capabilities enable the transformation of imaginative concepts into realistic renderings. However, it's important to acknowledge that AutoCAD is not without its drawbacks. Only through a comprehensive understanding of both its strengths and weaknesses can you make an objective assessment of whether this software aligns with your specific needs.
Pros:
Comprehensive toolset for design and drafting.
Precision in 2D and 3D modeling.
Save time and improve design efficiency.
High customization options.
It is easy to upload the designed data and share them.
Cross-platform compatibility.
Integration with third-party applications.
Cons:
Complexity and overwhelming.
Steeper learning curve.
High price tags for individual users or small businesses with limited budgets.
Resource-intensive, causing slower performance on older systems.
AutoCAD Review: Great Features of AutoCAD
AutoCAD is celebrated for its exceptional set of features that cater to the diverse needs of design professionals. Now, let's delve into these features individually to gain a comprehensive understanding of what makes AutoCAD a powerhouse in the world of CAD.
Sufficient Toolsets
AutoCAD offers a comprehensive suite of tools designed to facilitate the precise creation, editing, and management of your drawings. It grants you access to extensive libraries featuring over 750,000 symbols, parts, and detail components Beyond fundamental drawing tools like lines, circles, rectangles, and polylines, what truly stands out in AutoCAD are its specific toolsets tailored to various industries. These include architecture, mechanical design, electrical, and plan 3D, among others. With those toolsets, you can find precisely the tools that align with your specific industry requirements.
For instance, in the architecture toolset, you'll discover an impressive collection of over 8,800 architectural components, including multilevel blocks. It can swiftly generate a range of architectural elements such as floor plans, elevations, sections, and ceiling grids, significantly reducing the time and effort required for your design projects.
2D Drafting and 3D Modeling
AutoCAD is a comprehensive software package that seamlessly integrates both 2D and 3D functionality. In its 2D mode, users can utilize its tools, such as lines, arcs, and circles, to create detailed 2D drawings, including floor plans, layouts, and orthographic views. What's more, AutoCAD excels in dimensioning and annotation, making it easy to add measurements, text, and labels to drawings.
Switching to the 3D mode, there are several types of 3D modeling available in AutoCAD, namely 3D wireframe, 3D solid, 3D surface, and 3D mesh. With these options, you can craft intricate 3D models, and designs, and even render lifelike visualizations of your projects. The software offers a range of 3D modeling tools, including extrude, revolve, loft, and sweep. Plus, you can manipulate objects in 3D space, and apply materials and textures to your designs.
One of AutoCAD's key strengths is its seamless transition between 2D and 3D modes, allowing designers to effortlessly move from flat 2D drawings to richly detailed 3D models. This flexibility is invaluable, making AutoCAD a preferred choice for professionals in various industries where the ability to work in both 2D and 3D is essential.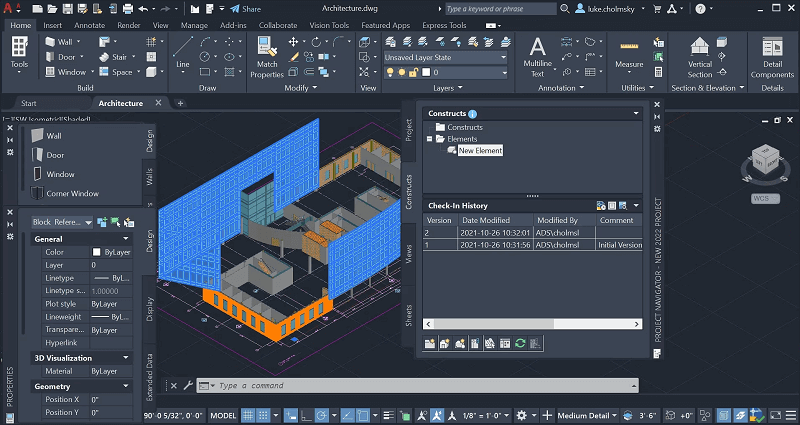 Customization
Customization within AutoCAD, a key feature across all its products, including AutoCAD LT, is a fundamental aspect of the software's adaptability. It empowers users to craft a tailored workspace that not only enhances productivity but also enables them to work more efficiently on a diverse array of design projects.
AutoCAD provides a wide range of customization options to suit individual needs. You can make general customizations, such as altering the default directory structure for the program and support files to better align with your specific requirements. Furthermore, AutoCAD allows the creation of custom user commands, enabling users to define their commands or shortcuts for frequently used actions.
In terms of the software's interface, users have the freedom to personalize it to match their specific workflow. This includes the rearrangement of tool palettes, the creation of custom toolbars, and the organization of panels to ensure that frequently used tools are easily accessible.
For those with programming skills, AutoCAD offers the capability to create custom routines and automate repetitive tasks using AutoLISP. This feature serves as a valuable tool for streamlining complex operations, reducing errors, and enhancing efficiency.
Various File Formats Supported
AutoCAD's versatility extends to its robust support for a wide range of CAD file formats, ensuring compatibility with other CAD software and simplifying collaboration across diverse design projects.
Import:
| | |
| --- | --- |
| 3D Studio (*.3ds) | Parasolid (*.x_t) |
| ACIS (*.sat) | PDF (*.pdf) |
| Autodesk Inventor (*.ipt), (*.iam) | Pro/ENGINEER (*.prt*; *.asm*) |
| CATIA V4 (*.model; *.session; *.exp; *.dlv3) | Pro/ENGINEER Granite (*.g) |
| CATIA V5 (*.CATPart; *.CATProduct) | Pro/ENGINEER Neutral (*.neu) |
| DGN (*.dgn) | Rhino (*.3dm) |
| DXB (*.dxb) | SolidWorks (*.prt; *.sldprt; *.asm; *.sldasm) |
| IGES (*.iges; *.igs) | Metafile (*.wmf) |
| JT (*.ij) | STEP (*.ste; *.stp; *.step) |
| Parasolid (*.x_b) | |
Export:
| | |
| --- | --- |
| 3D DWF (*.dwf) 3D DWFx (*.dwfx) | IGES (*.iges; *.igs) |
| ACIS (*.sat) | Lithography (*.stl) |
| Bitmap (*.bmp) | Metafile (*.wmf) |
| Block (*.dwg) | V7 DGN (*.dgn) |
| DXX Extract (*.dxx) | V8 DGN (*.dgn) |
| Encapsulated PS (*.eps) | |
It's important to note that the support for certain file formats mentioned above may not be available in AutoCAD LT and AutoCAD for Mac. So, if you're a user of AutoCAD LT or AutoCAD for Mac, you should check the specific file format support to ensure compatibility with your design needs.
Multiple Platforms Supported
AutoCAD has long been a staple on Windows-based systems, offering a familiar and robust environment for users. This platform provides access to the complete suite of AutoCAD features and tools, making it a top choice for many design professionals.
In response to the growing Mac user base, AutoCAD has also developed a dedicated version for Mac users. While AutoCAD for Mac provides a native and seamless experience on Apple's macOS, it may not offer every feature available in the Windows version of AutoCAD. Some specialized tools and functionalities found in the Windows version may be limited or absent in the Mac version. Plus, some third-party plugins and extensions as well as import file formats may not be available or fully compatible with the Mac version.
Aside from the desktop versions, AutoCAD also comes with a web-based version, known as AutoCAD Web. This allows users to access and work on their design projects directly from a web browser. While AutoCAD Web provides essential drawing and editing tools, its feature sets are limited. What's more, its performance may not match that of the desktop versions, especially when handling large or complex drawings.
AutoCAD also provides mobile apps for iOS and Android devices. These applications are designed for viewing and basic editing of drawings while on the move. However, AutoCAD's mobile support is limited. The smaller screen size of mobile devices and these mobile apps are best suited for on-the-go access and quick edits, rather than extensive design work.
Smart Objects
AutoCAD's utilization of smart objects, including dynamic blocks and dynamic attributes, significantly enhances work efficiency in the design process.
Dynamic blocks in AutoCAD are customizable, reusable components that can adapt to various design scenarios. These blocks include parameters and actions that allow them to change shape, size, or appearance based on user-defined input. So, you can insert a dynamic block to replace multiple static blocks, reducing repetition and increasing productivity.
Dynamic attributes are data-driven properties attached to objects in AutoCAD. They are typically used to add intelligence and flexibility to blocks in your AutoCAD drawings. Dynamic attributes can be associated with parameters that control the attributes' values. Parameters can be linked to geometric elements or can be defined independently. When you change the value of a parameter, it can affect one or more dynamic attributes within the block. Also, they facilitate the inclusion of data in drawings, such as part numbers or project-specific information. This data can be maintained consistently throughout the project. When design changes occur, dynamic attributes adjust automatically, eliminating the need to manually update associated text or data.
Third-Party Application Integration
AutoCAD's smooth integration with a diverse array of software applications and plugins is a feature that greatly enhances its versatility and extends its functionality. Design professionals can enhance their design workflows by seamlessly incorporating specialized software and tools tailored to their specific needs. This encompasses areas like rendering, simulation, project management, and more.
Each industry may have its specialized tools and software tailored for specific tasks, such as GIS (Geographic Information Systems) for those in geospatial and mapping fields or Autodesk Insight for building performance analysis. Integrating AutoCAD with these tools allows you to work more efficiently and effectively by having all the necessary tools within the AutoCAD environment. This eliminates the need to toggle between multiple applications, saving valuable time and streamlining the design process.
How Much Is AutoCAD?
AutoCAD offers different versions and subscription plans to accommodate a wide range of user needs. Here are the AutoCAD plans available:
Version
AutoCAD
AutoCAD LT
AutoCAD Web
Pricing
$245/month

$1975/year

$60/month

$490/year

$10/month

$100/year
If you are a professional designer frequently tasked with complex large-scale projects or requiring regular team collaboration, the AutoCAD Standard version offers a better cost-to-benefit ratio as it provides a more comprehensive set of features and includes many advanced functions, such as 3D modeling, rendering, custom programming (AutoLISP), and robust customization options.
If you want AutoCAD for students or a novice who only needs to perform basic 2D drafting, AutoCAD LT is the most suitable choice. It is a simplified version of AutoCAD, primarily focused on 2D design. It comes at a lower price point compared to the full version and is relatively streamlined, making it easier to learn and operate.
As for the Web-based version, it comes with the lowest price plans. This is well-suited for temporary AutoCAD online access and design editing while away from your primary workstation.
How to Learn AutoCAD?
After subscribing to the software, it's advisable to begin by understanding AutoCAD's tools and the fundamentals of drafting. Autodesk's official documentation provides comprehensive online resources, including user guides and tutorials. These resources serve as an excellent starting point.
Once you've gained some basic familiarity with the software, you can explore further learning options if you wish to advance your skills and become more proficient. YouTube offers a wealth of free step-by-step guidance on various AutoCAD topics. Additionally, various online learning platforms like Udemy, Coursera, and LinkedIn Learning offer AutoCAD courses catering to both beginners and advanced users.
Completing these courses will provide structured learning and a deeper understanding of AutoCAD. However, it's crucial to supplement your learning with regular practice. Put your newfound knowledge into action by working on drawings and projects. Practical experience will reinforce your skills and boost your confidence.
Is AutoCAD worth it? Is There an Alternative to AutoCAD?
Whether AutoCAD is worth it depends on your specific needs and your budget. It is a well-known and highly professional software in the industry with a comprehensive set of tools. However, its high cost can also be a challenge for many individual users, students, and small businesses. So, is there an alternative that is beginner-friendly, professional, cost-effective, and offers functionality comparable to AutoCAD? ZWCAD can provide you with an answer.
In terms of software pricing, ZWCAD is not only more budget-friendly but also offers the advantage of a one-time purchase option, being the best of the best alternatives to AutoCAD. From a long-term perspective, this can result in significant cost savings. Moreover, ZWCAD is on par with AutoCAD in terms of functionality. This software supports both 2D drawing and 3D modeling capabilities. In addition to a wide range of drawing tools, it also allows users to produce detailed 3D objects for visualization purposes and create mesh and solid models directly or based on existing 2D drawings.
Furthermore, ZWCAD boasts a range of advanced and innovative features that can significantly enhance your workflow. For example, it includes a File Comparison feature to spot the differences between two drawings simultaneously, Smart Plot for plotting multiple drawings at once, and Smart Voice for annotating with voice messages.
Unlike AutoCAD, which has high hardware requirements, ZWCAD makes itself faster by using its in-house kernel and only adds the latest industry-relevant features, requiring only 2GB of RAM. Hence, you don't need to worry about your computer slowing down or experiencing lag when handling complex designs with ZWCAD. Even older computers can effectively accomplish the tasks you require.
FAQs About AutoCAD
Why Is AutoCAD Outdated?
AutoCAD is undeniably a powerful and widely used design software, boasting a rich array of features, extensive libraries, and cloud collaboration capabilities. However, AutoCAD has started to show signs of becoming outdated. Two significant issues contribute to this perception.
Firstly, the software's high cost poses a major hurdle, particularly for users with budget constraints. Despite offering multiple subscription plans and various versions, the substantial price tag can be a significant barrier for many potential users. Secondly, the software's extensive range of features can be overwhelming, and this abundance of functions can strain the capabilities of computers with less robust hardware. As a result, users often experience frequent performance slowdowns.
These challenges have led to AutoCAD being viewed as somewhat outdated in a landscape where users increasingly seek more affordable, efficient, and streamlined CAD software solutions.
Is It Possible to Use AutoCAD for Free?
AutoCAD offers a 15-day free trial service during which you can access and utilize all the features of the latest version of the software. Additionally, if you are a student or an educator, you can also obtain free one-year educational access to AutoCAD. This educational access provides an excellent opportunity for students and teachers to explore and leverage AutoCAD's capabilities for their learning and teaching needs.
Is AutoCAD Good for Beginners?
No, if you have zero computer-aided design experience, you'll likely find using AutoCAD to be quite challenging. While it offers an extensive range of tools and features, this advantage can turn into a drawback for beginners or students due to its steep learning curve. However, this doesn't mean that beginners cannot master AutoCAD; it simply requires more time and patience compared to some other software options.
Conclusion
From this comprehensive AutoCAD review, we know that AutoCAD is undoubtedly a versatile and widely used CAD tool developed by Autodesk. It has been a cornerstone in various design industries for several decades. AutoCAD's significance lies in its diverse applications, spanning from architectural design to civil engineering. It offers a robust set of tools for 2D drafting and 3D modeling, enabling precise and detailed designs. Moreover, its adaptability and extensive toolsets make it a popular choice among design professionals.
However, it's also crucial to take into account factors such as pricing, system performance requirements, and potential limitations when evaluating AutoCAD. If you're seeking a cost-effective solution with innovative features, it's worth considering ZWCAD as an alternative. Ultimately, whether AutoCAD is the right choice for you depends on your specific needs and requirements.