As technology evolves, architectural CAD software plays a pivotal role in modern architectural design. Architects and designers increasingly rely on these programs to transform their ideas into detailed engineering drawings and 3D models, whether for museums, civic buildings, churches, or a myriad of other architectural wonders. These software solutions streamline the design process, enhance collaboration, and ensure the accuracy and efficiency needed to bring architectural dreams to life.
Aiming to provide valuable insights and suggestions to architects and designers who depend on these specialized tools to craft the buildings that shape our cities and landscapes, we're here to explore the top architectural CAD software options available in 2023. Whether you're a seasoned professional or an aspiring architect, we hope this comprehensive review will help you choose the software that's right for you.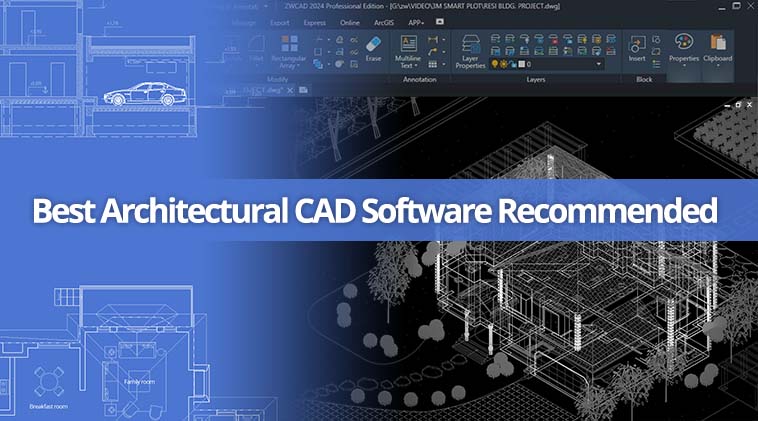 What to Look for in Architectural CAD Software?
Choosing suitable architectural design software is always a decision that requires time and careful consideration. That's why we've identified several key factors to help you make the best choice quickly:
3D Modeling Capabilities: 3D architectural modeling capabilities include tools for creating lifelike representations of designs with detailed textures, materials, and lighting. They enhance design communication and help clients and stakeholders better understand the project.
Compatibility and File Formats: Compatibility with various file formats allows for the import and export of design data, such as DWG, DXF, and IFC. It is essential for data exchanges and empowers you to integrate your work into broader project ecosystems.
Collaboration Tools: Collaboration facilitates real-time communication, file sharing, and project tracking among team members. These tools enable you to share data and information with engineers, contractors, and clients. They streamline project management, reduce miscommunications, and offer a cohesive project development process.
Building Information Modeling (BIM) Integration: BIM integration enables architects to create digital representations of buildings with comprehensive data on structural, mechanical, and electrical components. By integrating BMI into projects, teams can achieve improved project coordination, realize cost savings, and implement sustainable design practices.
In addition to these factors, you should also consider aspects such as an intuitive user interface, rendering and visualization tools, and precision drawing tools. Taking these factors into account will help you make informed decisions, ultimately leading to more efficient, accurate, and innovative architectural projects.
Detailed Review of the Best 8 Architectural CAD Software
Keep the criteria listed above in mind and now let's have a closer look at the details of the 8 best architectural CAD software options.
Top 1. ZWCAD
ZWCAD is a CAD program that stands out due to its commitment to 2-in-1 features and efficiency. Whether you need 2D architecture design or 3D modeling, it is a versatile choice that covers all your needs, making it particularly well-suited for small to medium-sized enterprises and individual designers.
ZWCAD is highly compatible with standard CAD file formats such as DWG, DXF and DWT. A notable feature is its seamless integration with ARCHLine.XP, allowing direct transfer of DWG or IFC format drawings between the two programs. This integration eliminates the need for tedious import/export tasks, making ZWCAD an efficient and user-friendly CAD-BIM solution, especially for those familiar with CAD but new to BIM.
What's more, ZWCAD offers advanced features such as Point Cloud, which enables accurate and detailed capture of 3D measurements of real-world objects. These measurements can be seamlessly integrated into CAD projects for accurate modeling and design. Once the design is complete, sharing drawings in the cloud becomes effortless. This cloud-based capability ensures that project stakeholders have real-time access to design updates.
In an overall evaluation, ZWCAD excelled in functionality, ease of use, and price, establishing itself as a top choice for architectural CAD software.
Pros:
User-friendly and familiar interface for quick adaptation.
Affordable pricing.
Include advanced features like File Compare to help you tackle complex tasks easily.
Offer innovative features such as Smart Voice to streamline the design process.
Take full advantage of multi-core CPUs to perform with unparalleled speed
Cons:
Only offer a free trial for 30 days.
Top 2. ArchiCAD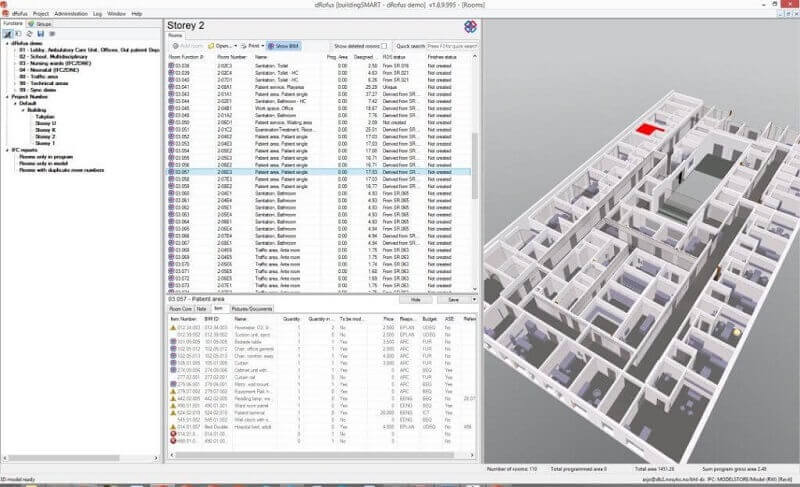 ArchiCAD is robust Building Information Modeling (BIM) software developed by Graphisoft and recognized as one of the best building design software. It supports both 2D and 3D model views and provides a toolkit with familiar terminology and functionality commonly found in BIM applications.
This CAD software is known for its emphasis on visualization. It seamlessly integrates several 3D rendering tools and plug-ins such as Sketch Render, White Render, Photorealistic Render, and Enscape. These tools transform your models into immersive 3D experiences, allowing you to visualize your designs and immerse your clients in virtual buildings as if they were real.
ArchiCAD is high-end architectural CAD software, particularly for large architectural projects. Not only does it detect and visualize changes between models and revisions, but it also enables real-time content storage in the model to the BIMcloud. This facilitates file sharing and collaboration among multiple stakeholders throughout the design process.
Pros:
Offer comprehensive BIM functionality to facilitate better-informed decisions.
Include advanced visualization tools to create stunning 3D renderings and presentations.
BIMcloud streamlines team collaboration by providing a centralized platform for sharing and managing BIM data.
Create parametric components for enhancing design flexibility and efficiency.
Cons:
Extensive features can be daunting for new users.
Potentially require powerful hardware for smooth operation.
Relatively high price may not be suitable for smaller architectural firms or individual designers with budget constraints.
Top 3. AutoCAD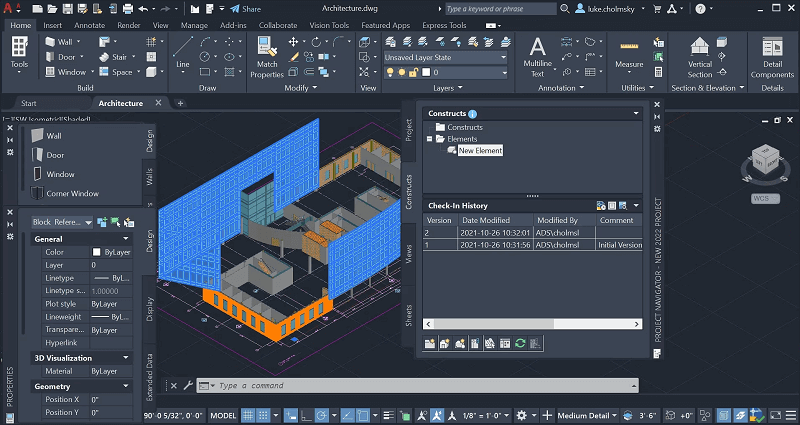 AutoCAD is one of the most well-known CAD programs for Macs and Windows. It serves as a versatile tool applicable across various industries, including architecture, engineering, product design, education, and more. AutoCAD offers a comprehensive suite of 2D drafting and 3D modeling tools, supporting various objects such as solids, surfaces, and mesh elements. Whether you're starting a project from scratch or importing existing designs as reference models, AutoCAD provides the flexibility you need.
What sets AutoCAD apart is its remarkable scalability. It allows you to customize your workspace to boost productivity by integrating add-ons, plugins, and APIs tailored to meet specific project requirements. This unique combination of features empowers you with a versatile and efficient approach to address your design and workflow needs.
Pros:
Offers an extensive and versatile toolset for both 2D geometry and 3D models
Available on both Windows and macOS platforms.
Provide high scalability and customization options to adapt to various industries and project requirements.
Well-developed and reliable.
Cons:
Relatively high cost.
Has a steeper learning curve for beginners due to its comprehensive feature set.
Requires powerful hardware for optimal performance.
Top 4. BricsCAD
The next addition to our list of top architectural CAD software is BricsCAD, celebrated for its robust BIM capabilities. It not only empowers users to create and manage detailed 3D models with embedded data but also leverages artificial intelligence (AI) to automatically extract comprehensive information from BIM models.
Another noteworthy aspect of BricsCAD is its seamless compatibility with industry-standard CAD formats, such as DWG. This compatibility simplifies the process of importing and exporting drawings between BricsCAD and other CAD software, enhancing interoperability for users.
Pros:
High compatibility with DWG files.
Robust 2D and 3D modeling capabilities.
AI-assisted data extraction improves the precision and efficiency of information retrieval from BIM models.
Cons:
Has a steep learning curve when transitioning from other CAD software.
Limited features and tools compared to CAD software at the same level.
It may not be as well-known or widely adopted as some competing CAD solutions.
Top 5. Draftsight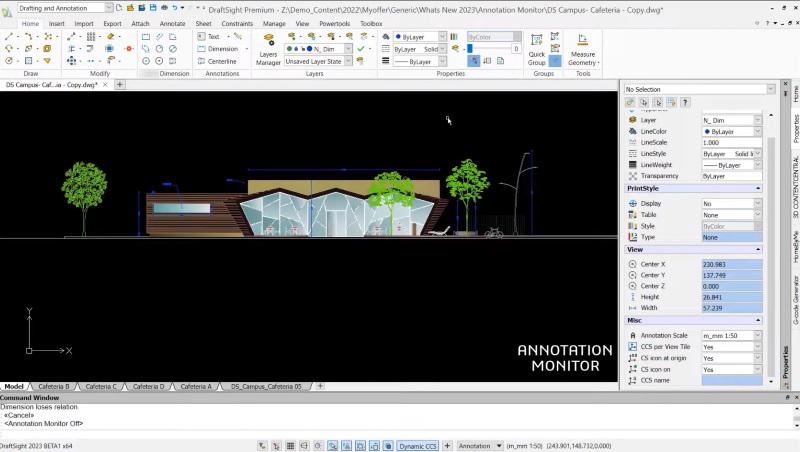 DraftSight, developed by Dassault Systèmes, is a widely popular architectural design software primarily tailored for creating, editing, and viewing 2D and 3D drawings and designs. This CAD software boasts an intuitive user interface and an extensive toolset, elevating users' CAD design experiences. Moreover, it offers a range of customization options, enabling users to tailor DraftSight to their specific needs by creating custom commands, scripts, and macros, ultimately enhancing productivity and workflow efficiency.
One of DraftSight's most notable advantages is its affordability. Even though it's not one of those free CAD software, it costs only $249 for an annual subscription and offers a free 30-day trial with both 2D and 3D drafting and modeling capabilities, making it an accessible choice for individuals, small businesses, and educational institutions. It's worth mentioning that DraftSight primarily focuses on 2D drafting while also accommodating basic 3D modeling tasks.
Pros:
Robust 2D drafting capabilities for creating accurate technical drawings and diagrams.
Compatibility with widely used CAD file formats, including DWG and DXF.
Customization options through add-ons and macros, enhancing workflow efficiency.
Active DraftSight community for users seeking assistance, sharing knowledge.
Real-time collaboration and cloud storage integration enable teams to work together on CAD projects efficiently and securely.
Cons:
Limited 3D modeling capabilities, making it less suitable for projects that require complex 3D design.
Lack some advanced features found in high-end CAD software.
The free version has limitations, and users may need to opt for the paid version to access all features and support.
Top 6. ProgeCAD
ProgeCAD is a professional-grade architectural CAD software renowned for its high compatibility with AutoCAD. Beyond its capabilities in creating 2D drawings, floor plans, technical diagrams, and intricate 3D models for architectural, mechanical, and civil engineering projects, the software offers rendering and visualization tools to produce lifelike 3D renderings and design presentations.
ProgeCAD includes many of the same advanced features found in other well-known CAD software, making it exceptional value for the price. It is particularly advantageous for individuals, small businesses, and organizations seeking cost-effective CAD solutions. However, it's important to note that while ProgeCAD provides 3D modeling and rendering tools, its 3D capabilities may not be as advanced as some other CAD software options. Additionally, performance may be degraded with large files containing images or contours.
Pros:
More budget-friendly than some other CAD software options.
Seamlessly works with AutoCAD files, ensuring easy collaboration with AutoCAD users.
Include tools for creating realistic 3D renderings and presentations.
Create both 2D drawings and complex 3D models, offering versatility in design.
Cons:
May not offer the same depth and breadth of 3D modeling features as specialized 3D CAD software.
It doesn't have as extensive third-party plugin and extension support as some other CAD platforms.
Steep learning curve for new CAD software users.
Top 7. NanoCAD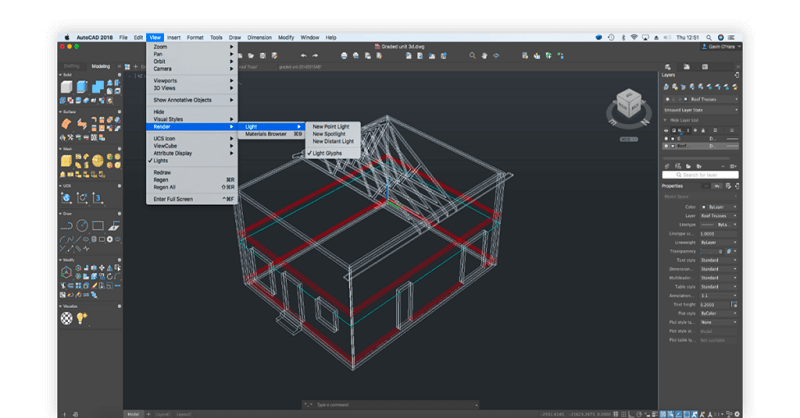 NanoCAD is a highly versatile CAD solution for 2D architecture design and 3D architectural modeling. The program is renowned for its efficiency in streamlining CAD file cleanup and its seamless integration with third-party add-ins. It empowers users to effortlessly remove redundant layers from their designs, simplifying CAD file organization.
A notable highlight of NanoCAD is its free entry-level version, offering a robust and fully DWG-compatible drafting platform at no cost. NanoCAD excels in tasks such as scaling drawings and creating intricate floor plan layouts. It is particularly praised for its user-friendly interface and design tools, making it easily accessible and adaptable for CAD enthusiasts
Pros:
Free version of NanoCAD provides essential CAD functionality.
Open, edit, and save DWG files seamlessly.
Supports both 2D drafting and 3D modeling
It allows deleting unwanted layers.
Easy to use.
Cons:
The free version lacks some advanced features available in the paid versions.
New users, especially those new to CAD software, may experience a learning curve when starting with NanoCAD.
Limited 3D modeling features.
Top 8. CADPRO
CADPRO stands out as one of the best entry-level CAD software options, with a strong focus on user-friendliness and affordability. Though it's not free architectural CAD software, its reasonable pricing and user-friendly interface cater to beginners, small businesses, and budget-conscious users seeking a straightforward CAD solution.
CADPRO boasts an extensive library of architectural, electrical, and mechanical symbols suitable for various architectural design projects. The software excels in automating and precisely formatting designs, which greatly assists in creating accurate and well-organized drawings.
Pros:
Easy-to-use interface.
Budget-friendly pricing.
Automated formatting tools improve design precision and efficiency.
Easy architectural program symbol libraries
Cons:
Lacks some of the advanced features and capabilities found in higher-end CAD software.
Less suitable for large-scale projects that require more comprehensive CAD solutions.
Limited collaboration and project management features.
FAQs About Architectural CAD Software
What Is BIM? What Is the Relationship Between Architectural CAD Software and BIM?
BIM (Building Information Modeling) is an approach to the design, construction, and management of buildings and infrastructure using digital models. It goes beyond traditional 2D and 3D computer-aided design (CAD) drawings by integrating various data and information such as materials, costs, and schedules into a single, coherent model.
The relationship between architectural CAD software and BIM is one of integration. CAD software is often used in the BIM workflow. CAD tools create 2D and 3D drawings that form the visual basis for BIM models. These drawings are critical for design and documentation, but they are only one part of the broader BIM framework.
BIM software takes CAD a step further by linking visuals to databases and fostering collaboration among stakeholders through a centralized platform for data sharing. In essence, while CAD software focuses on visuals, BIM integrates data, enabling a more comprehensive and collaborative approach to architectural projects.
What Architectural CAD Software Do Most Architects Use?
Among all options, ZWCAD and AutoCAD stand out as the most popular choices.
AutoCAD is a giant in the architectural CAD software field. It offers powerful 2D and 3D design capabilities and boasts a vast library of resources. However, it can be complex for beginners and comes at a higher cost.
Praised for its affordability compared to AutoCAD, ZWCAD offers similar 2D and 3D design capabilities with smart tools that help architects complete complex projects with ease. It also uses its own kernel, incorporating only the latest industry trends in addition to the core features found in AutoCAD. Therefore, it is significantly faster than AutoCAD, making it the preferred choice for a growing number of architects.
Conclusion
CAD Software
Type
Best for
Ease of Use
File Formats Supported
Pricing
Platforms
ZWCAD
 CAD
Small to medium-sized enterprises, professionals and individual designers
User-friendly

DWG, DXF, DWT, and more
$899 (Lifetime)

Standard: $322/year

Professional: $432/year

Windows, Linux
ArchiCAD
BIM
Large architectural projects
Moderate to Advanced
DWG, DXF, IFC, and more
Solo: $2400/year

Full: $2700/year

Windows, macOS
AutoCAD
CAD
Comprehensive design
Moderate to Advanced
DWG, DXF, DWF, and more
$1,975/year
Windows, macOS
BricsCAD
CAD/BIM
BIM and compatibility
Moderate to Advanced
DWG, DXF, DWF, and more
Standard: $314/year

Pro: $677/year

Windows, macOS
Draftsight
CAD
Professionals, individual users, freelancers, and small businesses
Moderate to Advanced
DWG, DXF, and more
Professional: $249/year Premium: $549/year
Windows, macOS, Linux
ProgeCAD
CAD
Budget-conscious professionals, students, individuals and small businesses
Moderate to Advanced

DWG, DXF, and more
$399 (Lifetime)
Windows
NanoCAD
CAD
CAD hobbyists and enthusiasts, CAD Professionals
Moderate to Advanced
DWG, DXF, and more
Workstation: $249  Network: $319
Windows
CADPRO
CAD
Beginners and small businesses
User-friendly
DXF, DWG, PDF, and more
$99.95 (Lifetime)

Windows
These are the 8 best architectural CAD software options. Each program is targeted at different needs. Whether you prioritize user-friendliness, advanced BIM capabilities, affordability, or specialization in residential design, there's a CAD tool to meet your needs. But when you consider the range of features, cost, difficulty, and other aspects, ZWCAD is an ideal choice. If you're just starting out in design or looking for a tool to use temporarily on your home computer, it's worth a try.