Creating a building starts with a blueprint, the very first step in the process. An intuitive building design software is a valuable tool that allows you to quickly visualize and create a building prototype. It empowers you to easily shape and modify the building's appearance, spatial layout, interior design, and decoration. Additionally, it assists in estimating material requirements, sustainability aspects, and project costs.
To save you a lot of time and effort looking for an easy building designer, here we've tested a bunch of CAD software and reviewed the 10 top picks for you. Now, pick a preferred choice and unleash your creativity to bring your dream building to life with precision and efficiency.
The 10 Top Building Design Software Recommended
Before you walk through the 10 recommendations below, it's essential to identify your specific preferences and requirements. Here are some possible requirements you may consider, such as:
Do you want desktop software or an online service?
Does your project require 2D or 3D design?
Are you focusing on interior design for buildings or outdoor environments?
Do you value fast software performance?
Have you used CAD software before? Do you need user-friendly software?
Are you in need of building CAD software with built-in features like BIM?
Based on these factors, we will evaluate the following 10 building design software options.
Top 1. ZWCAD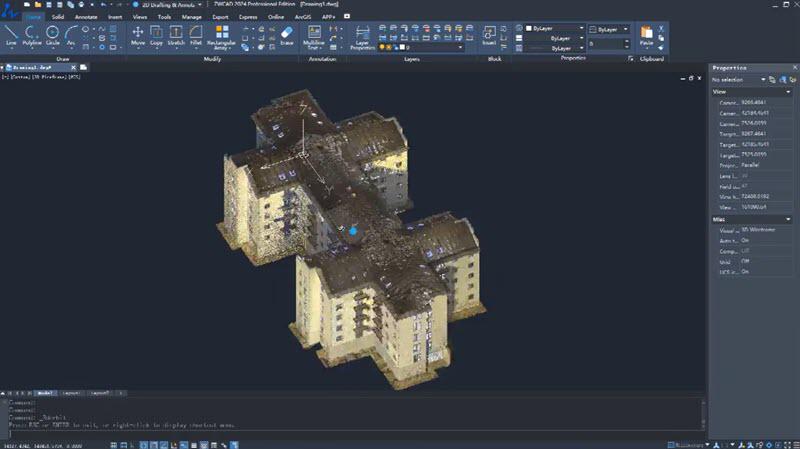 ZWCAD is a comprehensive computer-aided design software in 2D and 3D design for architects, engineers, and designers. It's easy to use with an intuitive user interface and helpful toolsets for anyone to quickly get started. It's compatible with DWG, DXF, DWT, SAT, STL, PDF, IFC, JPG, PNG, etc. Moreover, it offers over 200 third-party applications for you to discover the right solution and help you design your own building easier, faster, and more accurately.
As a professional Architectural CAD Software, it comes with advanced features like:
Flexiblock includes actions and parameters for quick shape change.
Point Cloud enables you to read, process, attach, edit, and manage complex point clouds with ease.
Sheet Set Manager offers you a panel to view, access, manage, and ploy multiple drawings in one place.
File Compare can help you find out the differences between two drawings in no time.
What's more, this building design software provides some innovative and exclusive features such as:
Smart Plot can quickly plot multiple drawings at a time.
Smart Select lets you filter and select multiple objects quickly.
Smart Mouse allows you to use mouse gestures to trigger commands.
Smart Voice enables you to quickly annotate with your voice.
Better yet, there are more useful functions to explore. If you want to visualize a building in detail, ZWCAD is a great helper to make all things easy, quick, and smart.
Top 2. Archicad
Archicad is a professional and renowned architectural design and BIM (Building Information Modeling) software developed by Graphisoft. It is specifically tailored for architects, designers, and building professionals to facilitate the creation, visualization, and documentation of building designs and projects. This architectural CAD software seamlessly combines 2D drafting, 3D modeling, and intelligent building information within a unified platform.
With its intuitive and user-friendly interface, Archicad empowers users to craft precise 3D models, generate detailed floor plans, sections, and elevations, and experience real-time design visualization. Furthermore, it boasts advanced visualization capabilities for crafting lifelike renderings, walkthroughs, and prototypes of your architectural creations.
Archicad offers a comprehensive suite of tools and features suitable for projects ranging from small residential designs to complex commercial buildings. Additionally, it provides an extensive library of parametric objects and components, including pre-designed building elements, furniture, and fixtures.
One standout feature of Archicad is its support for efficient team collaboration. It enables seamless exchange of design feedback among teams and colleagues, enhancing overall efficiency in building design processes. Give it a try and bring your architectural ideas to life!
Top 3. AutoCAD
AutoCAD is a popular 2D and 3D CAD drafting software, which is widely used in a range of industries, including building design. It offers a customizable and user-friendly interface for both professionals and non-professionals to access and use with ease. There are useful tools and functionalities for creating precise 2D and 3D designs, drafting, and documentation. With the help of AutoCAD, you are able to easily create, edit, and modify building designs, detailed floor plans, and architectural renderings.
Working as a structural engineering software, it also offers features like parametric modeling, which helps change the shape of model geometry and enables quick design changes. It supports collaboration and file sharing, allowing multiple people or a team to design a huge building at the same time.
Moreover, it offers extensive libraries of predefined objects, such as furniture, appliances, and symbols, to enhance the design process and improve productivity. To design your own building, AutoCAD offers a versatile set of tools to assist you in creating precise and detailed exterior and interior designs.
Top 4. CorelCAD
CorelCAD is an outstanding CAD software with industry-standard features. If you're an architect, engineer, or home designer, you'll find a comprehensive set of tools to help you create accurate, detailed 2D and 3D designs. It can also convert 2D drawings into 3D models with just a few clicks. This software is compatible with a wide range of file formats, including PDF, SVG, EPS, DWF, STL, SAT, SHP, and DWS. A provides a familiar and intuitive interface for people switching from other building design software.
From basic geometric shapes to complex 3D models, you can create and modify your designs with precision and ease. The software also includes a wide range of drawing and editing tools like Associative Patterns which enables you to quickly create large and complex graphics, Smart Dimension, which lets you undertake intelligent, context-sensitive measurements, and 3D mouse support, which makes it easy to go through in 3D for adjustments.
There are 3D design and editing tools available to help make wireframe geometry from the edges of a 3D solid, surface, mesh, or region. Meanwhile, the OffsetEdges feature lets you create 2D entities from 3D solid or surface boundaries. Also, you can easily add comments and annotations to your building designs and easily collaborate with your team members to provide feedback and suggestions. CorelCAD is a good helper to optimize your design process and bring creative visions to life.
Top 5. SelfCAD
SelfCAD is a building designer online with a free trial that helps architects and interior designers create stunning 3D building prototypes. It offers a range of easy-to-use tools for creating 3D models, including shape generators, sculpting brushes, parametric design options, and Boolean operations.
Also, it can simulate real-world sculpting techniques and enable you to add texture and refine the surfaces of your building models. The parametric design lets you create, modify, and adjust 3D modeling with ease by editing parameters.
Moreover, this building design software provides integrated tools to prepare your building design for 3D printing. It can optimize your modeling for successful 3D printing with features like automatic repair of mesh errors, hollowing, and generating support structures. SelftCAD makes it accessible for people of all skill levels, from beginners to experienced designers.
Top 6. FreeCAD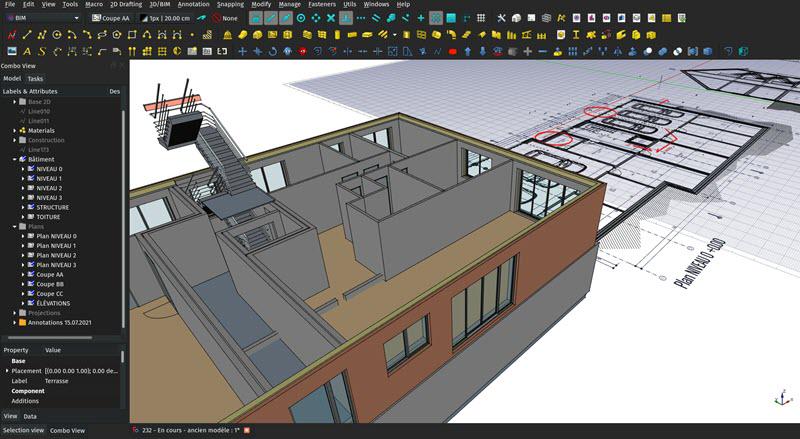 FreeCAD is an open-source CAD software that is designed to fit a wide range of uses and is compatible with Windows, macOS, and Linux.  It can work as a free building design software to create your own 3D parametric prototypes. From basic sketching and 2D drafting to advanced 3D modeling and simulation, this easy building designer has got you covered.
It offers an extensive range of tools and features to support your building design needs. Its Parametric modeling feature allows you to create designs by defining parameters and relationships between different elements. Also, you can sketch geometry-constrained 2D shapes and use them as a base to turn 2D into 3D modeling. Then, adjust dimensions or extract design details to quickly bring your idea to life.
This software supports different open file formats like STEP, IGES, STL, SVG, DXF, OBJ, IFC, DAE, and so on. That enables you to integrate FreeCAD into your workflow with ease. What's more, it has a support community and documentation available, making it easier for beginners to get started and master FreeCAD.
Top 7. SketchUp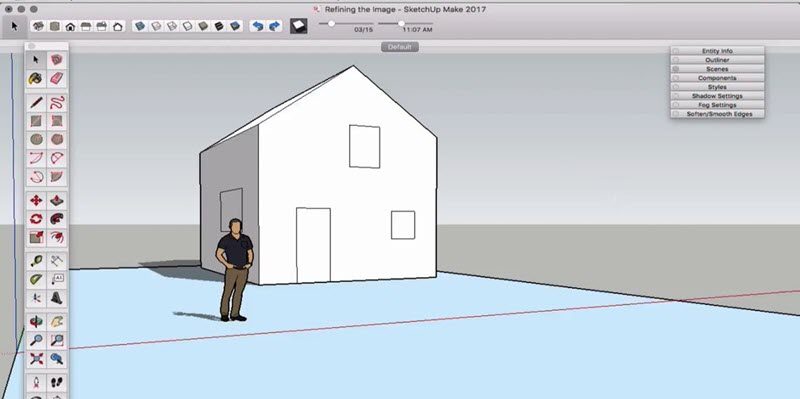 SketchUp is a popular 3D modeling software that caters to all kinds of design needs in various industries, let alone building design. Its user-friendly interface makes it easy to access and use for beginners to professionals. It moreover provides simple navigation and familiar drawing tools to easily get down to it. Also, there are plenty of video tutorials on its official YouTube channel for you to master this building design software quickly.
It boasts a vast online repository known as the 3D Warehouse and offers a wealth of resources to enhance your projects and save time. It allows you to browse and download thousands of pre-made 3D models contributed by the SketchUp community.
Moreover, SketchUp has great compatibility and integration with other software. You can import and export files in various formats, collaborate with other users, and even utilize plugins/extensions to extend the functionality of the software. Its built-in rendering capabilities enable you to apply different materials, textures, and lighting effects to create realistic and immersive building models. Whether you're working on architectural projects or interior design, SketchUp offers powerful tools to bring your ideas to life.
Top 8. Home Design Software
Home Design Software is one of Chief Architect's professional architectural software with a free trial available. It specializes in home design, remodeling, and interior design projects, simplifying the creation of detailed floor plans, 3D models, and realistic renderings for residential spaces. Users can easily draw walls, add doors and windows, and customize room layouts with just a few clicks. The software's 3D visualization capabilities allow for the creation of realistic renderings and virtual tours to bring building designs to life.
In addition to architectural design, Home Designer Software includes features for interior design and decoration. You can select furniture, appliances, fixtures, and decoration items from its library of objects and place them within your design to create a comfy and dedicated look. With its advanced BIM technology, you're able to accurately model and design the structural and construction elements like walls, roofs, stairs, foundations, etc. Home Designer Software is a comprehensive tool to visualize and bring your design ideas to life.
Top 9. Cedreo
Cedreo is a free architectural CAD software that specializes in residential and interior design. What sets it apart is its web-based platform, allowing users to create 2D and 3D floor plans, as well as photorealistic interior and exterior 3D renderings. The advantage lies in its accessibility from any device with internet connectivity.
Cedreo features a user-friendly interface and provides a wide range of quick-access design tools. With just a few clicks, users can generate 2D and 3D floor plans, furnish their projects, and create photorealistic renderings. Remarkably, it takes only two hours to complete a full home project using this software.
Top 10. Revit
Revit is a Building Information Modeling (BIM) software developed by Autodesk. It is extensively used in the fields of architecture, engineering, and construction to facilitate the design, documentation, and management of building and infrastructure projects. One of Revit's standout features is its use of parametric modeling, where elements in the model are defined by parameters or properties. This approach enables efficient design changes because modifications to one part of the model automatically update all related parts.
Furthermore, Revit offers compatibility with various file formats, making it easily interoperable with other design and analysis software commonly used in the AEC (Architecture, Engineering, and Construction) industry. Collaboration is seamless in Revit, allowing multiple users to work on the same project simultaneously, with changes made by one team member synchronizing with the central model. This collaborative workflow minimizes errors and enhances project efficiency.
The Advantages of Using Building Design Software
Building design software provides architects, designers, and engineers with a multitude of advantages.
Enhanced Visualization – One of the key benefits is enhanced visualization. These tools offer 3D models, shadow effects, and interior layouts, allowing professionals to gain a clear and immersive perspective of their projects.
Rapid Prototyping – Another significant advantage is rapid prototyping. Building design software enables quick creation and modification of prototypes, expediting the design and development process. This agility is complemented by error detection capabilities, which help identify and address potential issues during the design phase, preventing costly errors during construction.
Flexibility and Efficiency – Flexibility is a hallmark of these tools, offering a wide range of design functionalities. This flexibility empowers architects and designers to customize and adjust building designs to meet specific project requirements and client preferences. Moreover, many software solutions include material and cost estimation capabilities, facilitating effective budget management.
Seamless Collaboration – Collaboration is made seamless through building design software, allowing multiple individuals to work simultaneously on the same project. This enhances productivity and ensures a comprehensive approach to design. Additionally, access to abundant resources like templates, material libraries, and decorative elements streamlines the design process, fostering creativity. Furthermore, cloud-based features enable remote access to projects from anywhere with an internet connection, promoting flexibility and collaboration.
FAQs About Building Design Software
Is There a Website Where You Can Design a Building?
Brands like SmartDraw and SelfCAD provide a cloud-based CAD service that lets you directly design your own building on the web. You may just give one of them a shot.
Can You Design Your Own Building?
Yes, you can design your own building, but it's a complex process that requires expertise and skills. If you're a beginner, you may consult with professional architects or designers in the first place. There are some important aspects you may consider as well like design style, expectations, budget, location, functionalities, planning, inspection, adjustments, insurance, supervision, laws and regulations, etc.
Conclusion
| | | | | | |
| --- | --- | --- | --- | --- | --- |
| | Platform | Type | Best for | Ease of Use | Paid Upgrade |
| ZWCAD | Windows, Linux | 2D & 3D | Everyone | Easy | √ |
| Archicad | Windows, macOS | 2D & 3D | Professionals | Moderate | √ |
| AutoCAD | Windows, macOS | 2D & 3D | Professionals | Moderate | √ |
| CorelCAD | Windows, macOS | 2D & 3D | Professionals | Moderate | √ |
| SelfCAD | Web-based and Windows | 2D & 3D | Everyone | Moderate | √ |
| FreeCAD | Windows, macOS, Linux | 3D | Beginners | Easy | × |
| SketchUp | Windows, macOS | 3D | Beginners | Moderate | √ |
| Home Design Software | Windows, macOS | 2D & 3D | Home Designer | Moderate | √ |
| Cedreo | Web-based | 2D & 3D | Residential   and interior design | Easy | √ |
| Revit | Windows | 3D | BIM and   project management | Moderate | √ |
In summary, if you're looking for an easy-to-learn, fast-running, feature-rich, and affordable building design software, go for ZWCAD.
If you only need simple 2D CAD, you can give Cedreo a try. If you have a strong need for 3D modeling, you can try FreeCAD, SketchUp, or Revit.
If you prefer not to install software and want to experience and experiment in your browser, you can consider SelfCAD and Cedreo. On the other hand, If you plan to use BIM-oriented building CAD software with team members, Archicad, Home Design Software, or Revit would be good choices.