CAD software provides tools and features that enable designers, engineers, architects, and other professionals to create digital representations of physical objects or structures. progeCAD is a specific CAD software program that falls within the broader category of CAD tools. It is developed to provide users with the necessary tools and functionality to perform CAD tasks effectively and efficiently.
Whether you're a beginner or professional, progeCAD is a good starter to consider. If you just heard of it, you may take a deep dive into this progeCAD review. Now, let's explore its pros, cons, features, plans, and pricing here.
Contents
Overview of progeCAD (Pros and Cons Included)
progeCAD offers a full-featured 2D/3D CAD software application marketed as progeCAD Professional and a BIM software called progeCAD Architecture. Both of them offer similar functionalities and capabilities to facilitate CAD tasks and allow users to create precise drawings, models, and layouts for various applications. It was first released in 2004 as a cost-effective CAD solution with similar functionality to AutoCAD.
Over the years, it has evolved and added new features to enhance its compatibility, performance, and user experience. With its affordability and familiar interface, progeCAD has gained popularity among architects, engineers, designers, and other professionals. In the following, let's grasp the idea of ProgeCAD's pros and cons first.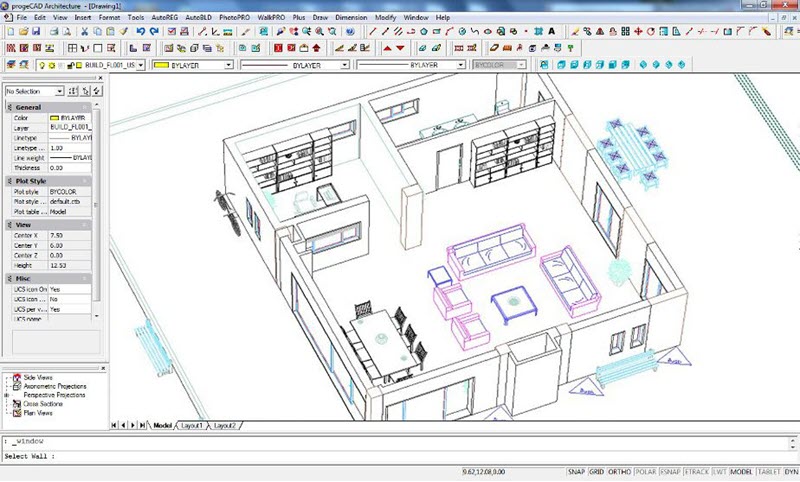 Pros:
Provide a significant perpetual license option for small businesses or individuals on a budget.
Support the DWG file format and ensure seamless compatibility with other CAD software.
Provide a wide range of 2D and 3D design tools, including advanced features like dynamic input, 3D solid modeling, rendering, and customization options.
Have a familiar interface and commands similar for users to quickly adapt and transition to the software.
Offer 22,000 blocks and a block manager for users to customize them.
Enable PDF to DWG conversion directly in the program.
Support various import/export formats: Rvt, Rfa, IFC, STEP, IGES, SolidWorks, PDF, 3D PDF, DWF, 3DS, DAE, LWO, POV, Maya, OBJ, BMP, JPG, WMF, EMF, SVG.
Cons:
Have limited features in 3D designs, for example, no advanced features to create 3D models.
Offer less good rendering compared to other CAD software.
Have sluggish performance with large files.
Do not support GIS shape files with weak image calibration tools.
Only support Windows system.
progeCAD Review in Detail: Main Features
After you learn the benefits and downsides of progeCAD, you may want to walk through the main features below and see which one meets your specific needs.
Advanced Render
progeCAD offers an Advanced render module that allows you to create high-quality 3D renderings of your designs. It provides advanced lighting and material options, including the ability to customize lighting effects, apply realistic materials, and adjust shadows and reflections. With this feature, you can enhance the designs by producing visually stunning and realistic renderings.
IFC (BIM) Import
progeCAD supports the Import of Industry Foundation Classes (IFC) files, which are commonly used in Building Information Modeling (BIM). By importing IFC files, you can collaborate with other professionals in the AEC (Architecture, Engineering, and Construction) industry more effectively. It allows for seamless integration of BIM models, enabling you to work with complex architectural and construction data from different sources.
3D PDF Export
With progeCAD, you can export their 3D models and designs as interactive 3D PDF files. This feature enables sharing of design concepts with clients, stakeholders, or team members who may not have access to CAD software. The exported 3D PDF documents retain the interactivity of the 3D model that allows viewers to rotate, pan, and zoom as well as provides a more immersive experience while reviewing the designs.
XLS Import
progeCAD allows you to import data from Excel spreadsheets directly into the drawings. This feature simplifies the process of incorporating large amounts of data into the CAD environment. You can import tables, charts, and other data from XLS files quickly and accurately. This helps you streamline workflows and avoid manual data entry.
Construction Lines
Construction lines, sometimes referred to as "xlines," are temporary lines used for reference or as guides during the drawing process. progeCAD provides the ability to create construction lines, which can be infinite lines passing through a defined point or a line segment between two points. Construction lines assist in aligning and drafting geometry accurately which makes it easier for you to create precise and complex designs.
How Much Does progeCAD Cost?
As one of the best cheap CAD software with affordable pricing and plans, progeCAD has made itself a budget pick for those who are looking for a versatile and cost-effective CAD solution. Also, progeCAD provides a free trial of up to 30 days. Here are its pricing and plans, but the price may vary based on your location.
| | | | | |
| --- | --- | --- | --- | --- |
| | Single + | USB Portable | Network License | Yearly iCARE Subscription |
| Price | $399 | $575 | $575 | $176 |
Should You Use progeCAD? What's Its Best Alternative?
To be honest, progeCAD is not that outstanding given that it has sluggish performance when handling large files. Moreover, it's also not as cheap as expected after summing up additional fees. In this case, you might as well take a look at the best alternative to progeCAD – ZWCAD.
ZWCAD is the best alternative to progeCAD. As an affordable CAD program for both beginners and professionals with an intuitive interface, it also offers a perpetual license that saves a lot of money beyond long-term use. Meanwhile, thanks to its self-developed kernel, the software ensures quick and smooth performance without lags.
Being lightweight at the same time, ZWCAD requires minimum specifications of 2GB RAM and 1GB graphics card. Also, it doesn't include too many features but the most useful and significant ones. Other than robust toolsets to create 2D drawings and 3D designs, it offers advanced features like File Compare (Discover the differences in two drawings at once), Area Table (Automatically calculate area and generate area tables), and Sheet Set Manager (View, access, manage, and plot several drawings in one panel).
What's more, there are innovative features like Smart Plot (Plot different drawings at the same time), Smart Mouse (Trigger commands quickly with a mouse), Smart Select (Select several objects using filters.), etc. The software is suitable for all kinds of industries including architecture, engineering, manufacturing, construction, and so on. ZWCAD has a 30-day free trial available, you might as well give it a go and see whether it lives up to your expectations.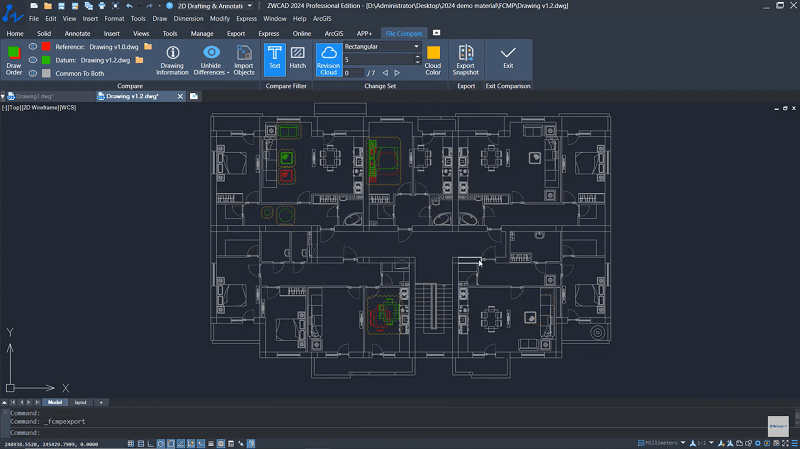 FAQs About progeCAD
How Many Text Styles Are There in progeCAD?
There is no certain amount of text styles in progeCAD. It includes text styles that are designed to work with AutoCAD and Windows. Moreover, fonts from third-party vendors are also supported. Better yet, you can typically customize text styles in progeCAD by adjusting parameters like font, size, color, alignment, and other formatting options. Designers and drafters can create text that best suits their design intent and documentation standards.
Who Developed progeCAD?
progeCAD was developed by progeSoft and first launched in 2004 and the progeSOFT company was founded in Switzerland in 1985. Initially, it focused on developing technical software for the mechanical industry. In the early 2000s, progeSOFT expanded its portfolio and started developing CAD software, which led to the creation of progeCAD.
Conclusion
This progeCAD review shines a light on this cost-effective CAD software for anyone. After checking out its pros, cons, and main features, you should know it back to front. However, if you're looking for a cost-effective pick, ZWCAD will indeed be a top-rated alternative. It offers more useful features with a faster and more smooth performance. Both of them provide a 30-day free trial. Why not give each of them a try, and you can tell the winner on your own.