In the realm of modern structural engineering, the importance of specialized software cannot be overstated. These structural engineering software typically offer essential features, including modeling, analysis, design, simulation, and visualization.
These tools empower structural engineers and designers to create innovative and secure architectural designs effectively. They are indispensable for ensuring the safety and stability of architectural structures, addressing a wide range of engineering tasks such as structural analysis, steel structure design, concrete structure design, and more.
In this article, we will delve into the top 7 structural engineering software solutions. Each of these programs has been meticulously crafted to meet the unique demands of the industry, playing a pivotal role in enabling engineers and designers to optimize their projects.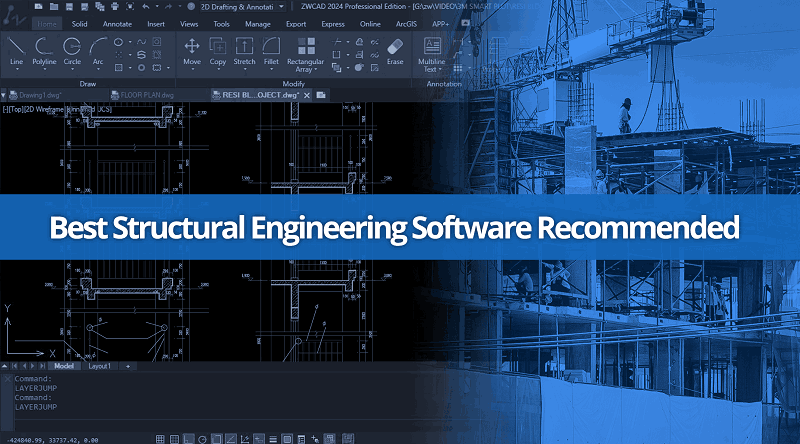 Key Considerations When Choosing Ideal Structural Engineering Software
With the plethora of options available on the market, choosing the perfect software can be a daunting task. To ease your decision-making process, here are the key factors to consider when choosing software for structural engineering:
Project Requirements – Ensure the software aligns with your project's specific needs, whether it's for buildings, bridges, or specialized structures.
Budget – Evaluate the cost of the software and make sure it fits your budget, as prices can vary depending on functionality and features.
Technical Requirements – Choose software that aligns with the technical capabilities and needs of your engineering and design team.
Integration – Ensure the software can seamlessly integrate with other tools or systems you use, such as BIM platforms.
Features – Assess the software's functionalities, such as modeling, analysis, design, simulation, visualization and more. Ensure it can handle complex project demands.
Support and Training – Evaluate the availability of customer support and training resources, as they can greatly assist in mastering the software.
User Feedback and Reviews – Seek out user reviews with hands-on experience with the software, which can provide valuable insights into its performance and usability.
Updates and Maintenance – Verify that the software provides regular updates and maintenance to enhance security and performance.
Choosing the right structural engineering software is not one-size-fits-all. Each project comes with its unique demands, making it important to select the most suitable software. By carefully considering the above factors, you can select software that best suits your project.
The Best 7 Structural Engineering Software Introduced
Now, let's take an in-depth look at the top 7 structural engineering software options available to you, each catering to a variety of project needs and preferences.
Top 1. ZWCAD (Best Overall)
Pricing: One-time purchase: $899;  Subscription: $322/year
ZWCAD is a cutting-edge CAD software designed to cater to the needs of professionals, including designers, engineers, and architects. It is the leading choice for structural engineering design software due to its remarkable features and capabilities.
It supports integration with ARCHLine.XP, allowing for the direct transfer of DWG or IFC format drawings between these two programs. This integration eliminates the need for cumbersome import/export tasks, providing an efficient and user-friendly CAD-BIM solution for structured engineering work within teams.
Thanks to its Point Cloud feature, ZWCAD ensures that you can gather information more quickly, reduce errors, and enhance design accuracy. You can precisely and comprehensively capture 3D measurements of real-world objects and seamlessly integrate them into CAD projects for precise modeling and design.
ZWCAD also excels in compatibility with popular file formats like DWG, DXF, and DWT. Furthermore, it boasts intelligent functions including Smart Plot for efficient multi-plotting, Smart Mouse with mouse gesture commands, Smart Select for rapid object selection, Smart Voice for voice annotations, and automated area calculations via the Area Table.
On the other hand, it provides a 30-day free trial for you to experience without restrictions. It also supports a one-time purchase, for only $899 you can have it permanently, unlike other professional software that may only be available through yearly subscriptions, which could potentially exceed your budget over multiple years. So, in terms of features, user experience, and pricing, ZWCAD is the best structural engineering software you can try.
Pros:
Highly compatible with common file formats like DWG, DXF, DWT, etc.
It includes intelligent tools like Smart Plot, Smart Mouse, and Smart Select, etc.
The File Compare feature helps users spot differences between two drawings.
It seamlessly handles 3D point cloud data for real-world integration.
Cons:
Top 2. SkyCiv (Cloud-Based)
Pricing: $109/month, $1308/year.
SkyCiv is one of the top structure designing software options with its innovative cloud-based approach. This unique cloud-based solution brings several advantages to structural engineers and designers.
This software is an all-in-one online platform for structural engineering tasks. Its simple input system facilitates quick model setup, while the integrated section builder allows for custom cross-sectional shapes. In addition, it generates professional PDF reports for documentation and sharing. With specialized tools for steel, reinforced concrete, and wood member design, SkyCiv accommodates a wide range of project requirements. What sets SkyCiv apart is its Hand Calculations feature, which provides a comprehensive breakdown of manual calculations.
Pros:
It offers easy online access and collaboration.
It provides powerful tools for structural analysis and design.
It offers design modules for steel, concrete, wood, and other materials.
Users can generate instant reports for project documentation.
User-friendly and intuitive interface.
Cons:
Can not deal with complex projects.
Third-party integration may require customization.
Top 3. SAP2000 (Best BIM)
Pricing: $2200/year
SAP2000 stands out as a leading structural design software, particularly recognized for its proficiency in Building Information Modeling applications.
This engineering design software offers versatility across a wide spectrum of structures, from buildings to bridges and more. Its standout features include real-time visual modeling, advanced analysis capabilities covering various conditions, compliance with global design standards, and extensive user support and training resources. However, what truly sets SAP2000 apart is its ability to seamlessly integrate with BIM workflows, enabling efficient collaboration between engineers, architects, and other stakeholders.
Pros:
Seamless integration with BIM workflows for enhanced collaboration.
Comprehensive structural analysis capabilities adaptable to various projects.
Intuitive design comprehension through real-time modeling.
Compliance with international design standards for global relevance.
Extensive user support and training resources.
Cons:
Some users may face a learning curve, especially beginners.
Specialized and complex projects may require additional software.
Top 4. Revit (Best for 3D)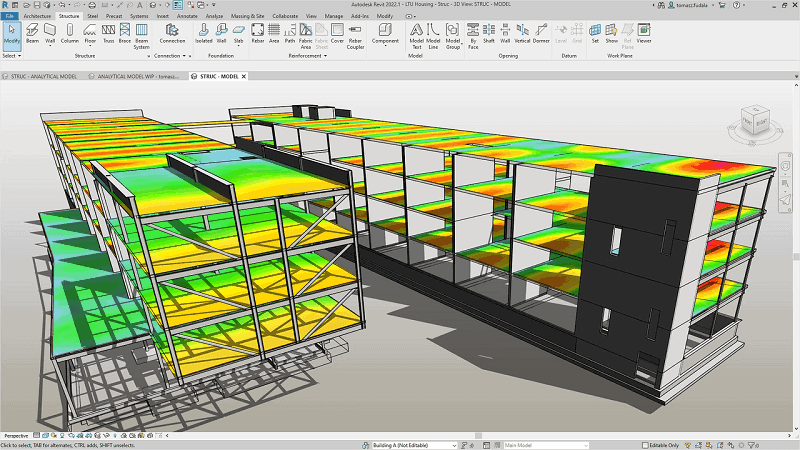 Pricing: $2835/year
Revit is a powerful structural engineer software, known for its unparalleled 3D modeling capabilities in BIM.
This powerful architectural cad software combines parametric modeling, structural analysis, real-time BIM collaboration, automated documentation, and exceptional 3D modeling capabilities. It provides access to a large library of materials, which aids in material selection and cost estimation.
Its interoperability with other Autodesk software ensures a seamless workflow from design to construction. All the great features make this 3D structural engineering software the go-to solution for structural engineers seeking excellence in a 3D BIM environment.
Pros:
It integrates smoothly into BIM workflows, enhancing collaboration and project quality.
Enables creation of adaptive 3D models, facilitating design adjustments.
Precise and detailed 3D modeling capabilities.
Facilitates real-time teamwork among stakeholders.
It automates the generation of construction documents and drawings
Cons:
May need high-performance hardware for complex projects.
Typically involves licensing fees.
Top 5. AutoCAD (Web Viewer Provided)
Pricing: $1975/year
Developed by Autodesk, AutoCAD is an acclaimed CAD software program known for its comprehensive range of design and drafting tools. It is a great building design software with powerful features tailored for structural engineers and designers. Structural engineers can effortlessly create complex designs with efficient 2D and 3D modeling tools.
It seamlessly integrates with other Autodesk software to ensure smooth workflow and data exchange. And it also offers customization options to empower users to create tailored workflows. What's more, AutoCAD features a Web viewer that extends its reach and enhances collaboration capabilities, allowing the rest of the team to view and annotate designs without installing software.
Pros:
It provides a rich set of design and drafting tools for precision.
It works smoothly with other Autodesk software, ensuring a seamless workflow.
The web viewer simplifies project reviews, enabling easy feedback from stakeholders.
Users can tailor AutoCAD to their specific needs.
The web viewer allows access from anywhere
Cons:
Handling large projects may need high-performance hardware.
The web viewer relies on an internet connection.
Top 6. Tribby3d (Best Budget)
Pricing: $49/month, $588/year
Tribby3d is a cloud-based structural engineering software that specializes in the rapid and precise computation of tributary areas for column and wall elements. It is budget-friendly structural engineering software designed to provide cost-effective CAD solutions for engineers and designers.
This user-friendly tool allows engineers to model structures directly within the application or import floor layouts using DXF files, ensuring compatibility with existing designs. Equipped with a 2D model editor, users can effortlessly draw floors, columns, and walls in their web browser. The software provides the convenience of downloading analysis results as Excel files, simplifying further analysis and documentation. Additionally, users can save and manage their projects and models within the application for future reference.
Pros:
Tribby3d is cost-effective, making it ideal for budget-conscious users.
Its 2D model editor and DXF import feature simplify structural modeling.
Geometric analysis simplifies initial design phases, reducing complexity.
Accessible from anywhere with an internet connection.
Users can easily save and analyze results in Excel.
Cons:
Lack of some advanced features available in premium software.
Requires internet access for operation.
Top 7. BricsCAD (Enables Customizable Commands)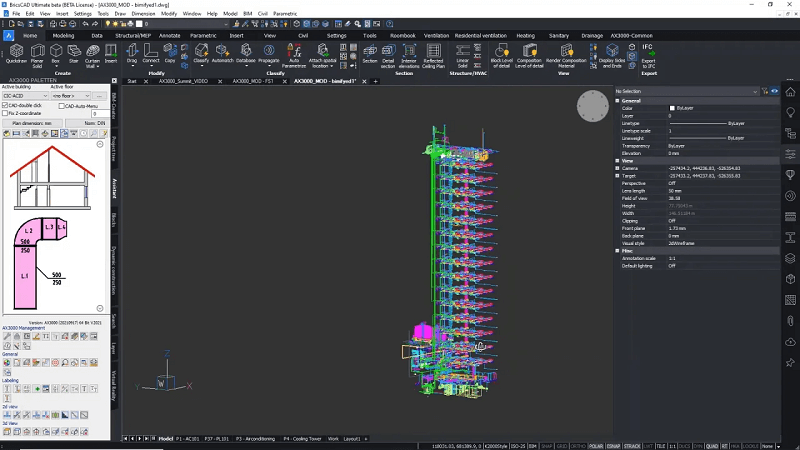 Pricing: One-time purchase: $1,265; Subscription: $677/year
BricsCAD is an all-in-one software that seamlessly combines 2D CAD and 3D modeling capabilities within the .dwg format, offering a robust toolset to enhance project efficiency. Known for its flexibility in allowing users to customize commands, it is an invaluable tool for engineers and designers seeking tailored solutions.
BricsCAD simplifies intricate structural design and improves user experience with features like the intelligent quad cursor. It offers dynamic dimensions, customizable settings, and annotative scales to streamline documentation. The drawing explorer simplifies file management, while dynamic arrays enhance design flexibility. A dockable panel optimizes workspace, and web map services facilitate location-based data integration. The layers and content browser enhance accessibility and organization.
Pros:
Compatible with Windows, macOS, and Linux
Versatile CAD capabilities including 2D/3D modeling and customization.
Users can expand functionality through third-party apps and custom plugins.
Intuitive interface to ease the transition for existing CAD users.
Cons:
The small user base could affect collaboration.
Some features may not be as extensive.
FAQs About Structural Engineering Software
Is BIM Utilized by Structural Engineers in Their Projects?
Certainly. Structural engineers frequently use BIM in their projects. BIM offers efficient tools and features, including 3D modeling for visualizing and analyzing building structures. It also provides powerful structural analysis capabilities to simulate structural behavior under various loads, ensuring safety and performance standards. Moreover, BIM promotes collaboration with architects and team members, allowing the creation of comprehensive digital models that cover all structural aspects.
Overall, BIM enhances collaboration, design accuracy, and project efficiency, making it an integral part of modern structural engineering projects.
What Are the Primary Categories of Structural Systems?
When it comes to building and structural engineering, there are several main types of structural systems that are commonly used. Let's look at three of them:
Frame Structural System: This basic system relies on vertical columns and horizontal beams forming a skeleton to support a building's weight. It's great for tall buildings.
Frame-Shear Wall Structural System: This is a combo system that blends frames for vertical support with shear walls for resisting sideways forces like wind or earthquakes. It offers flexibility and stability.
Cable Structural System: Using tension cables, this system can support structures over long spans without lots of support structures. Think suspension bridges.
Each of these structural systems has its own advantages and is used in different situations depending on factors like building height, location, and the kinds of forces the structure will face.
Which Is the Best CAD Software for Steel Detailing?
The best CAD software for steel detailing can vary depending on specific project requirements and preferences. Two notable structural steel design software are ZWCAD and Revit.
ZWCAD is a versatile CAD software known for its architectural toolkit, offering precision in both 2D and 3D drawings. It is often used for 2D designs and converting paper drawings into CAD models. With its industry-specific toolkits catering to specialized business needs, it is suitable for a wide range of design applications, including architectural, mechanical, electrical design, and even steel detailing.
Revit plays a crucial role in structural steel drawings, providing a comprehensive BIM platform for high-quality designs. Revit simplifies tasks like modeling shafts compared to software like AutoCAD, making it a compelling choice for steel detailing projects. Moreover, Revit creates intelligent models, enabling the storage of additional information about the building, including geometric shapes.
Is There Any Web-Based Residential Structural Design Software?
Yes, there are web-based residential structural design software options available, and ClearCalcs is one of them.
ClearCalcs is a user-friendly web-based structural analysis and design software, well-suited for residential structural design. It simplifies complex engineering calculations and adheres to industry-standard building codes and regulations. The software covers a wide range of calculations related to residential structures, offers customizable templates, generates detailed reports, and supports real-time collaboration among team members. Its cloud-based accessibility allows users to work from anywhere with an internet connection, making it a flexible and valuable tool for residential structural engineers and designers.
Conclusion
We've explored 7 prominent structural engineering software options, each tailored to meet distinct project needs and preferences. To help you make a better choice, we have compiled the following table for easy reference:
Best For
Price
Ease of Use
Supported Formats
Supported Systems
ZWCAD
General structural design
$899 for one-time purchase;
$322/year subcscription
Easy
DWG, DXF, DWT
Windows, Linux
SkyCiv
Small to medium-sized projects
$1308/year
Moderate
Various
Web-based
SAP2000
Complex projects and BIM workflows
$2200/year
Moderate
IFC, DWG, DXF
Windows
Revit
High-quality 3D structural designs
$2835/year
Moderate to Difficult
RVT, DWG, DXF
Windows
AutoCAD
Viewing and basic design tasks
$1975/year
Easy to Moderate
DWG, DXF, DWT
Windows, macOS
Tribby3d
Budget-conscious engineers
$588/year
Easy
DXF, STL, PNG, CSV
Web-based
BricsCAD
Customization and precision
$1,265 for one-time purchase;
$677/year subcscription
Easy
DWG, DXF, DWT
Windows, macOS, Linux
In conclusion, for overall versatility and user-friendliness, ZWCAD stands out as the best structural engineering software. Revit excels in 3D modeling and complex projects, while SkyCiv is simple for small to medium projects. SAP2000 is the best BIM for complex work, while AutoCAD is reliable for basic tasks with a web viewer. Tribby3d is budget-friendly, and BricsCAD offers customization. Ultimately, the best software depends on your specific needs and priorities, so carefully consider the factors that matter most to your project.