With its tactile touch screen and handy Apple Pencil, an iPad makes design work more efficient and comfortable. It's compatible with a wide range of CAD apps and allows you to capture design ideas whenever a great one pops into your head. Here we've reviewed the 7 best apps for CAD on iPad of the year. Now, get your best pick and you can review CAD files or refine your design on the go or from the comfort of your couch.
---
Related Article:
---
The Top 7 CAD Applications for iPad Recommended
After testing 20+ popular iPad CAD apps, there are 7 top picks standing out for their great features and functionalities. To save your time looking for a great helper, you'd better take a look below.
Top 1. ZWCAD Mobile
ZWCAD Mobile is a top-rated CAD drafting app for iPad that enjoys royalty among millions of users. It offers a range of features for viewing, editing, and sharing CAD drawings on the go. You can open and view CAD files in various formats, including DWG, DXF, DWF, PDF, and JPG. Also, it allows you to export and share your design in a range of formats like PDF, DWF, JPG, and OBJ. Meanwhile, you can also add comments, annotations, and markups to the drawings for collaboration and communication purposes.
This dedicated app lets you create and edit CAD drawings directly on the iPad. It provides basic drawing tools such as lines, circles, arcs, and text with snap, track, and ortho mode. What's more, it supports accurate dimensioning, measurement tools, and layer management for precise drafting. The app makes it convenient for you to sketch ideas or make quick modifications to designs.
Moreover, ZWCAD Mobile is interoperable with ZWCAD on the desktop to expand to more professional and versatile features like Smart, Plot, Smart Mouse, Smart Select, Smart Voice, etc. Moreover, you can quickly spot the differences between two drawings with its File Compare feature. The Sheet Set Manager lets you view, access, manage, and plot multiple drawings in just one panel. To visualize your ideas, ZWCAD makes it easy and flexible, be it on an iPad or on a desktop.
Top 2. AutoCAD Web (2D & 3D)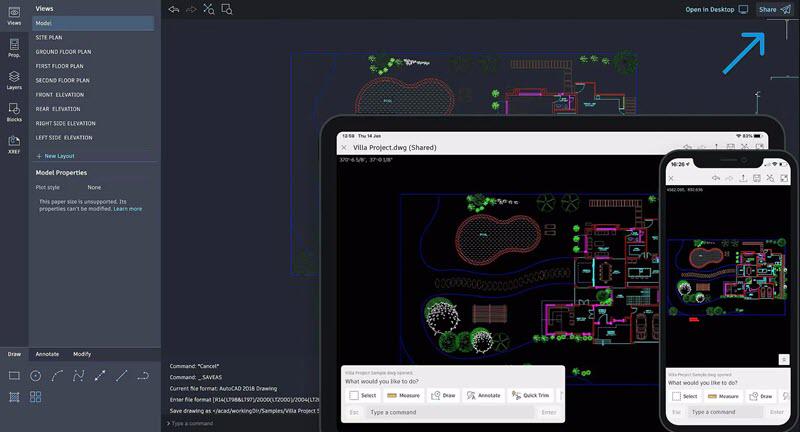 AutoCAD Web was formerly known as the AutoCAD Web app and AutoCAD Mobile app. Now, they are integrated into the AutoCAD Web platform and can be easily used on iPad. It enables you to open DWG/DXF files directly in its iPad CAD app from Autodesk Drive, Autodesk Docs, Microsoft OneDrive, Box, Dropbox, or Google Drive. It also works without the internet on mobile and will sync your modifications later after going online.
The app provides a robust set of drawing tools that enable users to create and modify precise 2D drawings. Moreover, it offers familiar commands, such as line, circle, and rectangle, along with more advanced tools for adding annotations, dimensions, and text. It also supports layer management, object manipulation, and snap tools for accurate and efficient drafting.
Web-based AutoCAD for iPad offers convenience for architects, engineers, and construction professionals in a team. It enables you to share CAD drawings with others for viewing and review. Users can also add comments and markups to drawings, making it easier to communicate design changes or feedback. Thanks to its cloud-based service, your design will be accessible anywhere.
Top 3. CorelCAD Mobile (2D & 3D)
CorelCAD Mobile is available for both Android and iOS devices. You can directly download and install this app for CAD on iPad. It ensures seamless compatibility with popular CAD formats, including DWG and DXF. It's a free CAD software for iPad that lets you open and view DWG files of 2D drawings or 3D modeling from cloud storage services like Box, Dropbox, and Google Drive with basic annotation tools.
After you subscribe to the CorelCAD, the app will bring you a robust set of drawing and editing tools, plus advanced annotation capabilities. There is a range of drawing commands available, including lines, circles, arcs, and polygons. Furthermore, you can make use of basic editing capabilities like trim, extend, fillet, and chamfer. It also supports object snaps and measurements. This app enables you to create and modify 2D sketches and 3D models with precision.
The app provides an intuitive and user-friendly interface optimized for iOS devices. Its streamlined design ensures a smooth and efficient workflow and makes it easy to navigate through drawings, access tools, and perform various CAD operations. It serves as a portable CAD solution that enables professionals, architects, engineers, and designers to work with CAD files when they are away from their desktop computers.
Top 4. RoomSketcher (2D & 3D)
RoomSketcher offers cross-platform services including CAD for iPad, which is available for download from the App Store. It allows you to switch between your iPad and computer with ease. As home design software with an intuitive interface and powerful features, you can create detailed floor plans and home designs directly on the iPad.
The app enables you to create accurate and detailed floor plans by incorporating measurements and specifications. You can draw and modify walls, adjust their lengths and angles, and add structural elements such as stairs and beams. This ensures that your designs reflect the precise dimensions and layout of your desired spaces. Moreover, it provides an extensive library of design elements, including walls, windows, doors, furniture, appliances, fixtures, and decor items.
You can choose from a wide range of styles and designs as well as personalize and furnish your virtual spaces with ease. RoomSketcer also lets you create stunning 3D photos and panoramic 360 views with the camera. What's more, it allows you to visualize your home design in realistic 3D. You can bring your iPad to show off floor plans to clients, friends, or family with a lifelike representation of your designs.
Top 5. Shapr3D (3D)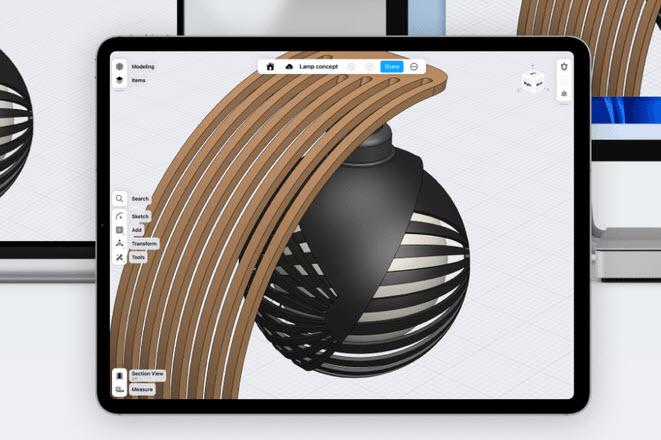 Shapr3D is a 3D modeling app for CAD on iPad that lets you design and create stunning 3D models anywhere, anytime. It offers a powerful set of 3D modeling tools that make it easy to start intricate and precise designs. With robust features such as sketching, extrusion, blending, and filleting, you can easily shape and refine your 3D models.
Designed with the needs of professionals in mind, this CAD program for iPad  ensures great precision and accuracy. You can specify exact measurements, dimensions, and angles to ensure that your designs are accurate and manufacturable. What's more, its visualization feature allows you to view your prototype as a 3D rendering in real time. You'll be able to toggle between 3D modeling and 3D rendering to quickly refine your design.
Shapr3D simplifies collaboration by offering several ways to share your designs. You can export your models in multiple CAD file formats, including STEP, IGES, STL, and OBJ. It allows seamless integration with other software and collaboration with colleagues or clients. It also supports cloud storage for easy access and sharing from multiple devices.
Top 6. AutoQ3D (3D)
AutoQ3D is a powerful and user-friendly CAD for iPad in 2D drawing and 3D modeling. It offers an intuitive interface to navigate and utilize its features and a full set of tools. Drawing Tools make it easy to create models with 3D shapes. Modification Tools enable you to edit 3D modeling using basic operations. Snapping Tools help improve the precision and accuracy when creating 3D objects. Grouping Tools allow you to categorize objects by groups for easy management.
This app comes with a rich object library that includes a variety of pre-built shapes and structures. You can quickly add them to your design, which saves time and effort in creating elements from scratch. Moreover, it lets you visualize your designs in realistic and immersive renderings. You can give your models life-like appearances by applying materials, textures, and colors to them.
Once you've completed your designs, it allows you to export them in various file formats, including STL, DXF, and OBJ. Whether you're an architect, engineer, artist, or hobbyist, AutoQ3D provides you with the tools and features to bring your ideas to life in a virtual 3D environment.
Top 7. uMake (3D)
uMake is an innovative 3D CAD program for iPad, iPhone, and Mac (Apple Silicon) that allows you to unleash your creativity and design skills with its intuitive interface. It offers a unique and intuitive sketch-based modeling experience. Using simple gestures and strokes, you can quickly create 3D shapes, curves, and surfaces. Moreover, it can translate your 2D sketches into 3D objects with a seamless transition from ideation to modeling.
This app provides a comprehensive set of editing tools that allow you to refine and manipulate your designs with precision. You can also adjust shapes, scale objects, extrude surfaces, merge or subtract volumes, and more. To create complex and organic shapes, you can take advantage of its advanced surface modeling tools. To sculpt and deform surfaces, smooth edges, and create intricate details, you can make use of its brush-like tools.
Better yet, uMake offers a rich library of all kinds of templates (249 items), elements (1543 items), textures (720 items), and environments (28 items). When you're done with your design, it allows you to visualize and present your art of work in augmented reality (AR) right via the app. Meanwhile, it enables you to export your design to multiple file formats, including PNG, STL, and IGES, so you can work in other apps or software.
FAQs About CAD on iPad
How Can I View CAD Files on an iPad?
The exact steps may vary based on the CAD program for iPad you're using. Here's the tutorial for your reference on how to view CAD files on your iPad via ZWCAD Mobile. Please note that you can add cloud services in the app for instant viewing as well.
Heads-up: Make sure that your CAD file is in DWG, DWF, DXF, JPG, or PDF.
You May Need: How to Convert DXF to PDF for Free (A Complete Guide)
STEP 1. Send the CAD file to iPad using AirDrop, iCloud Drive, etc.
STEP 2. Download and install ZWCAD Mobile from the App Store.
STEP 3. Tap "Local" and search for the desired CAD file.
STEP 4. Tap it and open the CAD file in the app.
Is There a FreeCAD for iPad?
No, FreeCAD doesn't support iPadOS now, but you can try CorelCAD Mobile on your iPad. This free CAD software for iPad has a free mode that enables you to open and view DWG files from cloud services. Moreover, you can take advantage of its basic annotation tools.
Does CAD for iPad Support File Export and Sharing?
Yes, most CAD apps for iPad support exporting files to formats like DWG, DXF, PDF, etc., and then you can share the files with others or view them on another device. Moreover, iPad CAD apps often integrate with cloud storage services like Google Drive, Dropbox, etc. That makes it easy to save files to the cloud and collaborate with others or access them across multiple devices.
Conclusion
| | | | | | |
| --- | --- | --- | --- | --- | --- |
| | 2D or 3D | Compatible Formats | Exported Formats | Annotation | Collaboration |
| ZWCAD Mobile | 2D & 3D | DWG, DXF, DWF, PDF, and JPG. | PDF, DWF, JPG, and OBJ. | √ | √ |
| AutoCAD Web | 2D & 3D | DWG, DXF | PDF | √ | √ |
| CorelCAD Mobile | 2D & 3D | DWG, DXF | × | √ | × |
| RoomSketcher | 2D & 3D | × | PDF | × | × |
| Shapr3D | 3D | DWG, DXF, STEP, IGES, STL, PDF | DWG, DXF, STEP, IGES | × | √ |
| AutoQ3D | 3D | DWG, DXF | DWG, DXF | √ | × |
| uMake | 3D | OBJ, STL, SKP, IGES, STEP, SVG | PNG, STL, OBJ , USDz, IGES, STEP, UMK | √ | √ |
The comparison will help you figure out the differences between the 7 best apps for CAD on iPad. If you'd like to look up CAD files or export them for sharing. Then, ZWCAD Mobile, Shapr3D, AutoQ3D, and uMake all support a wide range of import and export formats. If you want to work with your team at any time, then opt for AutoCAD Web and uMake with collaboration capabilities. To ensure the best interoperability across iPad and desktop, ZWCAD Mobile will be an optimal choice for you.