CAD software is essential for various industries, from engineering and manufacturing to architecture and product design. However, not everyone has the budget for expensive CAD software packages like AutoCAD, which requires $1679 for a year.
Fortunately, there are a number of affordable CAD software options available, offering powerful features and functionality. In this article, we will take a look at 10 of the best cheap CAD software programs available in 2023. Whether you are looking for programs for basic drafting or more advanced 3D CAD modeling tools for complex modeling, you are sure to find an option on this list that meets your needs and budget.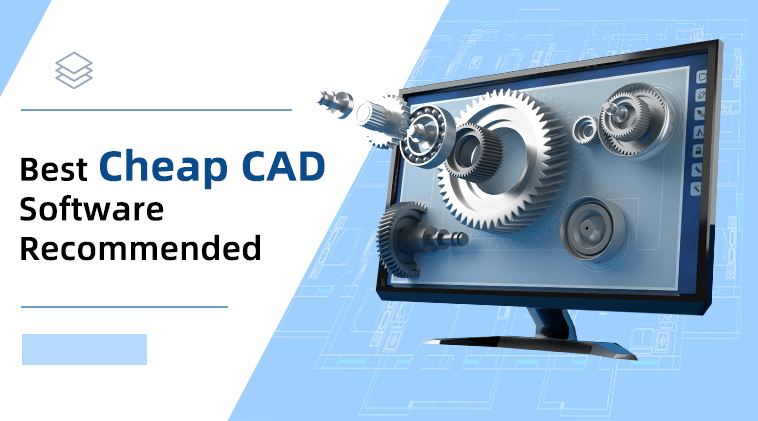 Benefits of Using Inexpensive CAD Software
CAD software offers many advantages over manual drawing, such as improved accuracy, increased productivity, enhanced visualization and communication, etc. While some may believe that expensive software is the best, low-cost CAD software now can offer powerful features that meet most people's needs. Benefits can be listed as follows.
Accessibility – Inexpensive CAD software is often a better option for users to get started with because it is available to download from the internet for learning and practicing without requiring a large financial investment.
Affordability – It often offers a cost-effective solution at a fraction or a tenth of the price of a high-end one. This can be especially beneficial for students, hobbyists, and small businesses on a tight budget.
Compatibility – Cheap CAD software for PCs often has limited functionality and does not meet all needs. But relatively, its requirements for the operating system will be relatively low. At the same time, they are still powerful enough for most basic CAD tasks.
Flexibility – It usually offers a variety of subscription plans, like free, monthly plan, yearly plan, and lifetime plan. Also, it offers customization and expansion options, enabling you to customize the CAD software to meet your needs by subscribing to specific feature options.
Ease of use – Many cheap CAD programs are designed to be easy to use with an intuitive user interface, even for those without CAD experience. This makes them a good option for beginners who are just starting out with CAD.
In general, inexpensive CAD software can be a great option for those looking for a powerful and affordable design tool. You can get the features you need without breaking the bank by choosing the cheapest CAD software program.
The 10 Best Cheap CAD Software Recommended
In this part, we will explore the 10 best cheap CAD software including free 2D CAD software for drafting, cheap 3D CAD software for modeling, and more for you. Let's scroll down and pick out the right one.
Top 1. ZWCAD
ZWCAD is a powerful and affordable CAD software for 2D and 3D that is perfect for everyone from beginners to professional designers. It offers a wide range of features and tools for creating complex 3D models, rendering realistic images, and generating detailed technical drawings. With its intuitive and user-friendly interface, ZWCAD is easy to learn and use, even for those with no prior CAD experience.
One of the key benefits of ZWCAD is its affordability. Users can choose from a variety of flexible purchasing options, including a 30-day free trial, annual and three-year subscriptions, and a one-time purchase. For users who need to use CAD software on a regular basis, a one-time purchase of ZWCAD is great value for the money. If you are looking for the best cheap CAD software, ZWCAD is a great option to consider. It is easy to use, versatile, and affordable.
Top 2. Draftsight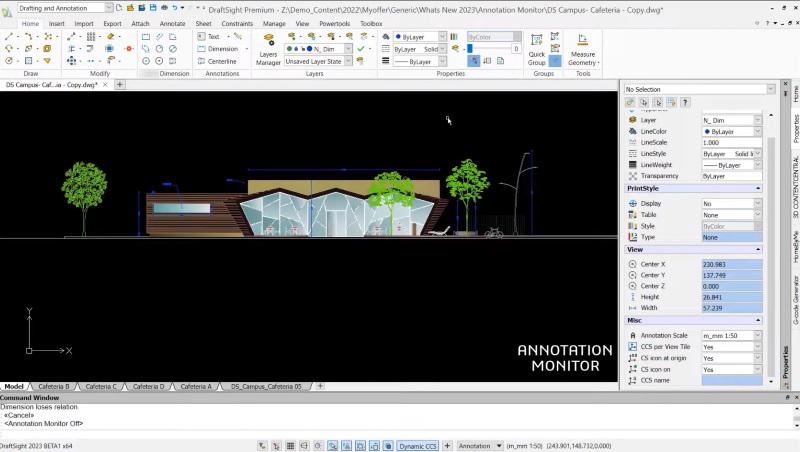 Draftsight is another low-cost CAD software recommended on this list. If you're looking for the best CAD software for architecture, engineering, or interior design, this tool is a great option. It comes with professional-level features that allow you to create, edit, view, and share 2D drafting and 3D modeling files with your team. Using this software can significantly enhance your design workflows and increase your team's productivity.
Draftsight is also very cost-effective, offering multiple licensing plans at a variety of price points to suit different budgets, including a free trial for 30 days, a professional subscription of $249/year (2D drafting only), a premium subscription of $549/year (2D drafting and 3D design).
Top 3. progeCAD
progeCAD is considered one of the best AutoCAD-compatible 2D/3D CAD software. It provides all the functions and features of AutoCAD but at a more affordable price. It can be used to create a wide range of 2D and 3D drawings, from simple sketches to complex models for engineering drawings, architectural plans, and product designs. Moreover, it has a user-friendly interface and a comprehensive set of documentation and tutorials, making it easy for beginners to learn and use.
Also, progeCAD is known for its affordability and licensing flexibility. It is available as a perpetual license, which means that you can purchase it once and use it forever. There is also a free trial available so that you can try this affordable CAD software before you buy it.
Top 4. nanoCAD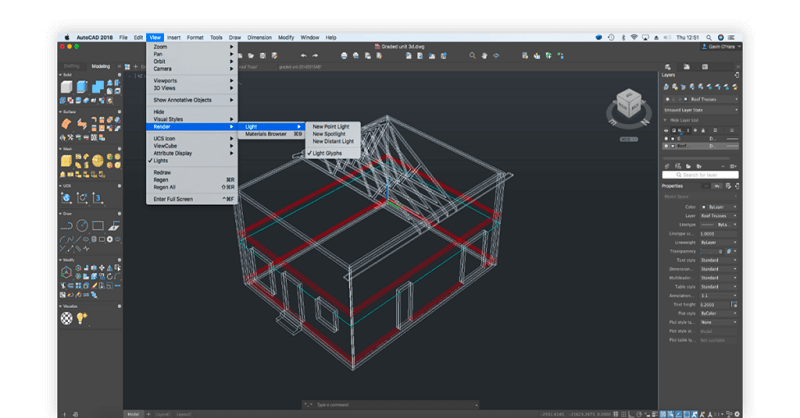 When it comes to inexpensive CAD software, nanoCAD is always on the list. It is a cost-effective and user-friendly alternative to other popular CAD software, such as AutoCAD. It starts at $249/year for 2D drafting. Also, you can add a 3D solid modeling module to expand your user experience, which requires $399/year in total for 2D and 3D.
Plus, This cheap CAD software can offer a professional CAD software platform that provides designers with powerful capabilities in 2D drafting and 3D modeling. It is compatible with DWG files, so users can easily exchange drawings with other CAD users. All these features make it a great choice for anyone looking for a helpful and affordable CAD software solution.
Top 5. FreeCAD
FreeCAD is a free and open-source parametric free 2D CAD software and 3D CAD modeler and a building information modeling (BIM) software application available for Linux, macOS, and Windows operating systems. It is intended for mechanical engineering product design but also expands to a wider range of uses around engineering, such as architecture or electrical engineering.
Also, FreeCAD offers a set of tools for creating and editing 2D drawings, allowing users to use 2D drawings as a starting point for creating 3D models. If you need powerful CAD software, then you should not miss FreeCAD. However, be aware that it may not be compatible with some high-end CAD software. All in all, FreeCAD is a powerful and extensible CAD software suitable for a variety of design needs.
 Top 6. SolveSpace
If what you need is the cheapest CAD software for editing 2D and 3D drawings, then SolveSpace, an open-source parametric CAD program, is an ideal available option for you. While there are other free CAD software options available, SolveSpace is generally considered to be one of the best, especially for beginners and hobbyists.
It is relatively easy to learn and use and provides a simple and intuitive way to learn about CAD and engineering concepts. Also, it has extensive features, including 2D sketching tools, 3D modeling operations, assembly modeling, rendering, and more. If you are new to CAD, you can try SolveSpace to get started.
Top 7. QCAD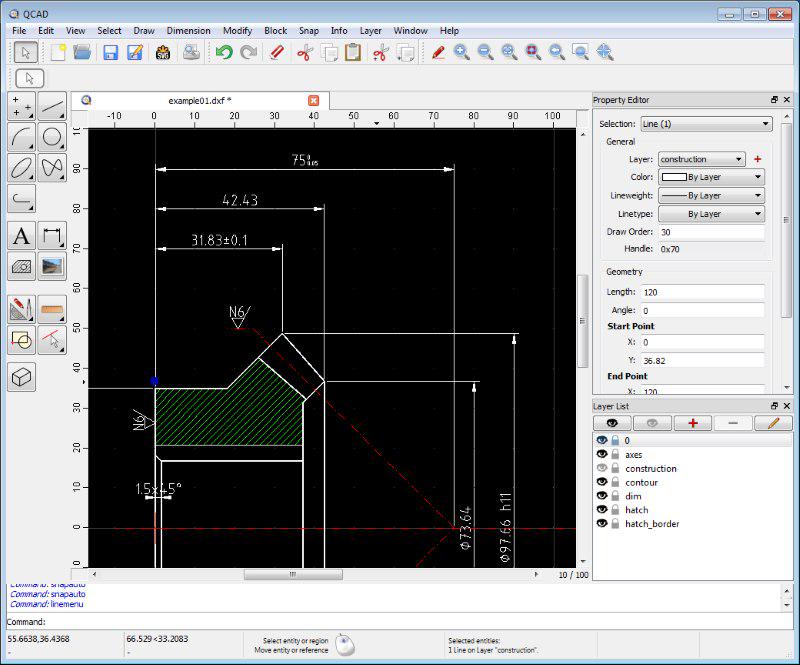 QCAD is an open-source, free 2D CAD software for creating technical drawings such as plans for buildings, interiors, mechanical parts, or schematics and diagrams on Windows, macOS, and Linux. It also supports multiple file formats that can interoperate with other CAD software.
Additionally, it is free to download and use without any licensing fees. This makes QCAD ideal for individual users and small businesses. Meanwhile, it also provides professional edition services for only $42 (one-time purchase). You can also try it for free for 15 minutes before purchasing. Overall, QCAD is a very good choice for users who need low-cost 2D CAD software.
Top 8. SmartDraw
SmartDraw is a web-based cheap CAD software for 2D drawings. Being one of the best 2D CAD online tools, it can be used to draw various types of drawings, including architectural, and engineering drawings, flowcharts, org charts, etc. It also provides many templates and resources to help users create professional drawings quickly. Additionally, it offers a platform that enables you to collaborate with your team seamlessly to improve your design plans in real-time. As for its interface, it is concise and clear, making it simple to operate and easy to use. Even users without CAD experience can get started quickly.
Currently, SmartDraw is priced at $9.95 per month for the personal version. It's much cheaper than traditional CAD software, yet powerful. Therefore, SmartDraw is a very good choice for individual users and small and medium-sized enterprises who need low-cost CAD software.
Top 9. SketchUp Pro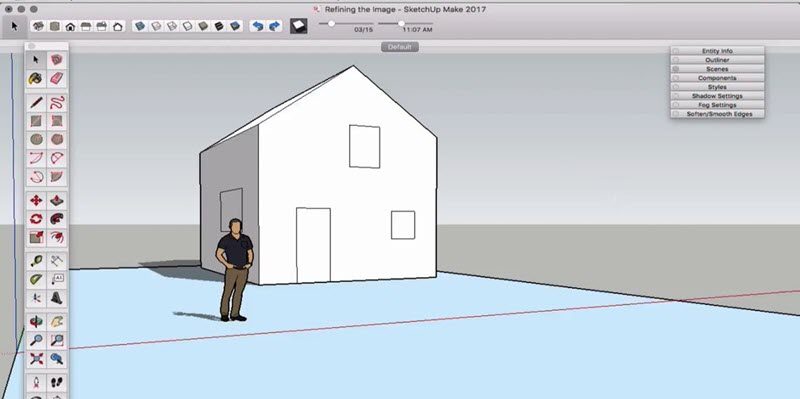 SketchUp Pro is a 3D modeling software program, widely used for architectural drawings, interior designs, landscape designs, and more. It is known for its ease of use and its ability to create complex 3D models quickly and easily, featuring various powerful functions, including intuitive push-pull modeling, style builder for custom styles, extension warehouse for third-party extensions, etc.
To meet more people's budgets, it provides a web-based cheap 3D CAD software called SketchUp Free, which is free for basic 3D modeling, and SketchUp Pro at a price of $349 per year. SketchUp Free does not offer all of the features of SketchUp Pro, but it is a great option for users who need to create simple 3D models or who want to collaborate on models with others.
Top 10. Fusion 360
If you need a powerful yet affordable CAD software option, Fusion 360 is a good choice. It was developed by Autodesk and can be widely used in architecture, engineering, manufacturing, product design, and other industries. Moreover, it is a cloud-based design software platform that integrates 3D CAD, CAM, CAE, and PCB, making it run on Windows, macOS, and web browsers.
Compared with the expensive price of AutoCAD, the subscription price of Fusion360 is more affordable – $366 per year with a 30-day free trial. If you only need to meet the design needs of individuals or small businesses, it's best to start using Fusion 360.
FAQs About Cheap CAD Software
What Is the Best Inexpensive CAD Software for Beginners?
Based on the comparison of all the cheap CAD software mentioned above, if you plan to use CAD software for the long term, then ZWCAD is the best for you. It offers a free trial for 30 days, enabling you to try various features for 2D and 3D drafting, modeling, and rendering, including dimensioning, annotation, sheet set management, and more to improve your workflows.
Moreover, ZWCAD has rich learning resources, enabling beginners to easily find the needed information to learn how to use CAD software. Therefore, if you need an affordable CAD software option that can provide powerful functions to get started, then ZWCAD is a good choice.
In addition, If you just want to create 3D modeling, SketchUp Pro is a great 3D CAD software option for beginners as well. It offers a user-friendly interface, intuitive modeling tools, and rich tutorial sources, making it a good choice for those who are new to CAD.
Free CAD Software vs Cheap CAD Software, Which to Choose?
If you are new to using CAD software, you can first learn about the functions of CAD software from free CAD software and try drawing. However, free options often tend to have very limited features and may not offer the same level of support as paid CAD software programs. After learning more about CAD, it is recommended to choose cheap CAD software that provides sufficient and excellent features with better support at a reasonable price with different subscription plans to fit your budget.
Conclusion
CAD Software
Type
Price
Learning Curve
Operating System
Best for
ZWCAD

2D/3D
30-Day Free trial;

Starts at $322/year;

$899 for one-time purchase

Easy

Windows/Linux
Architecture, engineering, construction, manufacturing, product design
DraftSight
2D/3D
30-Day Free trial;

$249/year (2D Only);

$549/year (2D & 3D)

Easy
Windows
Architecture, engineering, construction, education, hobbyists
progeCAD
2D/3D

30-Day Free trial;

$399 for one-time purchase

Easy
Windows
Architecture, engineering, construction, manufacturing, product design
nanoCAD

2D/3D
30-Day Free trial;

$249/year (2D Only);

$399/year (2D & 3D)

Easy
Windows
Architecture, engineering, construction, education, hobbyists
FreeCAD
2D/3D
Free
Moderate
Windows/Linux/macOS
Architecture, engineering, construction, manufacturing, product design, education, hobbyists
SolveSpace
2D/3D
Free
Moderate
Windows/Linux/macOS
Mechanical engineering, product design, manufacturing
QCAD
2D
Free version provided;

Pro version: $42 for one-time purchase, with 15-min free trial

Easy
Windows/Linux/macOS
Architecture, engineering, construction, education, hobbyists
SmartDraw
2D
$9.95/month
Easy
Windows
Business, education, government, non-profit
SketchUp Pro
3D
SketchUp Free provided;

Pro version: $349/year

Moderate
Windows/macOS
Architecture, interior design, landscape architecture, product design, game design
Fusion 360
3D
30-Day Free trial;

$70/month;

$366/year;

$1635/3 years

Moderate

Windows/macOS
Product design, mechanical engineering, manufacturing
Overall, the best cheap CAD software will depend on your specific needs and budget. If you are a student or hobbyist, a free 2D CAD software option like FreeCAD, or the best 3D CAD software like SketchUp might be a good choice. If you are a professional who needs more powerful yet affordable CAD software for 2D drafting and 3D modeling, then a paid option like ZWCAD may be a better choice.