What is the best engineering design software for civil engineering projects? Civil engineering design software is a valuable tool that empowers civil engineers to make informed decisions and gain a comprehensive understanding of their project's impact through advanced modeling and streamlined workflows.
The best engineering design software for civil engineering should include basic drawing tools like lines, circles, and polygons, offer the capability to modify 3D primitives, enable 3D visualization of the design, and support team collaboration for enhanced work efficiency and productivity among multiple engineers.
But how do you choose the best engineering design software? If you are struggling with this issue, then this article is for you. Next, we will introduce you to the best 11 engineering design software for 2023 in the following. Let's scroll and start reading.
Detailed Review of the Top 11 Engineering Design Software
When developing a new project, not only do you need to use software to design the project framework and blueprint, but you also need to share work progress with other engineers and collaborate to complete the entire project. Then, the next 11 choices will cover your various needs and help you perform engineering design work smoothly.
Top 1. ZWCAD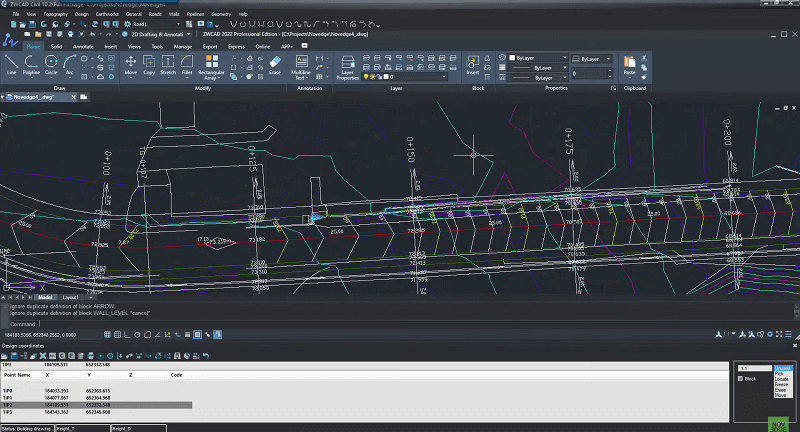 ZWCAD is a powerful engineering CAD software that enables users to create 2D and 3D designs for various industries, including AEC and manufacturing. With its advanced tools and multi-core parallel computing technology (which only occupies 2G of CPU resources), ZWCAD not only offers fast and stable performance but also streamlines the design process, making it easier for architects, civil engineers, and designers to bring their ideas to life.
This software offers a variety of features, including Flexiblock, Point Cloud, and Sheet Set Manager, to help you tackle even the most complex tasks. Plus, innovative smart services like Smart Voice make it easy to annotate your drawings using voice messages instead of text editing.
One of the key benefits of ZWCAD is its compatibility with popular file formats like DWG, DXF, and DWT. This ensures seamless collaboration, software-switching processes, and accurate and complete graphic information transfer. Moreover, ZWCAD supports a range of APIs, including LISP, VBA, ZRX, and .NET, making it suitable for a variety of fields like machinery, architecture, and landscape gardening.
Finally, it's worth noting that ZWCAD is an affordable alternative to AutoCAD, offering a perpetual license at a relatively low price. This makes it an excellent choice for engineering designers with limited budgets but specific design capabilities requirements. So why wait? Try ZWCAD today and see what it can do for you!
Top 2. AutoCAD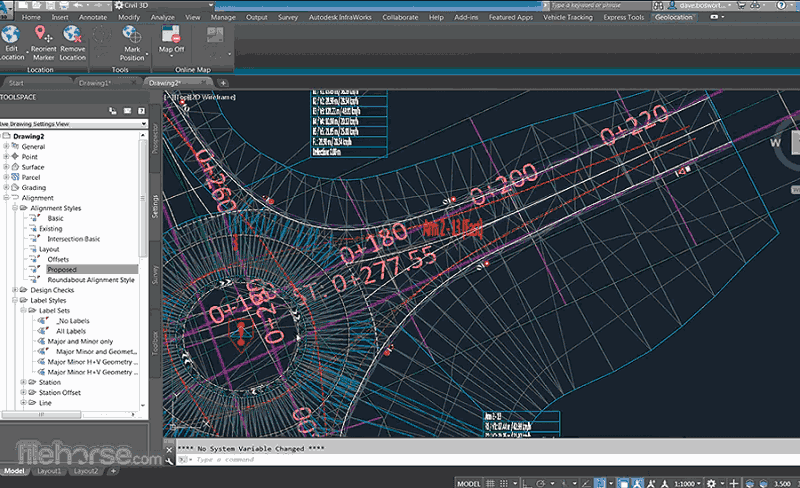 When it comes to engineering design programs, AutoCAD is often considered the best. This computer-aided design software was first released in 1982 by Autodesk and is widely used in various industries, including construction, civil engineering, and mechanical manufacturing. AutoCAD is particularly popular in structural engineering software due to its many excellent features and functions.
It can create precise technical drawings in both 2D and 3D modeling, allowing engineers to produce accurate and detailed drawings of structures like beams, columns, and foundations. These drawings serve as the foundation for construction and can guide the construction team in building structures. Additionally, AutoCAD has features such as intelligent objects, support for multiple file formats, advanced drawing tools, and macro programming, which help users complete design work more efficiently.
In short, AutoCAD is a powerful engineering design software that significantly improves the efficiency of engineering design work. However, it is worth noting that it requires a costly subscription at $1,975 per year and a significant learning curve.
Top 3. Inventor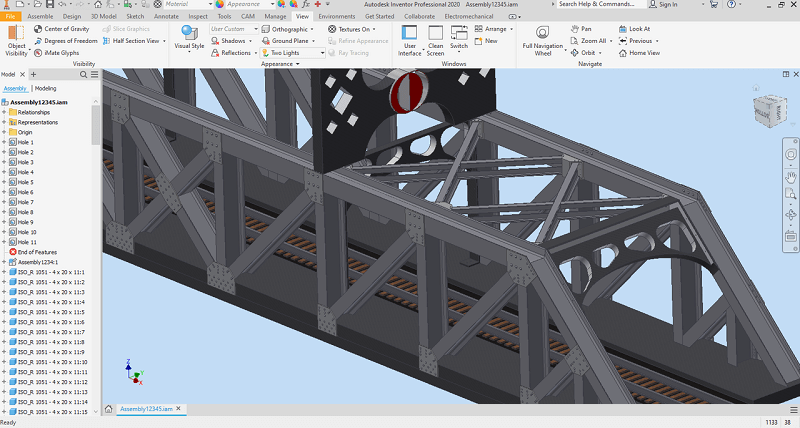 If you need professional 3D visual modeling and design software, then Inventor, which is made for engineers who need automated and specialized tools to design and prepare for manufacturing, is very suitable for you.
Featured with an intuitive 3D modeling environment with functional design tools, this engineering drawing software integrates parametric modeling, direct modeling, free shape modeling, and rule-based design functions to provide a comprehensive and integrated set of design tools that can be used to create complete digital mockups to verify the form, structure, and functionality of your design. This can help engineers reduce design errors by quickly creating digital prototypes and using digital prototypes to verify the functionality of the design.
Moreover, the model created by Inventor is an accurate 3D digital prototype, allowing users to verify design and engineering data during the work process, minimizing dependence on physical prototypes, which will reduce costly prototype design changes after entering the manufacturing process.
Top 4. BricsCAD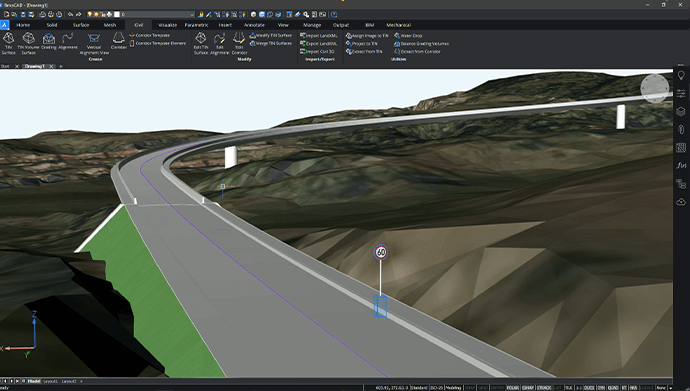 Many people believe that BricsCAD is one of the best alternatives to AutoCAD because it is economical but supports all major CAD formats and is very similar to AutoCAD, all of which support many of the same functions, such as XREF, drawing, table settings, PDF import, and attachment, views, and so on. Also, complete and familiar features are offered for professional users, allowing you to quickly master BricsCAD for 2D drawing and 3D modeling even with minimal AutoCAD experience.
Plus, BricsCAD can help civil engineering designers improve their work efficiency, featuring a good object management system that allows users to quickly and efficiently find and manage files as well as easily convert 2D graphics to 3D graphics. In addition, as an engineering modeling software, it has a unique construction toolkit that enables designers to quickly build perfect graphical models, making it particularly suitable for applications in the construction, manufacturing, and civil engineering industries.
Top 5. CorelCAD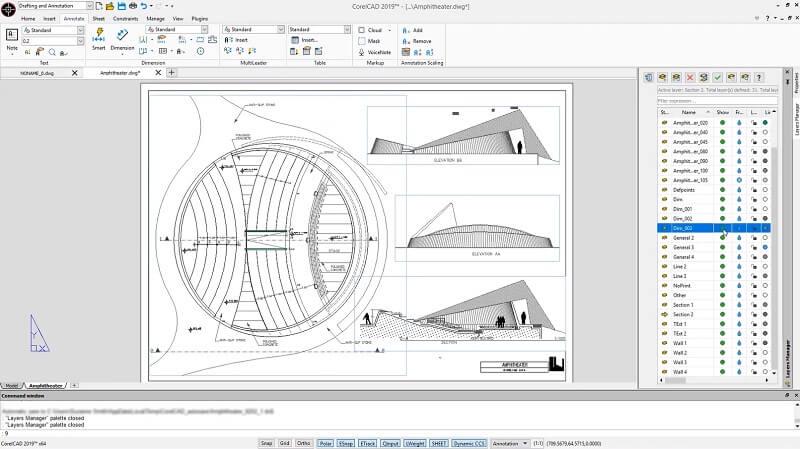 CorelCAD is a professional CAD software that offers similar features to AutoCAD and is specifically designed for architecture, engineering, construction (AEC), and manufacturing professionals who require high precision in their work. The CAD software is equipped with precise 2D drawing tools and an extensive 3D design toolset, which includes a range of design functions such as general map greening, roads, and parking spaces, as well as general map coordinates, elevation labeling, and other functions.
In addition, this architectural CAD software comes with advanced tools and features that allow you to easily convert 2D drawings into 3D models in just a few clicks. CorelCAD supports a variety of file formats including .dwg, .stl, .pdf and .cdr, and can seamlessly switch platforms and software to facilitate efficient collaboration among team members. If you're looking for engineering CAD software that meets the needs of civil construction engineering, then CorelCAD is an excellent option that you should consider.
Top 6. TurboCAD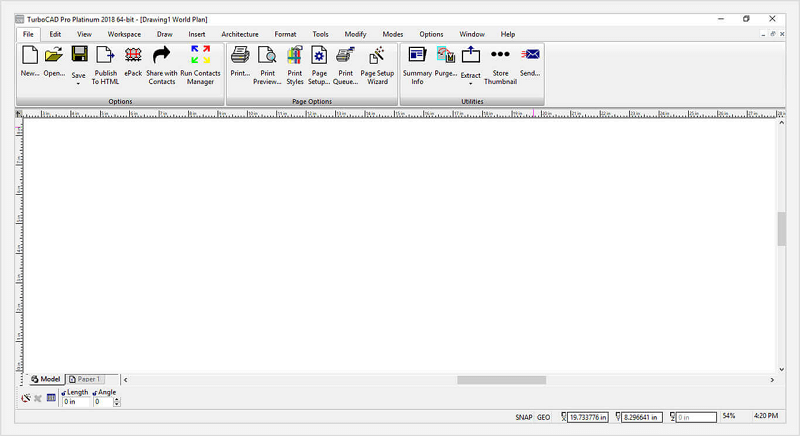 TurboCAD is a comprehensive 2D/3D CAD solution that can handle most drawing and modeling design requirements. It offers a vast range of drawing tools, an optional AutoCAD-like 2D drawing interface with command line and dynamic input cursors, 3D modeling tools, photorealistic rendering, and extensive file support to improve your productivity. The software also provides simple editing tools, text, and dimensioning tools to bring your ideas to life effortlessly.
Additionally, TurboCAD allows customization of interface toolbars, setting wizards, and contextual help to enhance usability. If you need to design a new project, you can take advantage of its built-in drawing assistant to create floor plans with ease or choose from the included 1,000 pre-drawn floor plans, which can save you a significant amount of time and energy.
Top 7. SelfCAD
SelfCAD is a cloud-based 3D modeling software that is a fully functional engineering drawing software with an easy-to-use interface and powerful tools, suitable for beginners and professional designers. Unlike other engineering design software, SelfCAD not only provides a PC version but also a web version, which means you can directly edit projects using a browser without downloading any software.
However, this does not mean its functionality will be inferior to other products. It has many powerful 3D modeling tools, including drawing, carving, modeling, rendering, and animation, which are suitable for various design projects, such as architecture, machinery, product design, etc. In addition, it also has a built-in 3D printing preparation tool that supports importing STL and OBJ format models from other 3D design programs, which can help you prepare and adjust models for printing.
Top 8. SolveSpace
SolveSpace is a free and open-source 2D/3D constraint-based parametric CAD software for civil engineering design, which can run on Windows, Linux, and macOS. This lightweight engineering design tool is easy to use, supporting basic 2D and 3D constructed solid geometry modeling. You can use the editing tools that come with this software to perform 2D sketch modeling and output DXF, PDF, and SVG files.
Also, you can use basic Boolean operations (union, difference, and intersection) to perform light 3D solid modeling to verify the shape. Not only that, by using the built-in constraint solver, you can visualize planar or spatial connections with pins, balls, or sliding joints and track their motion as well as export their data in CSV format. But as a free open-source tool, it is only suitable for simple models and not for complex tasks.
Top 9. OpenFlows StormCAD
OpenFlows StormCAD is a powerful civil engineering design software developed by Bentley Company that allows designers to create and analyze storm sewer systems. Using this software, designers can easily create environmental floor plans and modify the graphic appearance in real-time while inputting data. Also, this software enables designers to analyze the flow and direction of rainwater under different circumstances and calculate larger projects with minimal capital expenditure.
In addition, OpenFlows StormCAD has a variety of design graphics to choose from and is fully compatible with AutoCAD, free 2D CAD software, or other CAD programs. It allows designers to import 2D/3D graphics and obtain detailed information through calculation, making it easier to target different data collection methods. Moreover, the software offers a variety of calculation methods, enabling users to conveniently obtain data. Additionally, users can create analysis charts and information reports based on graphic images to facilitate communication among team members.
Top 10. EPANET
EPANET is open-source free 2D CAD software developed by the EPA for civil engineering design. Its main function is to simulate the characteristics of water pressure and quality in pressurized pipe networks. With EPANET, users can track the flow of water, pressure, and chemical concentrations throughout the network over time. The software is widely used for scientific research on water transmission and distribution systems and has become the foundation for many commercial software today.
EPANET provides an easy-to-use interface with complete functions, making it an excellent choice for designing pipeline networks. Also, its visual network editor simplifies building a pipeline network model and editing its properties. The results are expressed through pipeline network map color representation, data tables, time series diagrams, and contour diagrams.
Top 11. SketchUp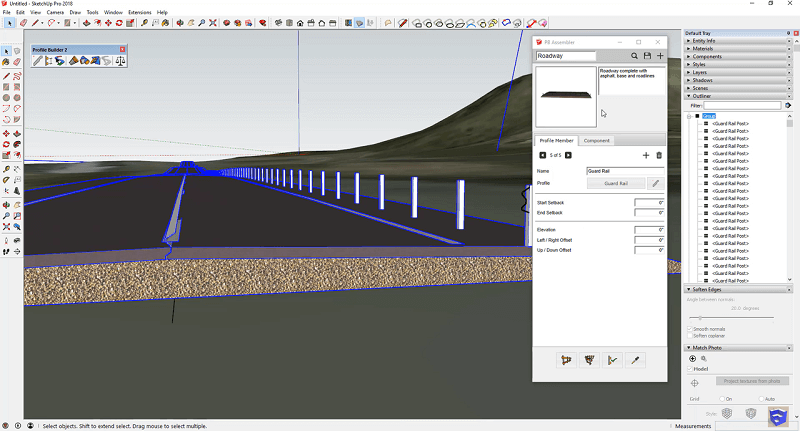 SketchUp is easy-to-use 3D modeling CAD software for civil engineering. It offers a 3D Warehouse with hundreds of professional, pre-built 3D models to make your creative process more convenient and faster. In addition, if you need to collaborate with your colleagues on your drawings, SketchUp provides unlimited cloud storage, allowing you to upload your work to the cloud and share it with your teammates.
On the other hand, SketchUp has introduced several versions, including the Pro version (which requires a paid subscription), a free version, a web-based version, and an iPad version. You can even view or edit your designs on your mobile browser.
Related Article: Sketchup vs AutoCAD: In-Depth Comparison in 2023
FAQs About Engineering Design Software
What Are the Key Features of the Best Engineering Design Software?
Here are some of the key features that the best engineering design CAD software offers:
Powerful 2D and 3D modeling tools for precise mold creation and editing of engineering components and assemblies.
Engineering analysis and simulation tools to evaluate structures, fluids, heat conduction, electrical systems, and other aspects.
Material libraries and engineering data to select and apply different material characteristics.
Assembly management and visualization for large assemblies, with collaboration tools for assembly and decomposition.
Automation tools and intelligent objects to simplify design and analysis.
Simulation capabilities for dynamic, static, and transient simulations.
Data visualization and chart tools to present and communicate design and analysis results.
Safety and regulatory compliance to ensure safe design.
File management and version control to ensure secure and consistent design documents.
Cloud collaboration and remote access for team members to collaborate from different locations.
Which Software Is Best for Civil Engineering Design?
It's hard to decide which is the best civil engineering design software because each software has different advantages or your needs are different, the final answer will be different. Overall, among the 11 software we tested, ZWCAD is the best because it is the most professional and affordable, runs fast, has comprehensive functions, and is suitable for precise analysis.
However, if you have clear engineering needs, the answer will be different. For example, for water distribution modeling, WaterCAD is the best choice. Or you need to do Storm sewer, then you can't miss OpenFlows StormCAD.
Conclusion
CAD Software
2D/3D
Best for

File Formats Supported
Starting Price

Platforms
ZWCAD
2D & 3D
General-purpose use

.dwg, .dwf(x), .dxf, .pdf and .jpg
US$899 for Perpetual license

US$322/year

US$870/3 years

Windows, Linux
AUTOCAD
2D & 3D
General-purpose use
.dwg, .dxf, .dwf(x), .pdf
US$245/month
Windows, macOS, Linux
Inventor
3D
Engineers
.ipt, .iam, .ipn, .idw, .dwg
US$305/month
Windows
BricsCAD
2D & 3D
General-purpose use
.fbx, .dwg, .dxf, .dwt, .dwf(x), .ifc, .dgn, .skp, .dws
US$677/year

Windows, Linux
CorelCAD
2D & 3D
Engineers, architects
.dwg, .stl, .pdf, and .cdr
US$769 for Perpetual license
Windows, macOS
TurboCAD
2D & 3D
Engineers, designers
.dwg, .dxf, .dwf(x)
US$399.99/month
Windows, macOS
SelfCAD
3D
General-purpose use
.stl, .mtl, .ply, .dae, .svg
US$14.99/month for Pro
Windows, macOS, web
SolveSpace
2D & 3D
Beginners, engineers
.dxf, .pdf, .svg
Free
Windows, macOS, Linux
OpenFlows StormCAD
2D
Roadway and site designers, stormwater master planners, land developers
.dgn,.step/.stp,.iges/.igs,.stl,.obj, 2D PDF, 3D PDF,.svg,.dae
US$2,926 for practitioner license
Windows
EPANET
2D
Engineers, consultants
.inp, .dx
Free
Windows
SketchUp
3D
Beginners, engineers
.skp, .png, .stl, .dwg
Free,

US$349 for the pro version

Windows, macOS
After extensive testing and usage, we have compiled a list of the top 11 best engineering design software for civil engineering. These software options can greatly improve your workflow, provide faster and more accurate drawing capabilities, and support more complex projects and designs. Generally speaking, ZWCAD is the best choice for ordinary users or even beginners, depending on its comprehensiveness, ease of use, rich functions, and high compatibility.