"As a green interior designer, I learned AutoCAD last year and then started exploring SketchUp and fell in love with the latter. AutoCAD seems so serious and heavy while SketchUp is fun, colorful, and gets the job done. I wonder why someone like me would ever need to use AutoCAD if I could do everything in SketchUp. Am I missing something?"
When it comes to design and engineering, SketchUp and AutoCAD are two software giants and go-to tools for 2D and 3D drawings. SketchUp, beloved for its user-friendly interface and rapid 3D modeling capabilities, has captured the hearts of architects and designers seeking an intuitive platform for creative expression. On the other hand, AutoCAD offers unparalleled precision and an extensive library of custom plug-ins, making it indispensable for professionals working on complex projects.
If you're a beginner and still on the fence between the two software options, you've come to the right place. Today, we will delve deep into the SketchUp vs. AutoCAD debate, exploring the distinct advantages of each software. If, after this comparison, you find that neither of these software suits your needs, we also provide alternatives that may better align with your requirements. Now, let's get started.
What Is SketchUp?
Originally developed by Last Software and now acquired by Trimble, SketchUp has evolved into a powerful 3D modeling tool for architects, designers, engineers, and even hobbyists. What sets SketchUp apart is its simplicity and accessibility, making it an excellent choice for beginners who want to create 3D models for a wide range of projects, from architectural designs and interior layouts to woodworking plans and urban planning.
It provides an extensive library of ready-to-use models, allowing you to swiftly generate a structure complete with windows, doors, a roof, and a patio. You can also apply basic textures and colors to the various elements and produce a house with a lawn and a white picket fence in a matter of minutes.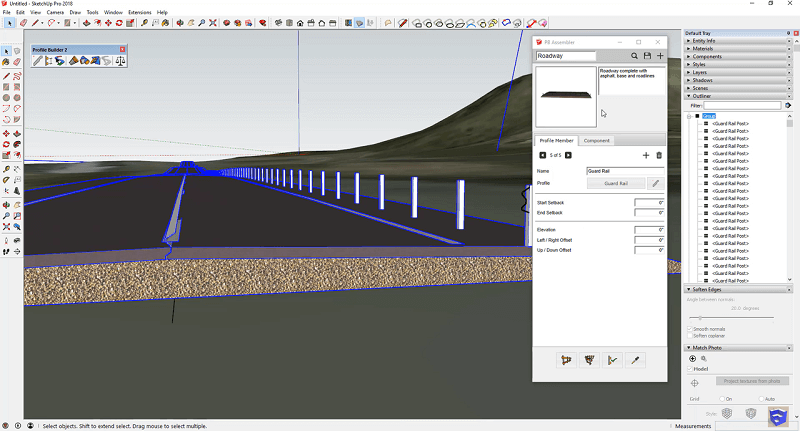 Unique Features that SketchUp Offers:
Free and Web Versions: SketchUp provides free versions of its software, such as SketchUp Free (web-based) and SketchUp Make (desktop), making it accessible to users with limited budgets or those who prefer not to invest in a full software license. AutoCAD, on the other hand, typically requires a paid license.
Dynamic Components: SketchUp's Dynamic Components feature allows users to create parametric models with components that can change size, shape, or attributes based on predefined rules. This dynamic modeling capability is especially useful for designing products and architectural elements that require flexibility and customization.
Sandbox Tool: SketchUp's Sandbox tools enable the creation of organic, terrain-like surfaces, making the software well-suited for landscaping and site design. These tools simplify the process, allowing you to push sections of the surface up and down to sculpt and model natural landscapes as desired, which is not as straightforward and user-friendly in AutoCAD.
3D Warehouse: When it comes to realistic architectural scenes, you'll need elements like people, trees, vehicles, etc. The 3D Warehouse is a vast online repository created by the SketchUp community, where you can access a wealth of ready-made objects and elements for free, saving significant time in the modeling process. AutoCAD also offers libraries, but SketchUp's 3D Warehouse is renowned for its extensive collection of user-contributed models.
Push/Pull Modeling: SketchUp's push/pull modeling feature simplifies the process of extruding 2D shapes into 3D objects. This intuitive approach to modeling makes it easier for users to create and manipulate 3D geometry quickly, even if they have little experience with CAD software.
Real-time Rendering: SketchUp offers real-time rendering capabilities through plugins like V-Ray and Enscape, allowing users to visualize their designs in a more realistic manner. While AutoCAD has some rendering capabilities, it may require additional software or plugins to achieve similar results.
What Is AutoCAD?
AutoCAD is an industry-standard architectural CAD software developed by Autodesk. It is renowned for its precision and versatility in creating detailed 2D and 3D drawings, as well as structural engineering designs and schematics.
Architects, engineers, drafters, and a multitude of other professionals rely heavily on AutoCAD for its robust 2D drafting capabilities. This software enables them to generate accurate blueprints, layouts, and designs for a wide range of projects, including buildings, machinery, electrical circuits, and product prototypes. Its extensive toolset, comprehensive libraries, and powerful scripting capabilities make it indispensable for those seeking to bring their designs to life with exceptional precision.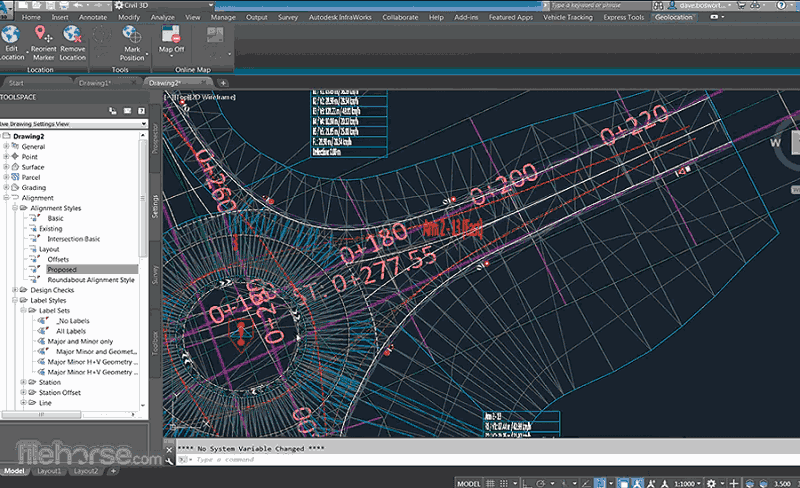 Unique Features that AutoCAD Boasts:
The Command Line: While SketchUp offers some hotkeys and shortcuts, AutoCAD includes a command line. This text-based input system allows users to execute precise and complex commands with speed and accuracy. You can type a command, and then a menu will appear above the command line listing suggested commands that begin with those letters.
BIM Integration: AutoCAD seamlessly integrates with Building Information Modeling (BIM) workflows, enabling comprehensive and data-rich modeling of structural elements within larger building projects.
The Project Manager: AutoCAD provides project management tools that help users efficiently organize and navigate large-scale projects. This includes sheet sets, which simplify the management of drawing sheets, and the ability to link external reference (Xref) files for collaboration and version control in complex projects.
Specialized Industry Tools: AutoCAD offers numerous industry-specific toolsets, such as AutoCAD Architecture, AutoCAD Mechanical, and AutoCAD Electrical, catering to the specific needs of professionals in various fields. These toolsets provide specialized commands and features for tasks like architectural design, mechanical engineering, and electrical schematics.
Advanced Dimensioning: AutoCAD offers extensive dimensioning tools, including parametric and associative dimensions that automatically adjust as the drawing changes. This feature is crucial for creating precise technical drawings and ensuring accurate measurements.
The Quick Select Function: AutoCAD's Quick Select tool allows users to rapidly select and filter specific objects based on various criteria such as color, layer, or object type. This feature is incredibly useful in large and intricate drawings, streamlining the editing process.
Sketchup vs AutoCAD: Software Versions and Pricing
SketchUp and AutoCAD offer various software versions catering to user needs and budgets. Below is a breakdown of the pricing for their respective versions:
SketchUp:
| | |
| --- | --- |
| Version | Pricing |
| SketchUp Free (web based) | Free |
| SketchUp Go (mobile) | $119/year |
| SketchUp Pro (desktop) | $349/year |
| SketchUp Studio (with advanced features but win only) | $749/year |
AutoCAD:
| | |
| --- | --- |
| Version | Pricing |
| AutoCAD (desktop for both 2d and 3d) | $1975/paid annually |
| AutoCAD LT (only 2d) | $490/paid annually |
| AutoCAD Web (online) | $100/paid annually |
Regarding AutoCAD vs. SketchUp, price is a crucial aspect of comparison. From the table above, it's evident that SketchUp is generally a more cost-effective choice. It offers a range of options, including a free version, making it accessible to those on a budget and who want a free CAD program. AutoCAD, on the other hand, operates on a subscription-based model with various specialized versions to meet the demands of architectural and engineering professionals.
If you're looking for comprehensive features without breaking the bank, consider AutoCAD LT vs. SketchUp. But ultimately, whether you opt for SketchUp or AutoCAD will still depend on your preferences.
Main Differences Between AutoCAD and SketchUp: Side-by-Side Comparison
Differences between AutoCAD and SketchUp lie beyond the software versions and prices. To choose the one that suits your needs, it's even more important to understand their key differences. Below is a side-by-side comparison of these two powerful design software solutions across various dimensions. Check them out.
Comparison
AutoCAD
SketchUp
System Specifications (Hardware)
Higher requirements; demand more powerful hardware.

Windows 10:

3+ GHz or higher processor
16+ GB of RAM (minimum 8 GB)
4 GB GPU with 106 GB/s bandwidth and DirectX 12 compliant
10 GB of free disk space

MacOS:

MacOS 10.14 (Mojave) or later, including MacOS 12 (Monterey)
Intel Core i7 CPU or higher, 8+ GB of RAM (minimum 4 GB)
Mac-native installed GPUs
4 GB of free disk space

Less demanding on system resources.

Windows 10:

2+ GHz or higher processor
8+ GB of RAM (minimum 4 GB)
1 GB GPU that supports OpenGL 3.1 or higher
700 MB of free disk space (minimum 500 MB)

MacOS:

MacOS 11+ (Big Sur), MacOS 10.15+ (Catalina), and MacOS 10.14+ (Mojave)
2.1+ GHz or higher processor
8+ GB of RAM (minimum 4 GB)
1 GB GPU that supports OpenGL 3.1 or higher
700 MB of available hard disk space (minimum 500 MB)

User Interface
Extensive and feature-rich UI with a steeper learning curve.
natural and straightforward UI, suitable for beginners.
Ease of Use
More complex, especially for beginners.
Easier learning curve, making it accessible for new users.
Features
Extensive set of precision tools including architectural documentation, mechanical designs, and electrical drawings, ideal for complex projects.
Focused on 3D modeling with near realistic rendering; Includes many plug-ins and extensions.
2D Capabilities
Exceptional 2D drafting capabilities with specialized tools.
Less robust 2D capabilities but still allow to create 2D drawings for documentation an additional software tool called LayOut.
3D Capabilities
Mostly used for 2D drafting purposes, but also offers 3D modeling tools.
Rapid 3D modeling is a primary strength.
Add-ons and Applications
Allow to download many apps on AutoDesk App Store to improve working efficiency.
Extension Warehouse offers a wide range of free add-ons and plugins for customization and add various functions.
File Format Compatibility
Import: DWG, DXF, PDFs, and Raster images.

Export: STL files, DWG, DXF, PDF, DGN, and more.

Import: DWG/DXF, SKP, STL, and more.

Export: SKP, DWG/DXF, 3DS, COLLADA, STL and various image formats.

Industry Applicability
Widely used in engineering, architecture, and construction.
Versatile and popular across various design disciplines.
Online Community and Support
AutoCAD provides video tutorials, troubleshooting guides, and FAQs for support and learning. Official forums can also tackle specific technical issues.
SketchUp's Help Center, SktchUp Campus, and SketchUp forum, and some third-party websites gather experienced users to share knowledge around the software.
All in all, the differences between AutoCAD and SketchUp are substantial and cater to different user needs and preferences. While AutoCAD boasts robust 3D modeling capabilities, its primary strength lies in 2D drafting. It is renowned for its precision and complexity, offering an array of tools for creating highly detailed technical drawings. It's especially well-suited for precision engineering tasks but may be somewhat challenging to master.
On the other hand, SketchUp is a 3D modeling software that emphasizes ease of use and is often employed for conceptual design, 3D modeling, visualization, and rendering. It excels in creating 3D models quickly and is favored for projects that prioritize visualization and conceptual design over technical accuracy.
Is There a Good Alternative to AutoCAD?
While AutoCAD offers robust solutions for design and drafting, it may not be the perfect fit for everyone, particularly considering factors like pricing and performance. For users seeking alternatives to AutoCAD, here is a noteworthy option: ZWCAD.
ZWCAD stands out as a compelling choice. Developed by ZWSOFT, ZWCAD is designed to provide advanced design tools and features for professionals, including designers, engineers, and architects. It offers both 2D and 3D design capabilities, assisting users in creating drawings, models, and technical diagrams.
It boasts a clear and intuitive user interface, allowing new users to quickly locate practical functions without getting lost in numerous settings or options. This program offers a comprehensive set of features that rival AutoCAD's capabilities, providing all the essential tools for 2D and 3D design, drafting, and modeling. Unlike AutoCAD, which has accumulated redundant features over its long history, ZWCAD is next-generation CAD software. It employs proprietary core technology and incorporates only the latest industry-relevant features, ensuring swift and efficient performance.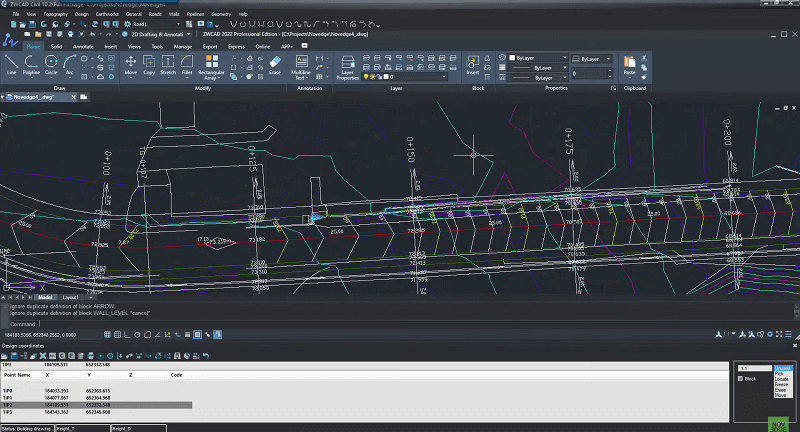 ZWCAD is incredibly efficient in terms of system resources, running smoothly with just 2GB of RAM, making it accessible to a wider range of computer configurations. While AutoCAD comes with high prices and a subscription-only model, which can become costly over time, ZWCAD offers more flexibility. Users can opt for subscriptions or make one-time purchases, providing cost-effective choices.
In addition to basic features, ZWCAD also offers numerous smart tools. These include the ability to plot multiple sheets into one file with a single click, set up gestures and frequently used commands to speed up work, annotate using voice messages, spot differences between two drawings simultaneously, and more. All of these features combine to provide you with the best and most seamless 2D and 3D design experience.
FAQs About AutoCAD vs. Sketchup
How Can I Incorporate Both SketchUp and AutoCAD into One Project Effectively?
Efficiently harnessing the combined power of SketchUp and AutoCAD in a single project can significantly enhance your design and drafting capabilities. Here are some essential considerations to seamlessly integrate both software solutions for an effective workflow:
Ensure smooth data exchange between SketchUp and AutoCAD by familiarizing yourself with compatible file formats. SketchUp allows for the export of 2D graphics and 3D models in common file formats such as DWG and DXF, which can be seamlessly imported into AutoCAD. Likewise, AutoCAD's DWG format is widely supported and can be imported into SketchUp.
Consider using plugins or extensions that facilitate interoperability between SketchUp and AutoCAD. Some third-party tools enable efficient file conversion and synchronization, ensuring that changes made in one software are accurately reflected in the other.
Effective project management is vital. Clearly define the roles and responsibilities of team members who specialize in software, and establish a robust file naming and version control system to avoid confusion and errors.
Maintain open lines of communication within your project team. Regularly share progress, updates, and changes between SketchUp and AutoCAD to ensure that your project remains cohesive and on track.
Is Learning 2D Construction Plans Faster with SketchUp or AutoCAD?
When it comes to creating 2D construction plans, AutoCAD takes the lead. It provides a comprehensive set of tools and features specifically tailored for creating detailed 2D construction plans with precision and efficiency. While SketchUp does offer 2D drawing capabilities, its interface and tools are primarily designed for 3D modeling and editing. This can make the process of drawing 2D architectural floor plans less convenient and potentially less efficient.
Which Is Better for Interior Design, AutoCAD or SketchUp?
For interior design, SketchUp often emerges as the preferred choice. Its rapid 3D modeling allows designers to create immersive and detailed interior spaces. Plus, its extensive library of 3D models and user-generated content provides designers with a vast resource for furnishings, fixtures, and decor elements. This not only saves time but also enhances the realism of interior design projects. Moreover, SketchUp offers the flexibility to render and visualize designs in real-time, which is invaluable for interior designers seeking to bring their visions to life.
Conclusion
The SketchUp vs. AutoCAD debate hinges on your specific needs and objectives. Both software solutions offer distinct advantages, with SketchUp excelling in 3D modeling and visualization, while AutoCAD shines in precision drafting and 2D design.
If, after reviewing this comparison, you find that AutoCAD better aligns with your requirements, it's worth considering ZWCAD as a viable alternative. ZWCAD offers full functionality, runs faster than AutoCAD, and, in comparison, is more affordable. Since the program offers a 30-day free trial and the option for a one-time purchase, why not give it a try?