Computer-aided design (CAD) software helps people create, manipulate, and visualize digital 2D and 3D models of various objects and programs. And when it comes to CAD design software, AutoCAD is always considered the industry standard and benchmark. Released in 1982 by AutoDesk, AutoCAD is an all-around tool for many industries. Most engineers, architects, and designers spend a great deal of time mastering it.
Being the professional and authoritative icon in the industry, AutoCAD only allows users to rent the software at a high price for a limited period of time. Admittedly, this is not a small expense for designers and small companies.
Thanks to rapid technical development, there are quite a few options to choose from these days. Here we list the 8 best AutoCAD alternatives for CAD design, hopefully, one or some of them can become your good helper in work.
---
Related Article:
---
Why Do You Need an AutoCAD Alternative?
First of all, as mentioned above, you can only rent AutoCAD software for a limited period because all subscription plans are time-based: $245/month, $1975/year, and $5925/3 years. This is expensive for individual designers and small businesses.
Besides, as versatile as AutoCAD is, people from different industries focus more on specific CAD features, and some AutoCAD alternatives may meet the particular needs of some users. Also, some AutoCAD alternatives pay attention to one or more specific features that AutoCAD may not focus on, or these alternatives may support more powerful plug-ins and extensions.
Also, AutoCAD has been developed over many years and is embedded with many features, making it a large piece of software that takes up a lot of space on your computer. You need a better computer to run AutoCAD smoothly. In addition, if you are a beginner, AutoCAD is too complicated for you to learn in a short time. So you may want to try alternatives that have fewer features built in so you can master it faster.
Of course, you can also try AutoCAD alternatives to experience a different user interface or workflow.
The 8 Best Alternatives to AutoCAD You Can Try
There are many software similar to AutoCAD to choose from on the market. In this post, we compiled 8 alternatives that we recommend. You can download and try one or some of them according to your needs.
Top 1. ZWCAD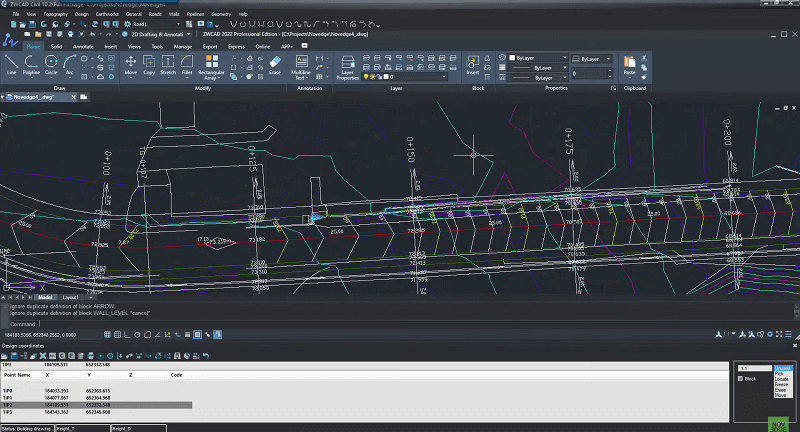 One of the best AutoCAD alternatives we would like to introduce to you will be the ZWCAD. ZWCAD is a 2D CAD software that offers a similar interface and professional features as AutoCAD, but with the added advantage of quicker and smoother performance. Unlike AutoCAD, which has undergone over 40 years of development and numerous version updates, resulting in a considerably large application, ZWCAD is a modern CAD software that provides a seamless experience from start to finish. It achieves this by fully utilizing multi-core CPUs and focusing on the latest functions for efficient and smooth operation.
ZWCAD also simplifies the development or migration of third-party applications through APIs such as LISP, VBA, ZRX, and .NET. In addition, it enhances the user experience by supporting smart mouse gestures to activate commonly used commands and enabling annotation with voice messages.
Supported OS: Windows, Linux
Best for: Beginners and professionals looking for alternatives to AutoCAD that run smoothly, with similar functions but lower prices.
Price: A free trial without limitation for 30 days, perpetual License starts at $899 and anual subscription starts at $322.
>> Check more cheap CAD software
Top 2. BricsCAD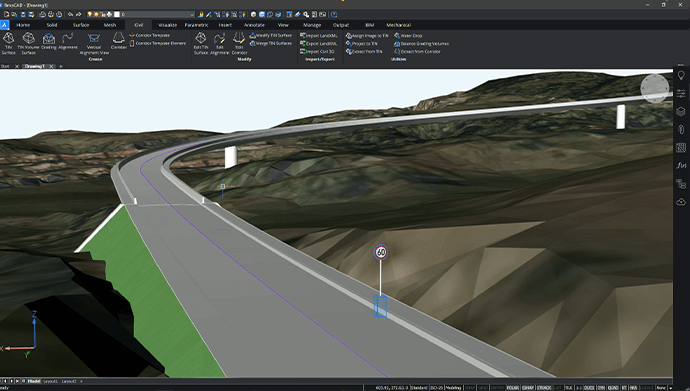 BricsCAD is also a good alternative to AutoCAD for 2D/3D modeling and design. It was released in 2002 by Bricsys, a global CAD software provider. With high-performance and AI-powered features, BricsCAD offers you a smooth and efficient working experience from design to delivery.
BricsCAD offers 6 functional toolsets for all product levels, and you can choose any one of them according to your personal needs. The powerful toolsets make BricsCAD an integrated CAD software ecosystem. For example, with BricsCAD Lite, you can finish concise 2D design and drafting work. While with BricsCAD, you can do 2D/3D design and modeling smoothly.
If you are already using other CAD software, you can easily convert to BricsCAD as it uses an industry-standard DWG-based CAD platform. If you are a beginner, BricsCAD provides detailed online training for you to get started with.
Supported OS: Windows, macOS, Linux
Best for: Beginners and professionals looking for high-performance CAD software with AI-driven features at all product levels.
Price: A free trial version for 30 days. Lifetime and annual subscription plans are provided. A one-year subscription plan costs $314(Lite version)/$677(Pro version)/$950(Mechanical version)/$1010(BIM version).
Top 3. Draftsight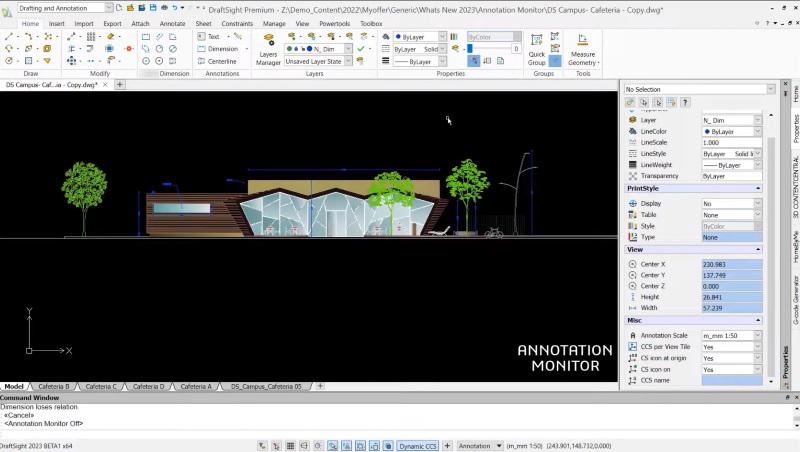 DraftSight is one of your most useful 2D drafting and design helpers. It aims to meet all your 2D drafting and design needs, offering rich features and efficient performance, with an AutoCAD-like and easy-to-learn interface.
This AutoCAD alternative strives to remain innovative and continues to update new productive tools for designers to improve their working experience. The newly updated Data Extraction Wizard helps streamline your design process by combining your drawing data with external data into a single source to reduce manual counting and errors.
DraftSight focuses on 2D design and drafting, but now offers DraftSight Premium, which adds 3D modeling tools. You can choose your preferred DraftSight version based on your needs.
Supported OS: Windows and macOS
Best for: Those who are especially looking for user-friendly 2D CAD design and drafting software.
Price: A free trial version for 30 days. A one-year subscription plan costs $249(Professional version)/$549(Premium version)/$399(Network version)
Top 4. ProgeCAD
ProgeCAD uses an industry-standard PWG-based CAD platform, just like AutoCAD, so you can easily switch to ProgeCAD. It offers exactly the same operations as AutoCAD, making it one of the best alternatives for former AutoCAD users.
In addition, ProgeCAD can offer advanced features to improve your workflow. For example, you can easily create architectural layouts with its EasyArch parametric plug-in, and its 22,000 available blocks and customizable block manager will help you in your design and modeling process.
ProgeCAD is available in two versions: ProgeCAD Professional for Windows 32/64 and IcadMac for Mac. Both are proven and affordable alternatives to AutoCAD, or you can purchase ProgeCAD Architecture as an affordable BIM alternative.
Supported OS: Windows and macOS
Best for: Former AutoCAD users looking for low-cost alternatives to AutoCAD that present all AutoCAD features.
Price: A free trial version for 30 days. Perpetual Licenses to purchase.
Top 5. nanoCAD
Experienced CAD users from all industries looking for more advanced AutoCAD alternatives can try nanoCAD. The nanoCAD is committed to providing a smooth work process from 2D drafting to 3D modeling, building a mature engineering ecosystem.
Running in industry-standard DWG formats, nanoCAD provides a familiar interface for experienced CAD users. But it increases your work efficiency by providing a packed, powerful set of tools to support your drafting, design and modeling process. And the open API feature allows you to add extensions and plug-ins to build your own nanoCAD.
It can be expanded with five professional modules, including Construction, Mechanica, Raster, Topoplan, and 3D Solid Modeling. With the 3D Solid Modeling module, for example, you can turn 2D drawings into complex 3D assemblies with a single click.
Supported OS: Windows and macOS
Best for: Experienced CAD users from all industries looking for more advanced CAD tools.
Price: nanoCAD provides basic 1-year and 3-year subscription plans, starting from $349(1-year) and $747(3-year) per license. You can add other modules based on the basic plans.
Top 6. SmartDraw
Sometimes you need a temporary CAD tool to finish a sudden job or capture your inspiration. If you are looking for an easy online alternative to AutoCAD, try SmartDraw.
SmartDraw CAD drafting software is embedded with the CAD tools you need to create scaled drawings of all types. It comes with CAD templates that provide an easy way to create drawings and give you access to various symbols needed for architectural or mechanical engineering. You can drag and drop the symbols to create your drawing in simple operations.
Since it's a web-based version, you can easily share your drawings via links or export them as PDF or SVG. It also embeds applications integrated with Atlassian's Confluence and Jira for seamless design sharing in Microsoft Teams.
Supported OS: Any OS, it's web-based
Best for: People looking for online CAD tools with basic functions.
Price: The Individual monthly plan starts from $9.95. A team of at least 3 members can purchase a team monthly plan starting from $8.25.
Top 7. QCAD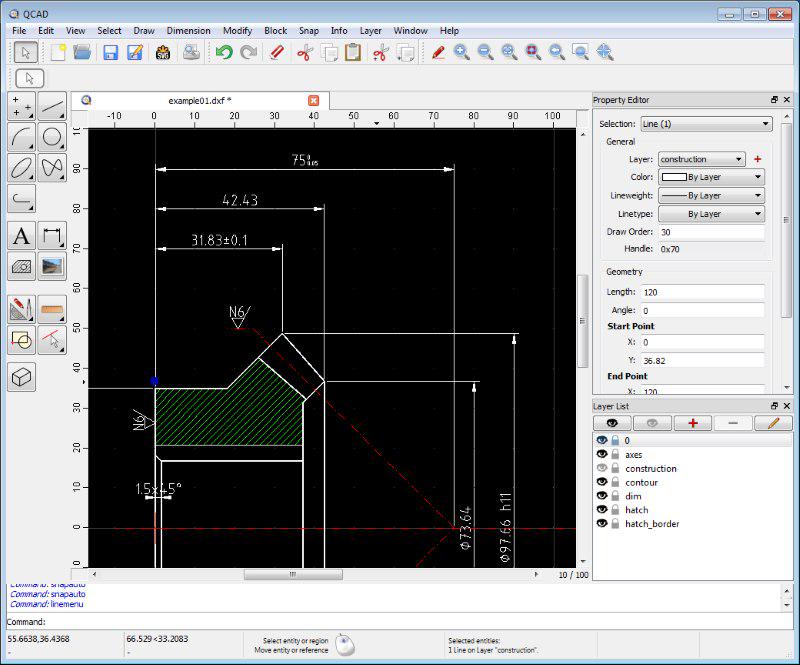 As a free autocad alternative, QCAD is an open-source CAD application that specializes in 2D drafting. It enables the creation of technical drawings for various purposes, including building plans, interior designs, mechanical parts, and diagrams. QCAD runs on Windows, macOS, and Linux.
QCAD features an intuitive user interface. It is a powerful, user-friendly 2D CAD system that is suitable for everyone, even those without any CAD experience. It also supports API for add-on plug-ins that improve the user experience.
Supported OS: Windows, Mac, and Linux
Best for: CAD beginners looking for free 2D CAD software.
Price: A basic Free version for everyone to download. A paid Professional version costs $44 per license.
Top 8. LibreCAD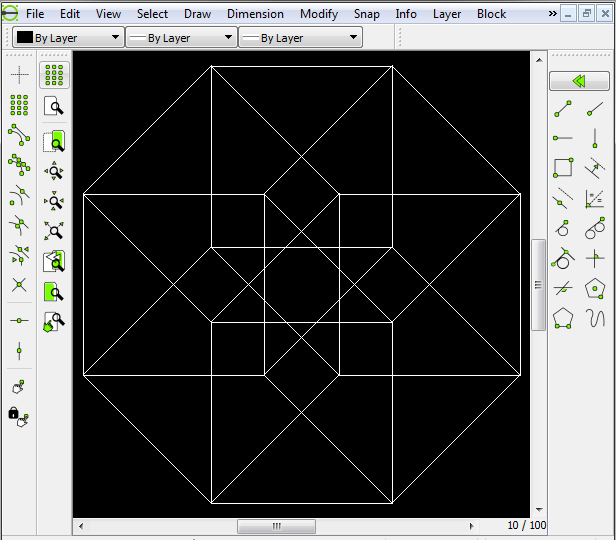 LibreCAD is a free and open source autocad alternative for everyone to use. It is inspired by the popular AutoCAD software, thus LibreCAD can easily read the AutoCAD DWG/DXF files, enabling experienced users to start working with LibreCAD right away.
This software supports 2D modeling only and has a graphical user interface based on Qt4 libraries, making it workable on Windows, macOS, and Linux.  The overall interface is simple and organized, so beginners can master it easily. LibreCAD also supports plug-ins and extensions, enabling better workflow.
Supported OS: Windows, macOS, and Linux
Best for: CAD beginners as well as AutoCAD users looking for free 2D CAD alternatives.
Price: Free
FAQs About AutoCAD Alternatives
Which Is the Best Cheaper Alternative to AutoCAD that Shares Similar Features?
We would say ZWCAD. It is a great alternative to AutoCAD because it presents all the features of AutoCAD and a similar interface to work with. Experienced users can use it without hassles, and beginners can master it easily.
Besides, ZWCAD offers the option of perpetual licenses for purchase. Compared to AutoCAD's yearly subscription plans, a one-time purchase can lead to significant cost savings. If you anticipate needing professional CAD software for multiple years, ZWCAD is undoubtedly the best AutoCAD alternative.
Is the Free Alternative to AutoCAD Powerful Enough for Professionals?
As technologies develop, free AutoCAD alternatives feature basic drafting functions and can provide good performance. However, if you require more advanced 2D/3D designs and more complicated calculation and analysis abilities, it's recommended to use professional alternative software such as ZWCAD.
Conclusion
This post presents the 8 best AutoCAD alternatives. Some share similar interfaces and features with AutoCAD but work smoother; some software provides a free trial version to try before you purchase it, and some are free CAD software for everyone to use. Among all, we recommend the ZWCAD to you. It is user-friendly and requires only 2GB of RAM to run. Most importantly, it is much more cost-effective than AutoCAD by offering a one-time purchase.