In this rapidly advancing digital era, the importance of CAD cannot be underestimated. It has become an indispensable cornerstone in modern design and engineering, significantly enhancing design quality, efficiency, cost-effectiveness, and innovation across various industries. When discussing CAD, one can not overlook QCAD, one of the best free 2D CAD applications. It is a topic of significant interest for those seeking cost-effective design solutions.
This article presents a comprehensive QCAD review, catering to a diverse readership. Whether you are a CAD professional looking to stay abreast of the latest QCAD features or a student, novice, or enthusiast in search of cost-effective CAD solutions, this review offers an in-depth understanding of QCAD. We'll delve into QCAD's features, pricing, and advantages, empowering you to make informed decisions and maximize the utility of this CAD tool. Furthermore, we'll also introduce an alternative CAD solution, allowing you to compare and identify the best fit for your specific needs. Now, let's get started.
---
Content
---
What Is QCAD? What Can It Do for You?
Before we dive into reviewing QCAD in detail, let's first gain an understanding of "What is QCAD?" QCAD is an open-source CAD software specializing in 2D drawing. It offers a wide range of drawing tools, allowing you to effortlessly create precise 2D drawings, sketches, floor plans, and various other graphics. In addition, QCAD also provides a comprehensive set of editing tools, including modification tools, block tools, layer tools, measuring tools, zoom tools, etc., covering every aspect of your design work, enhancing efficiency and accuracy.
QCAD is compatible with Linux, macOS, and Windows platforms, making it versatile and accessible. It finds applications in various fields, such as architecture, mechanical design, and electrical engineering. The interface of QCAD is extremely intuitive. Furthermore, it offers the flexibility to customize the appearance and workspace according to your preferences and requirements. This straightforward and highly customizable interface makes QCAD an outstanding CAD program for beginners.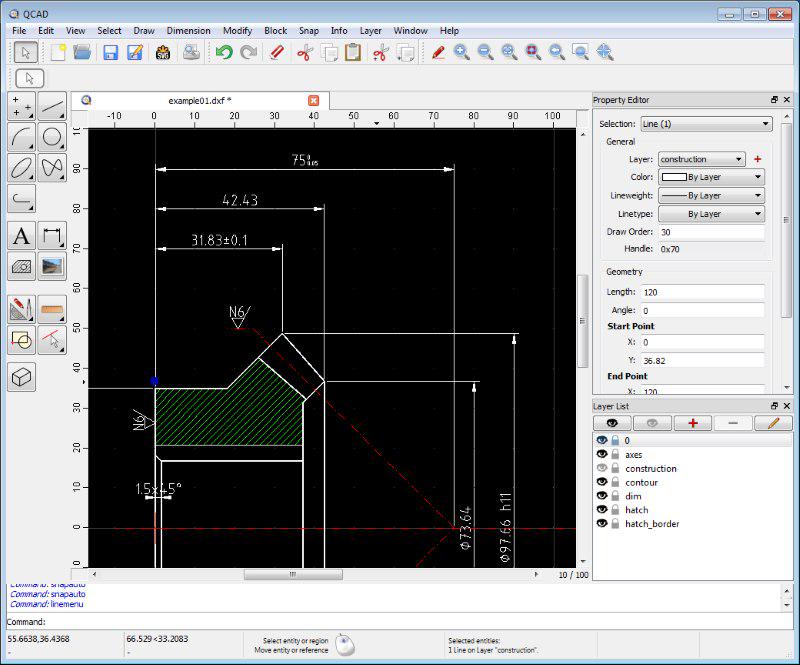 QCAD Review: What Are the Main Features
Now that you have a basic understanding of QCAD, let's begin the QCAD software review. As one of the most popular 2D CAD programs, QCAD comes with many sparkling features. Check out its main features in this part.
2D Drafting
As an outstanding 2D CAD software, QCAD offers a comprehensive array of 2D drawing tools. It boasts over 40 construction tools, including points, lines, arcs, circles, and more. Its layer management allows users to create and manage multiple layers, each capable of containing different graphic elements. This feature is instrumental in organizing and controlling complex drawing projects. QCAD also provides coordinate and measurement tools, facilitating precise positioning and dimensioning of graphic elements.
One of the standout features of QCAD is its rich set of modification tools, allowing users to effortlessly modify and adjust graphic elements. This includes functions like translation, scaling, rotation, and trimming. What's more, with QCAD, users can create and save common graphic elements as blocks and symbols in their libraries, so they can effortlessly insert the one they need.
Easy to Use
Compared to professional CAD software like AutoCAD, QCAD stands out with its quick learning curve, making it an ideal choice for beginners. The program boasts an intuitive and user-friendly interface. Its well-organized toolbars, clear icons, and menu structure provide an effortless navigation experience. QCAD understands that every user's preference and workflow can vary. Thus, it offers a high degree of customizability. You can personalize the appearance of the interface and configure the workspace to align with your individual work habits.
With QCAD, you don't need extensive prior CAD experience to start creating 2D drawings effectively. If you are really worried about not being able to operate, QCAD provides a comprehensive user reference manual, available on their official website. Better still, QCAD boasts an active and engaged forum community where users can seek assistance, share knowledge, and collaborate.
Symbol Library
QCAD comes equipped with a part library browser, enabling you to browse symbols or other reusable drawing components and seamlessly insert them into your drawings. When you download QCAD, its installation package includes a small set of symbols and CAD parts. If you wish to access additional libraries, such as those for architecture, chemistry, electronics, and more, you can download the specified files on its official website, unzip them, and import the files into QCAD.
Additionally, any collection of DXF or DWG (and, to some extent, SVG) files can be utilized as a part library with QCAD. This means you have the flexibility to search for existing DXF/DWG files containing CAD symbols or blocks using a search engine.
Customizable Templates
While many CAD software packages come with templates to save time for designers, what sets QCAD apart is its ability to allow users to customize templates to precisely match their specific design requirements. You have the option to choose from default templates or create your own customized templates. This customization may include altering paper sizes, adding title blocks, adjusting layer settings and line types, as well as defining specific graphic elements or constraints.
Once you've customized a template and saved it, you can conveniently apply it when you need to create a new drawing project. This empowers you to quickly launch new projects with the settings and elements you've previously defined. However, it's important to note that custom templates may potentially complicate the process of updating your QCAD version.
Is QCAD Free?
QCAD's most significant advantage lies in its status as free open-source software. It has a completely free version: QCAD Community, which encompasses essential 2D drawing features, making it an excellent choice for beginners and light users.
QCAD also comes with a Professional version. This version provides a broader spectrum of functionalities and tools, including advanced drawing tools, enhanced customization options, script support, and other advanced features. It caters more to professional designers and users with complex design needs. The Professional version is available for a one-time purchase of $42 and comes with a 15-minute free trial.
Is There an Alternative to QCAD?
As an open-source CAD software, QCAD is an excellent choice. It offers a rich set of drawing tools, and even its Professional version is quite affordable with a one-time purchase. However, it primarily focuses on 2D drawing, making it less suitable for advanced 3D modeling and rendering. If you're in search of software that covers both 2D and 3D functionality, is budget-friendly, and is easy to use, there is indeed an option: ZWCAD.
ZWCAD not only offers a rich set of 2D drawing tools like QCAD, excelling in 2D drawing tasks, but it also features powerful 3D modeling capabilities. It provides numerous modeling tools that allow you to easily create and modify 3D models. You can create mesh and solid models directly or based on existing 2D drawings. Besides, ZWCAD has also earned favor among users for its exceptional performance and efficiency. It harnesses the multi-core CPU and GPU processing capabilities of your computer, providing you with an even more seamless design experience.
With ZWCAD, you can not only produce accurate 2D drawings and create detailed 3D objects for visualization but also facilitate team collaboration to enhance design efficiency. ZWCAD supports design teams in sharing drawings with stakeholders to promote the smooth progress of projects. It even has iOS and Android mobile apps, enabling users to share, view, and edit CAD files anytime, anywhere.
While ZWCAD's price may be higher than QCAD due to its extensive 2D and 3D capabilities, it still offers good value for professional CAD software. With a one-time payment, ZWCAD can save you a substantial amount of money in the long run compared to continuously paying high prices for software like AutoCAD. If your budget allows, consider trying ZWCAD, and you'll open the door to a whole new world of design possibilities.
FAQs About QCAD
QCAD vs LibreCAD, Which Is Better?
If you've also gone through some LibreCAD reviews, you'll also find that QCAD and LibreCAD are both open-source programs. They share many basic tools, a similar user interface, and support for common file formats. However, QCAD provides a superior drawing experience to users. This is primarily due to its library of over 5,000 parts (including screws, nuts, symbols, etc.) that can be seamlessly integrated into your drawings.
QCAD also excels with its rich text tool, allowing users to stylize text using a feature-rich text editor that supports various customizations like adding color, setting font weight, adding italics, and more. In addition to supporting 2D and isometric projection, LibreCAD also supports, QCAD extending its capabilities to include planimetric, dimetric, cabinet, and cavalier projections.
While LibreCAD lacks standout features, as most functions are also available in QCAD. Therefore, when making a comprehensive comparison, QCAD remains the most recommended choice for users seeking a robust and versatile 2D CAD solution.
How to Use QCAD? Is There a QCAD Tutorial?
Certainly! QCAD is easy to use thanks to its straightforward interface. Even if you're a beginner, you can quickly get the hang of it. There are plenty of QCAD tutorials available to help you get started with QCAD.
The official QCAD website offers a plethora of information, including user manuals, getting-started guides, and video tutorials. These resources are readily accessible to teach you both the basics and advanced features of QCAD. Furthermore, QCAD boasts an active user community that is often eager to assist newcomers. You can engage in QCAD forums and pose questions to receive guidance and support from experienced users.
Does QCAD Have an API?
Yes, QCAD does have an API. QCAD provides a simple API in ECMAScript that can streamline common tasks, such as adding arcs, circles, and other entities. This API allows users and developers to create custom scripts and automate various design functions, making it a valuable tool for extending QCAD's capabilities.
Conclusion
This concludes our QCAD review. Overall, QCAD is a highly recommended software, with its notable strengths lying in its user-friendly interface and rich set of 2D drawing tools. Even if you're a beginner, QCAD's smooth learning curve will make you handle it effortlessly.
QCAD is a solid choice for users who don't require advanced features or only need basic drawing capabilities. For those who demand both 2D and 3D capabilities in their CAD software, we've presented an alternative. ZWCAD emerges as a cost-effective solution, offering a wealth of 2D drawing and 3D modeling features, efficient performance, and an intuitive interface. Additionally, it supports a one-time payment model, making it a compelling choice.
Ultimately, your choice should be based on your specific needs, budget, and the complexity of your design projects. Comparing options and exploring alternatives will help you find the right CAD tool that enhances your productivity and meets your design requirements.