Whether in the commercial or residential sector, layout design is absolutely essential. It aids in spatial planning, enhances functionality and aesthetics, and creates interior environments tailored to specific needs. Today, professional interior designers often rely on layout design software instead of manual drawing. Having the appropriate software can be a game-changer. So, what is the best software for layout design?
In this comprehensive guide, we will introduce you to the top 8 layout design software options for 2023, both free and paid. Whether you are an interior designer, architect, or simply someone looking to plan a room layout, we have you covered. Just read on to discover the perfect tool for your specific needs.
Choosing the Right Layout Design Software: Key Considerations​
The best layout design software enables designers to easily adjust furniture, decor, and layouts to ensure efficient space utilization and meet clients' preferences. Selecting the ideal program for layout and design involves careful considerations. To make the right choice, here are some key factors to keep in mind:
Budget: Determine your budget for layout design software. There are both free and premium options available. However, it should be noted that many free software options have limitations, especially when it comes to handling larger or more complex projects. If budget constraints are a concern, it's wise to explore software solutions that offer free trials and affordable pricing.
Ease of Use: A user-friendly editing interface allows you to make quick and easy modifications to your layouts, whether it's adjusting furniture placement, wall configurations, or other design elements.
2D and 3D Capabilities: Ensure that the software provides both 3D and 2D floor planning capabilities. This versatility allows you to create detailed, 3D renderings for a comprehensive view, as well as traditional 2D floor plans for precise measurements.
Room Templates: Room templates can save you valuable time when designing various spaces. Check if the software includes a library of pre-designed room templates that you can adapt and modify to suit your needs.
Import and Export Capabilities: The ability to import and export files in various formats (e.g., CAD files, PDFs, image formats) is vital for collaboration and project compatibility. Ensure the software supports the formats you need.
Additional Integration: Depending on your specific needs, look for features like real-time collaboration, cloud-based storage, and compatibility with other software you use. These additional features can significantly impact your workflow and project efficiency.
Detailed Review of the Best 8 Layout Design Software​
Now, let's dive into our detailed reviews of the top 8 layout design software for 2023. We'll explore their features, advantages, and drawbacks, ensuring you can make an informed decision for your layout design needs.
Top 1. ZWCAD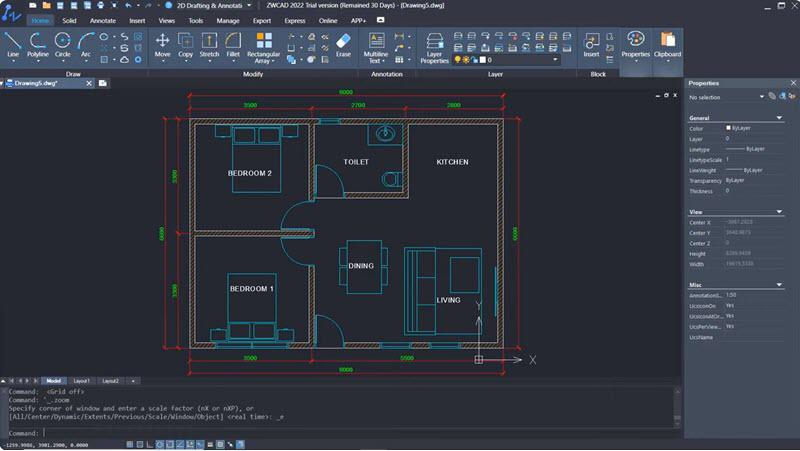 When it comes to layout design software, ZWCAD has always been a choice favored by users. It stands as a dependable 2D CAD solution, offering an extensive array of drawing tools and accurate dimensioning and annotation tools. These toolsets enable you to create interior floor plans and specify the positioning and dimensions of elements such as walls, windows, doors, and furniture, making you feel like working with pen and paper.
ZWCAD also excels in 3D modeling. With robust 3D modeling and visualization capabilities, you can craft intricate 3D interior designs. You're allowed to customize materials and textures to achieve realistic surface appearances, spanning from floors to walls and furniture. Moreover, it permits the integration of furniture, lighting fixtures, and various decor elements, facilitating the creation of lifelike interior scenes.
One distinctive feature that sets ZWCAD apart from other CAD software is its array of smart features, such as Smart Plot (enabling batch plotting of multiple drawings at once) and Smart Voice (allowing users to add annotations using voice messages), which significantly reduce the tedious and unnecessary workloads.
What places ZWCAD at the top of our list isn't solely its exceptional performance and efficient operations but also its affordability. This powerful software to design room layout provides a rich set of advanced features while remaining budget-friendly. It comes with a trial version and one-time payment price plans, which are cost savings over the long term.
Pros:
Precise and intelligent 2D drawing tools.
Incredible 3D modeling and visualization capabilities.
Efficient operations and user-friendliness.
Cloud sharing for up-to-date CAD file access.
Various price plans and lower cost.
Cons:
Primarily designed for Windows and Linux operating systems
Online community for new users' guidance is not extensive enough.
Top 2. AutoCAD
AutoCAD is a household name in the world of layout design, known for its extensive capabilities in both 2D and 3D design. Whether you're sketching floor plans or creating lifelike 3D renderings, AutoCAD offers the tools to bring your vision to life. Users who have experienced it appreciate AutoCAD's seamless transition between 2D and 3D environments, which is particularly advantageous when visualizing complex interiors.
AutoCAD comes with parametric drawing features. These tools allow for the establishment of geometric and dimensional constraints, which simplify design modifications while maintaining precision. Interior layouts require accurate dimensioning and comprehensive documentation. AutoCAD offers annotation and documentation tools to help designers label designs, ensuring precision and clear communication in their projects.
The most attractive feature for layout designers is that this powerful home design software owns extensive symbol and block libraries, where you can access premade architectural elements, furniture, and fixtures and finish a home or office layout design at super fast speed.
Pros:
High precision and accuracy in creating drawings and designs.
Consist of specific drafting tools.
Easy editing and modification of drawings.
Allow multiple team members to work on the same project simultaneously.
Easy customization through the use of custom scripts and plugins.
Cons:
Relatively high price, not budget-friendly.
Offer a steeper learning curve, particularly for beginners.
Top 3. MicroStation
Developed by Bentley Systems, MicroStation is also a versatile layout design software offering a comprehensive set of drafting tools that enable designers to create accurate 2D geometry.
However, where MicroStation truly excels is in 3D modeling and visualization. Its rich 3D modeling tools encompassing furniture, decor, and spatial arrangements, empower you to craft 3D models of interior spaces. You can also apply materials and textures to different parts of the model to enhance realism. This is particularly beneficial for elements in interior design, such as furniture, flooring, walls, and decorations. Better still, MicroStation supports real-time rendering, enabling you to instantly preview the model's appearance during the design process without having to wait for rendering to complete.
While MicroStation can be a huge help in layout design, it is primarily tailored for infrastructure design. In the context of interior layout design, it may lack some specialized tools required for the task when compared to software like ZWCAD and AutoCAD. Its furniture and decor libraries are also somewhat limited.
Pros:
Advanced 3D modeling capabilities, facilitating the handling of complex layout designs.
Compatibility with both Windows and Mac operating systems.
Excellent compatibility with various file formats, promoting collaboration.
Seamless integration with other Bentley Systems products.
Cons:
Offer a steep learning curve, which can be challenging for new users.
lack some specialized features for layout design.
Relatively high cost, which may be a barrier for smaller businesses or individual users.
Top 4. DraftSight
If you're seeking a professional interior design software best for 2D drawing, then DraftSight is your go-to choice. It serves as a powerful office layout planner, offering a comprehensive suite of editing, design, and automation tools. Designers can utilize its 2D drawing tools to create office layouts, including walls, doors, windows, corridors, and other architectural elements. Moreover, it enables the placement of desks, chairs, file cabinets, and other furniture items to visualize the office's furniture arrangement.
Should you wish to denote distinct colors or materials for walls, floors, or ceilings in your office or home, DraftSight allows for precise labeling and representation. It supports various file formats, including DWG (AutoCAD's native format), DXF, and DWT. This facilitates smooth collaboration and file sharing with clients and colleagues using different CAD programs.
Many people transitioning from AutoCAD have praised DraftSight for its ease of use, with its familiar interface facilitating a seamless onboarding experience. It's an affordable CAD solution that doesn't skimp on features, delivering a user-friendly experience.
Pros:
Easy-to-use interface.
Extensive tools for editing, designing, and automating 2D drafting.
Multi-platform support: available on Windows, Mac, and GNU/Linux.
Cost-effective, offering a low-cost CAD solution.
Cons:
Lack of robust 3D modeling and visualization features, as DraftSight primarily focuses on 2D.
Not stable enough, constant crashing issues.
Limited customer support, which may not be comprehensive enough for some users.
Top 5. Draft it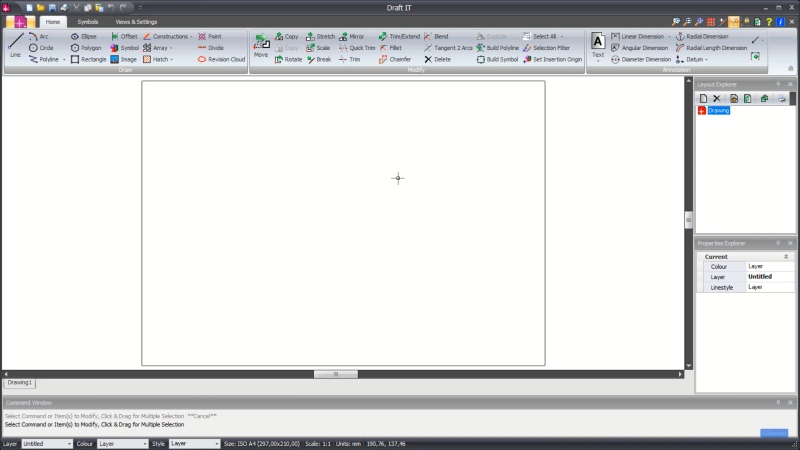 The software DraftSight introduced above used to be completely free to use (before 2019), but it is now a program that requires payments. If you prefer free tools, Draft it is an alternative to consider. With Draft it, you can create, print, and save your own drawings and designs with no restrictions and unlimited access.
It offers a powerful set of drawing tools, including line, arc, circle, rectangle, offset, rectangular, polar & linear arrays, to help you create accurate and professional drawings for your layout design projects. When drawing, the system displays dynamic dimensions, allowing you to intuitively check distances and dimensions, or you can input dimensions directly.
Draft it supports metric and imperial units so that you can completely customize and set your own measurement units to suit your specifications. It has an intuitive and user-friendly interface, so you can quickly create 2D drawings, plans, and technical diagrams whether you have technical skills or not. In addition to the free version, Draft it also offers Draft it Plus, Draft it Pro, and Draft it Architectural to cater to the diverse design needs of different users.
Pros:
Offer a free version with various 2D drawing tools.
Intuitive UI.
Easy to get started for new users.
Cons:
Limited features and functionalities compared to other professional CAD software.
Draft it Free doesn't support 3D modeling.
Top 6. QCAD
QCAD is a free layout design software that's available on multiple platforms, including Windows, macOS, and Linux. It's known for its user-friendly and intuitive interface. You can get started with it without any CAD experience. Moreover, QCAD offers a wide range of tools, such as 20+ modification tools and 40+ construction tools. So you can create preliminary designs, sketches, and concepts for buildings, houses, kitchens, and more with ease.
QCAD stands out with its robust layer management capabilities. This feature allows you to organize drawing elements into layers, which is essential for maintaining design clarity, especially in intricate and complex layout drawings. You can effortlessly drag and drop graphical elements onto the canvas, which simplifies the process of building your drawings. The software also provides basic image editing functions, enabling you to make modifications, perform rotations, scale elements, or add annotations to your graphics with ease.
Pros:
Free to use.
Simple but robust text options, fills, snap points, and drawing tools for 2D CAD work
Quick and easy to draw things.
Cons:
No advanced 3D modeling and rendering features.
It's a little unstable sometimes.
Top 7. Planner 5D
Planner 5D is a highly popular layout design software thanks to its extensive object library, which includes furniture items, fixtures, appliances, and decor elements. If you're looking to quickly complete your designs, you can easily select the elements you want in the library and add them to your layout, making it a breeze to furnish and decorate your interior spaces.
Planner 5D offers a free version and affordable plans, which is perfect for students or new designers seeking cheap CAD software options. It primarily operates as an online platform, meaning you can access it via a web browser without the need for installation. This web-based nature allows for cloud-based storage and collaboration, which is convenient for users who prefer to work on their interior designs from various devices and locations.
Additionally, Planner 5D has mobile apps available for iOS and Android, meaning that you can access your projects anywhere. After completing your 2D drawings, you can seamlessly switch to 3D mode for rendering and visualize your designs in a realistic and immersive manner. Furthermore, Planner 5D offers a VR mode for an even more immersive experience, enabling users to explore their designs in virtual reality.
Pros:
User-friendly interface.
Ability to work in both 2D and 3D models.
Extensive object library for a wide range of design elements.
Offers immersive VR and AR experiences for design visualization.
Cons:
Limited access to premium furniture and advanced features with the free version.
May feel a bit overwhelming for users who prefer a simplified design experience.
The web-based version doesn't support 3D printing
Top 8. PlanningWiz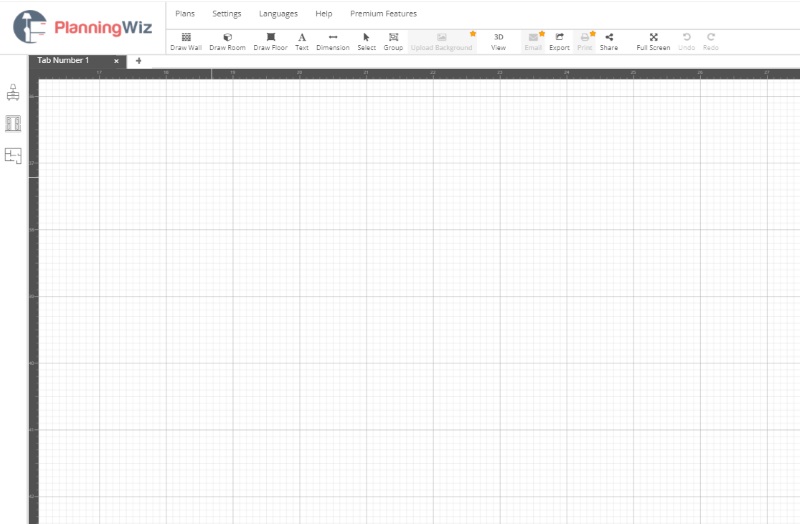 PlanningWiz is one of the best room layout design software available, designed to assist users in effortlessly creating floor plans, interior layouts, and furniture arrangements, be they simple or complicated. Its primary advantage lies in being a web-based floor planner, which empowers anyone to generate professional-looking floor plans and room layouts online. PlanningWiz is exceptionally intuitive and user-friendly. Even novices can create professional floor plans with the help of experts.
With PlanningWiz, you can easily manipulate room and object dimensions, shapes, and orientations to your liking. You can upload a blueprint or start from scratch. When you finish the floor plan, you will be able to export HD file formats like PNG, PDF, and SVG. In addition to 2D drafting, this online service also offers 3D rendering capabilities. So you can demonstrate to customers how furniture and equipment will fit within their rooms. Since PlanningWiz is an online tool, it includes a reporting panel that provides real-time data, offering users insights into how the software is performing on their site.
Pros:
User-friendly interface for easy navigation.
Offers a free version.
Customization options for rooms and objects.
Realistic 3D visualization for immersive design experiences.
Cons:
Limited features in the free version.
Primarily intended for planning and designing interior spaces, lack features in other industries.
FAQs About Layout Design Software​
Are There Any Helpful Tips for Layout Design?​
In the process of design, layout design software can significantly enhance your precision and efficiency. However, it's equally important to consider a set of straightforward yet effective design tips before embarking on the creative journey. These tips not only enhance the visual appeal of a room but also elevate its practicality, ensuring that the final design harmoniously blends form and function.
Whether you're decorating a family living room, a bedroom, an office, or any other space, adequate lighting, both natural and artificial is essential. It's better to have a mix of lighting, including ambient, task, and accent lighting, which not only brightens the room but also sets the mood and ensures that spaces are well-lit and inviting.
Plus, arrange furniture for a sense of balance and proportion. Avoid pushing all the furniture against the walls; instead, create cozy conversation areas by grouping furniture together. Besides, don't overcrowd your layout with too many elements. Whitespace (also known as negative space) is essential for readability and visual appeal. It provides breathing room for the content and allows viewers to focus on what's important.
Last but not least, take into consideration the flow of movement within a room. Be mindful of how people will navigate the space and arrange furniture to allow for smooth and unobstructed traffic patterns. This ensures both functionality and safety in your design.
Does Layout Design Software Support Real Measurements and Dimensions?​
Yes. The ability to work with accurate measurements and dimensions is a fundamental feature that separates professional design software from basic graphic tools. Real measurements and dimensions allow designers to work with precision. This is especially critical in fields such as interior design. It ensures that the final product or space will function as intended.
Besides, accurate measurements and dimensions enable designers and clients to visualize the final product or space realistically. This helps in making informed decisions about the design's feasibility and aesthetics. In some cases, inaccuracies in design can result in costly errors during the production or building process. Layout design software that supports real measurements can help prevent such mistakes, saving time and money.
Final Verdict
CAD Software
Type
Ease of Use
File Formats Supported
Price Plans
Platforms
ZWCAD
2D+3D
Easy to use
DWG, DXF, DWF, DGN, STL, etc
Free trial: 30 days

Perpetual: $899 (Standard)

$1199 (Pro)

Windows, Linux
AutoCAD
2D+3D
Moderate

DWG, DXF, DWF, PDF, etc
Free trial: 30 days

Yearly: $1679

Windows, macOS, Web

MicroStation
2D+3D
Moderate

DGN, DWG, DXF, etc
Free trial: 14 days

Yearly: $2135

Windows
DraftSight
2D
Easy to use
DWG, DXF, DWT, etc
Free trial

Yearly: $249 (Pro)

$549 (Premium)

Windows, macOS, Linux

Draft it
2D
Easy to use
DWG, DXF, PDF, etc
Free version

Perpetual: $24.55 (Draft it Plus)

$121.51 (Draft it Pro)

$244.25 (Draft it Architectural)

Windows
QCAD
2D
Easy to use
DXF, DWG, SVG, PDF, etc
Free version

Yearly: $42 (Pro)

Windows, macOS, Linux
Planner 5D
2D+3D
Easy to use
PDF
Free version

Yearly: $399.99

Web
PlanningWiz
2D+3D
Easy to use
DWF, DXF, etc
Free version

Monthly: $20.52 (Pro)

Web
There is no one-size-fits-all software. If you're new to design, it's crucial to consider whether the software's features, ease of use, compatibility, and pricing align with your specific requirements when selecting the best layout design software.
All these 8 options we've explored for you have their own strengths and weaknesses. If your primary requirement is 2D drafting functionality, DraftSight, Draft it, and QCAD are all excellent choices. QCAD, in particular, is well-suited for beginners and designers on a budget due to its open-source nature. For those seeking both 2D and 3D capabilities, the remaining options stand out: ZWCAD and AutoCAD provide comprehensive feature sets, while Planner 5D and PlanningWiz are web-based alternatives.
Among these options, we highly recommend ZWCAD. It not only accommodates a wide range of design requirements but is also user-friendly. Additionally, it offers a one-time purchase option, which can lead to significant cost savings in the long run.