Landscape design software offers a convenient and efficient way to explore, plan, and communicate ideas for outdoor spaces, making the design process more streamlined and interactive. It is helpful in creating refined and detailed visualizations of your backyard or garden. You can organize elements such as walkways, patios, pools, plant beds, and fences. Also, experiment with different configurations and see how they fit in the available space.
Here we dig out the 10 best landscape design software on the market to save you time finding a needle in a haystack. Whether you're a beginner or a professional, you're able to pick a preferred choice here that is tailored to your specific needs.
---
Content
---
Benefits of Using Landscape Design Software
If you're not sure whether such a program can be a helping hand, let's check out the benefits that it can bring to you. The best landscaping software will no doubt make all the design workflows easy and efficient.
Visualization – Experiment with various design options, including plants, hardscapes, and structures to create a realistic representation of your future landscape.
Time and Cost Efficiency – Plan and organize your landscape design without the need for physical experimentation, and thus save time and money without making physical changes.
Accurate Measurements: Help you accurately measure your outdoor space and ensure precise placement of elements, such as pathways, flower beds, or structures.
Plant Selection – Allow you to explore different vegetation options in their extensive plant libraries, and make informed decisions about the choice and placement of plants in your landscape design.
Collaboration – Allows easy sharing of design proposals, revisions, and feedback, which ensures that everyone involved is on the same page and can actively contribute to the landscape design.
Problem Solving – Identify potential issues in your design, such as drainage problems or insufficient sunlight, and make necessary adjustments to create a more functional and sustainable landscape.
The 10 Best Landscape Design Software Introduced
After hands-on testing, here comes the best landscape design software for Mac and Windows along with advantages and disadvantages. You can focus on their features and capabilities to see if any of them lives up to your expectation.
Top 1. ZWCAD (2D & 3D)
ZWCAD is a versatile solution for all your design needs. It offers detailed 2D drawings and 3D modeling capabilities for visualizing your outdoor spaces. This software boasts high compatibility with DWG, DXF, DWT, and other widely used CAD file formats. Thanks to its impressive features and tools, ZWCAD makes it easy to streamline your landscape design process.
The Flexiblock feature accelerates your workflow with customizable parameters and actions. You can tailor blocks to your specific requirements. In addition, the software includes other useful 2D drafting features such as Auto-Complete Command Input, Layer Properties Manager, Layer Jump, Bulk Purge, and MLeaders.
Furthermore, ZWCAD provides a wide range of tools to assist in modeling, viewing, and visualizing your landscape design. The Point Cloud feature allows you to capture, manage, and edit data to improve design accuracy. To make the design process more intuitive and user-friendly, ZWCAD offers functionalities like Smart Plot, Smart Mouse, Smart Select, and Smart Voice. With an intuitive interface and powerful features, ZWCAD works as the best landscape design software for beginners and professionals.
Pros
Cons

Easy to use.
Support 2D & 3D design.
Offer a wide range of tools and add-ons.
Compatible with various file formats.
Suitable for nearly all industries.
Offer customization options.
Allow one-step migration.
Ensure smooth and stable performance.
Provide a 30-day free trial.
Top 2. VizTerra (3D, Professional)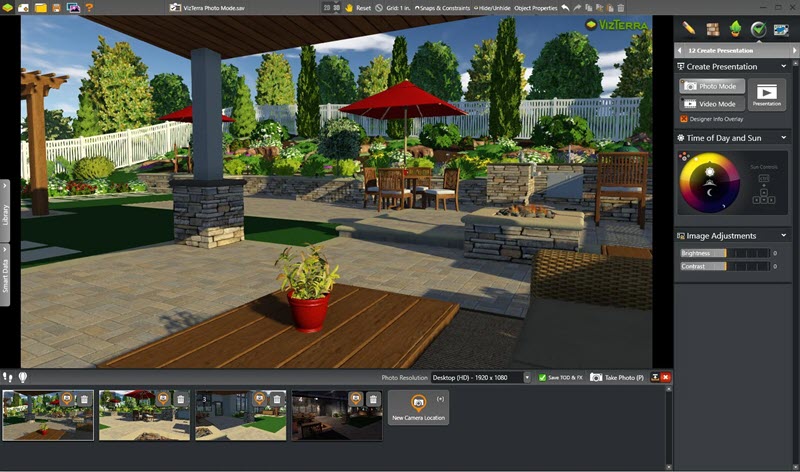 VizTerra is a professional landscape design software in the landscaping and outdoor design industry. It is suitable for experienced users who want to create stunning and immersive 3D presentations of their landscape projects. It offers an extensive range of features and tools that bring landscape designs to life and let designers effectively communicate their vision to clients.
This software supports the creation of detailed landscape plans and construction documents. You can generate 2D plans, elevation views, and sections. Meanwhile, it provides an extensive library of pre-built 3D objects and materials as well as offers a diverse selection of plants, rocks, pavers, and other landscaping elements.
It utilizes a drag-and-drop approach, allowing users to effortlessly place and manipulate various landscape elements such as plants, trees, structures, water features, and outdoor furniture. Customization options are also available which allows you to adjust colors, textures, and dimensions to match your specific design requirements. With VizTerra, users can create highly detailed and lifelike 3D renderings of their landscape designs.
Pros
Cons

Professional to use.
Offer a smart library.
Present design in photo mode or video mode.
Provide measurements and calculation tools.

Only support Windows operating system.
Expensive for beginners.
Top 3. PRO Landscape (2D & 3D, Multi-Device Access)
PRO Landscape is CAD for landscape design that assists professionals in creating immersive landscape designs with a powerful suite of tools and features. It employs sophisticated rendering techniques to generate lifelike representations of your design and enables you to visualize the final result before any physical work begins.
Using PRO Landscape, you can leverage its robust library of plants and hardscape materials to construct virtual landscapes with utmost precision and realism. You can add and arrange various elements directly to your landscape design like trees, shrubs, flowers, outdoor structures, patios, and more. This enables you to visualize how different plants will look and interact within the landscape.
In addition to its powerful design tools, it also offers functionalities for estimating project costs, generating professional proposals, and managing client data. With these integrated features, you can streamline the workflow, enhance communication with clients, and improve overall project management. From conceptualization to visualization, PRO Landscape makes everything simpler and easier.
Pros
Cons

Allow multi-device access.
Provide an extensive library.
Offer collaboration features.
Enable you to estimate cost.

Do not support macOS.
Expensive to get started.
Top 4. Realtime Landscape Architect (2D & 3D, Professional)
Realtime Landscape Architect is all-around cheap landscape CAD software specifically designed for experienced landscape designers, architects, and contractors. With an intuitive interface and robust features, it provides you with tools to create, visualize, and present stunning landscape 2D drawings & 3D designs.
This professional landscape design software offers a vast array of design tools to create beautiful and detailed landscape designs. It includes an exclusive library of pre-drawn objects and materials of over 22,700 items, including 7,800 plants, symbols, color washes, hatch patterns, and gradients. You can easily draw and manipulate elements such as buildings, hardscapes, plants, and outdoor structures in the design. Moreover, you can even create swimming pools and spas.
Then, you can get an accurate sense of how the landscape design will look and feel once implemented. Also, you can apply materials, textures, and lighting effects, or even simulate various weather conditions to create immersive visualizations. To revive your outdoor space, Realtime Landscape Architect will be a good helper.
Pros
Cons

Offer a large library.
Ensure advanced 3D rendering.
Sell at an affordable price.
Create cost estimates and material lists.
Turn a photo into realistic 3D.

No macOS version.
Not suitable for beginners.
Top 5. AutoCAD (2D & 3D)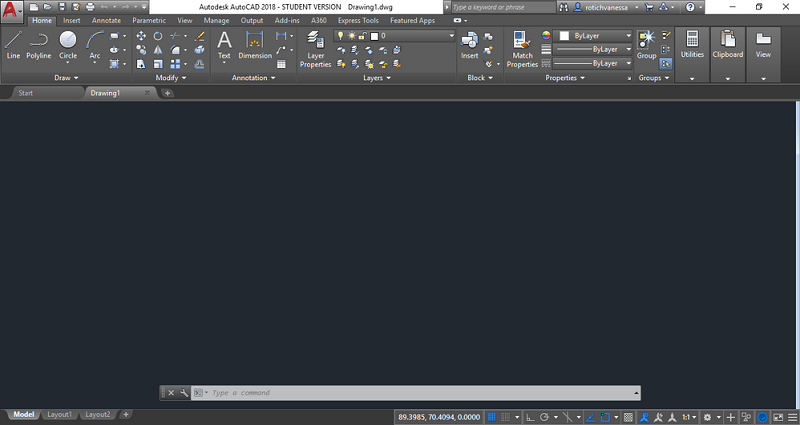 AutoCAD is a versatile computer-aided design software widely used in various industries, including landscape design. It's available on both Windows and macOS. What's more, it provides tools and features for anyone to create accurate layouts and models of landscapes. Also, its multi-user collaboration tools enable real-time teamwork and communication.
You can create detailed 2D drawings, including site plans, grading plans, planting plans, and construction details. The software also offers 3D modeling tools that enable you to create visually compelling and realistic representations of landscapes. Moreover, it offers an extensive library of pre-drawn symbols, blocks, and components commonly used in landscape design. This includes a variety of plants, trees, hardscapes, furniture, and other elements.
As CAD software for landscape design, it offers robust drafting tools to create intricate landscape plans, accurately plot measurements, and establish precise alignments. This layout design software ensures high precision that everything in your landscape design is scaled with real-world dimensions and seamlessly integrates with other elements. Landscape designers and architects can make use of AutoCAD to create 2D drawings or 3D models that save time, cost, and materials.
Pros
Cons

Support Windows and macOS.
Provide efficient workflows.
Work on web, mobile, and computer.
Tailor the software with toolsets, APIs, and apps.
Offer great collaboration capability.

Costly to purchase.
Complicate for newbies.
Top 6. nanoCAD (2D & 3D)
nanoCAD is an all-inclusive CAD software that is widely used across industries, not to mention landscape design. It has a familiar user interface for anyone to get down to creating the ideal layout design for outdoor spaces. It supports various common CAD formats, including DWG and DXF that ensures seamless collaboration with clients, colleagues, and other CAD software users.
This CAD for landscape design offers a robust set of drawing and editing tools and supports parametric and constraint-based design. This enables you to define relationships between objects and update designs automatically as parameters change. With nanoCAD, you can effortlessly create detailed 2D layouts, accurately depicting elements such as pathways, plant beds, water features, and structures.
Its 3D modeling tools enable you to bring your landscape designs to life and give clients a captivating visualization of their future outdoor spaces. Meanwhile, it also includes a learning center and video tutorials for beginners to master the software.
Pros
Cons

Applicable to many industries.
Offer tutorials for beginners to learn.
Support various file formats.
Add APIs to strengthen the functionalities.

Do not offer an element library.
Charge additionally for 3D modeling.
Top 7. Lumion (Best 3D Rendering)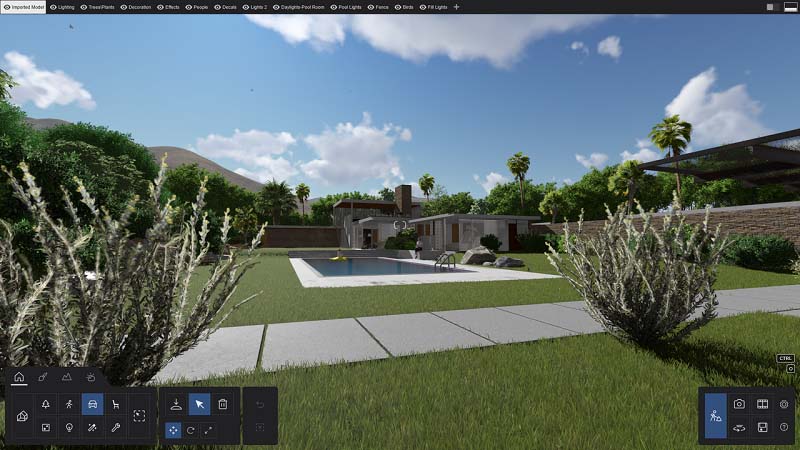 Lumion is one of the best landscape design software that comes with a powerful 3D rendering capability. It's able to design not only spaces outside your home but also big projects like city parks, residential neighborhoods, etc.
Lumion's real-time rendering engine allows landscape architects to visualize their designs with stunning accuracy. It can show the elements of the design and the surrounding context as you see them in real life. What's more, with the click of a LiveSync button, it automatically renders your 3D models and beautifies your landscape design.
Moreover, Lumion offers a content library that contains 6,224 models of nature items like flowers, plants, grasses, leafless trees, pieces of forest wood, and more. It also contains animated and static 3D men, women, children, pets, furniture, cars, etc. There is a new feature, called OSM satellite maps, that allows you to download beautifully detailed maps across the world. If you're working on a big project, Lumion will be an optimal solution.
Pros
Cons

Offer powerful and life-like rendering.
Provide an extensive library of all kinds of objects.
Download maps from places.
Present designs with high-quality preview effects.

Limit library resources based on plans.
Bad at 2D drawing.
Top 8. Dynascape Sketch3D (3D, Intuitive)
Dynascape Sketch3D is an innovative solution that empowers you to create breathtaking and lifelike representations of your landscape projects. It allows you to break free from the limitations of flat, 2D drawings and truly visualize your designs in a stunning three-dimensional environment. You can effortlessly transform your visualization into highly realistic blueprints that showcase every detail of your imagination.
This easiest landscape design software has an intuitive interface that is designed to streamline the design process and ensure a seamless user experience. You can easily navigate through landscape designs, manipulate objects, and make precise adjustments, all with just a few clicks. It also offers a wide range of tools, including terrain modeling, plant placement, hardscape design, and lighting effects. Moreover, it allows you to work on or share your designs from anywhere.
The software also includes a large inventory of 3D elements from SketchUp's 3D warehouse. The library now has over 1,000 models of landscape items and still continues to expand. You can search, drag, and drop objects to your design, including plants, trees, shrubs, landscape accessories, textures, outdoor kitchens, water features, pools, and planters. In short, Dynascape Sketch3D enables you to create comprehensive and visually striking landscapes while ensuring accuracy for cost savings.
Pros
Cons

Offer an expanding library.
Easy for anyone to get started.
Ensure fast and stable performance.

Pay for different capabilities separately.
Do not support Macs.
Top 9. SketchUp (3D, Free Version, Web-Based)
SketchUp is a top-rated 3D design program with several versions, including SketchUp Go, SketchUp Pro, SketchUp Studio, and SketchUp Free. The last one can work as free landscape design software for people from all skill levels. It also offers a cloud-based service that makes it easy and accessible for anyone. Thanks to its intuitive and familiar interface, it can be a suitable CAD software for beginners.
From sprawling gardens to urban parks, SketchUp offers a range of tools and features specifically tailored to the unique needs of landscape architects. With its easy-to-learn design principles, even beginners can quickly grasp the fundamental concepts and start shaping their design visions. Moreover, it provides powerful rendering options to create stunning, photorealistic visualizations of landscape designs.
SketchUp's vast library of ready-made 3D models allows landscape architects to populate their designs with buildings, trees, plants, and various landscape elements. This extensive collection of assets eliminates the need to create every component from scratch and significantly accelerates the design process. With its extensive plugin ecosystem, you can also extend the software's functionalities. For anyone who has no prior knowledge of landscape design, give a shot at SketchUp, 3D landscape design software free of charge.
Pros
Cons

Support both Windows and Mac.
Offer a free version without an extra fee.
Have an in-built object library.
Provide cloud-based service to access it anywhere.
Sell at an affordable price.

Do not expand the library frequently.
Tend to have error syncing designs on platforms.
Top 10. GARDENA myGarden (2D, Web-Based, Free)
GARDENA myGarden is a free and open-source landscape design software that is designed for beginners and children to have fun designing their dream gardens. This interactive web-based platform provides a range of features and functionalities that inspire creativity while simplifying the design process.
This free 2D CAD software offers an extensive online library for all types of items, surfaces, houses, plants, ponds, pools, furniture, and leisure objects. There are more specific and lifelike models under every category. You can simply drag and drop your preferred items into the design to create your own backyard.
Furthermore, the community adds an extra dimension to the software. You can connect and interact with others in the landscaping industry to exchange ideas, find inspiration, and learn from each other's experiences. GARDENA myGarden offers a comprehensive solution to unleash your creativity and turn your landscape design visions into reality.
Pros
Cons

Accessible on any device.
Suitable for kids and newbies.
Provide an in-built library.
Free to design landscape layouts.

Do not support 3D modeling.
Lack of advanced features.
Do not work on professional projects.
FAQs About Landscape Design Software
What Software Is Commonly Used for Landscape Design?
ZWCAD, AutoCAD, and VizTerra are popular choices for professionals. All of them offer a wide range of 2D and 3D design tools not only for 2D landscape design but also for transforming them into 3D models.
Also, they support plugins and customization that allow users to extend the functionality of the software based on the specific needs of their projects. What's more, they allow users to easily import and export various file formats and collaborate with other design tools or team members. In addition, there are large user communities and extensive support resources for people to drill down on the software.
How Can I Make My Own Landscape Online for Free?
Actually, you can find many web-based services that let you create your own landscape on the internet. There are popular options like:
GARDENA myGarden: Free 2D landscape design software for kids and beginners to design gardens.
VegPlotter: Easiest landscape design software for anyone to manage allotments and gardens.
TimberTech Deck Designer: Online 3D designer for anyone to start with a template or from scratch.
Is There a Free App to Design Landscape?
As introduced above, SketchUp has a free edition and GARDENA myGarden is an online free platform for anyone. However, both of them come with limited features and work efficiency. If you are a professional landscape designer, you can try ZWCAD. It's the best CAD software for professionals and provides a 30-day free trial and one-time purchase to save money in the long run.
What is the Best Landscape Design Software for Mac?
Due to the exclusive eco-system of Apple products, there are not many choices left for Mac computers. In this guide,  you may give it a go at AutoCAD or SketchUp, which are available for Mac. If you want a rich-feature pick, AutoCAD is no doubt the best landscape design software for Mac. If you want a free pick, then, take SketchUp.
Conclusion
| | | | | | |
| --- | --- | --- | --- | --- | --- |
| | Type | Best for | Ease of Use | Platforms | Price |
| ZWCAD | 2D & 3D | Anyone | Easiest | Windows, Linux | Subscription starts at $322/year; Perpetual purchase starts at $899 |
| VizTerra | 3D | Professionals | Easy | Windows | $1008/year |
| PRO Landscape | 2D & 3D | Professionals | Difficult | Windows | $1,495 |
| Realtime | 2D & 3D | Professionals | Difficult | Windows | $599 |
| AutoCAD | 2D & 3D | Anyone | Difficult | Windows, Mac | $1,975/year |
| nanoCAD | 2D & 3D | Anyone | Easy | Windows | $448/year |
| Lumion | 3D | Professionals | Difficult | Windows | $749/year |
| Dynascape | 2D & 3D | Anyone | Easiest | Windows | $1860/year |
| SketchUp | 3D | Beginners | Easy | Windows, Mac, Web-based | $349/year |
| GARDENA | 2D | Beginners | Easy | Web-based | Free |
Before making any decision, you may take a look at the comparison table above. If you're looking for free landscape design software, then SketchUp Free is good for 3D modeling while GARDENA myGarden is a free 2D garden planner. Both of them are also suitable for beginners.
However, if you want to create lifelike and detailed representations, professional landscape design software is worth taking into consideration, including ZWCAD, PRO Landscape, AutoCAD, and Lumion. For those who work on different types of projects, opt for ZWCAD, which is applicable to all industries with an intuitive interface and smart features.