Whether you're a homeowner who wants to have a pool in your backyard or a house designer who wants to visualize the dream pool of your clients, pool design software is always a great help. It enables you to visualize and create detailed plans for your pool project. Also, you can experiment with different shapes, sizes, layouts, and features to ensure you get the perfect design.
What's more, it makes it easier to communicate your ideas and concepts to professionals involved in the construction process, such as architects, contractors, and pool builders. You can also save time, money, and potential regrets before construction begins. Here we round up 7 top options in the market and you may want to get the best pick to help you simulate how your pool will look while meeting your aesthetic preference.
---
Contents
---
Key Factors to Keep in Mind When Picking Pool Design Software
Before we go any further, you can check out some of the key factors that will help you choose the best pool design software that meets your needs, aligns with your skill level, and delivers the best value for you.
Cost – Evaluate whether the price aligns with your budget and the value you expect to receive from the pool design software. See whether it offers different pricing models, such as one-time purchases, monthly subscriptions, or tiered plans with varying features.
Current Skill Level – Evaluate your current skill level and technical expertise. If you're a beginner or have limited experience with design software, look for options that provide comprehensive tutorials, customer support, and user-friendly interfaces. On the other hand, if you're already experienced or have design expertise, you might prioritize software with advanced features and customization options.
Learning Curve – Consider the learning curve associated with the pool design software. Will you need extensive training or a significant amount of time to become proficient in using it? Opt for user-friendly options with intuitive interfaces and ample training resources that can save you time and effort during implementation.
Available Features – Consider the specific features offered by each pool design software. Look for features such as 3D rendering, customizable templates, material libraries, accurate dimensions, landscaping tools, and compatibility with other design software. Assess whether these features align with your requirements and enable you to create the desired pool design.
The 7 Best Pool Design Software Recommended
Now, let's go through the top 7 best swimming pool design software in 2023. All of them have their own benefits and shortcomings introduced afterward.
Top 1. ZWCAD
ZWCAD is a top-rated CAD expert developed by ZWSOFT that aims to make it easy for anyone to design everything for any application. It offers a wide range of 2D drawing tools and 3D modeling/viewing/visualizing features for you to design your dream pool in the backyard. It's well-compatible with common CAD file formats including DWG, DWF, DWT, IFC, PDF, PNG, JPG, and more.
The software offers an intuitive interface from Classic or Ribbon, Dark or Light that enables beginners or other CAD software users to take no time to familiarize themselves with it. What's more, it brings advanced tools like Lisp Debugger, Quick Calculator, Match Property, Object Isolation, Block Attribute Manager, etc. There are also smart features awaiting you to explore including Smart Plot, Smart Select, Smart Voice, and Smart Mouse. ZWSOFT insists on developing more and more useful features to boost your design work.
Moreover, you can add apps, plug-ins, and APIs to extend the functionality that tailors to your needs. With its remarkable hardware acceleration, it ensures smooth performance at a fast speed during the whole pool design process. ZWCAD also includes a cloud-based feature that enables you to save your designs in the cloud and access them on desktop or mobile. Be you a beginner or a professional, ZWCAD is the best pick to bring your ideal pool to life.
Pros
Cons

Easy to use for anyone.
Work on Windows and Linux
Provide mobile apps on Android and iOS for flexible file viewing.
Support 2D & 3D design in all industries.
Offer a wide range of tools and add-ons.
Provide customization options.
Allow one-step migration.
Ensure smooth and stable performance.
Provide a 30-day free trial.
Top 2. BricsCAD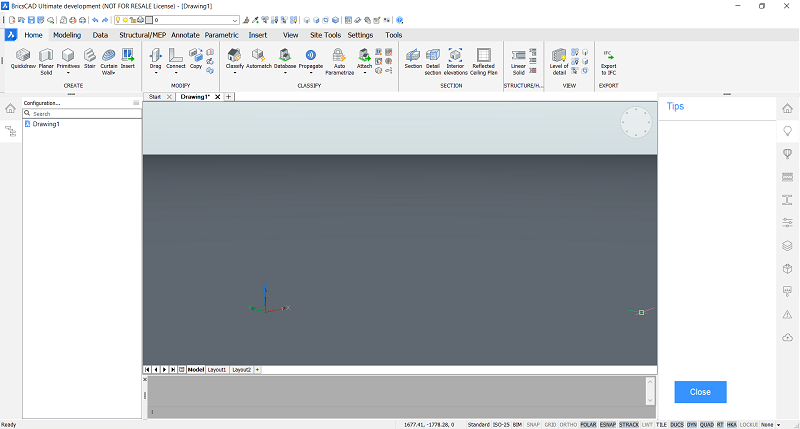 BricsCAD is a leading CAD program built for engineers, architects, manufacturers, product designers, etc. It stands out for its robust 2D drafting, 3D modeling capabilities, and seamless industry-standard workflows. It empowers you to create precise, efficient, and visually stunning designs let alone pool visualizations.
Working as one of the best home design software, BricsCAD offers a robust toolset and an intuitive interface to support your creative process. It allows you to sketch intricate pool layouts, design water features, and landscaping, and simulate lifelike renderings. Moreover, it offers extensive training resources, including tutorials, documentation, and webinars that let you make the most out of the software. Bricsys' dedicated support team is also readily available to assist you 24/7.
One of Bricsys' key selling points is its commitment to perpetual licensing. It provides you with the freedom to own the software outright rather than being tied to a monthly/yearly subscription. This approach can help businesses and individuals save long-term costs. If you're involved in different projects in addition to pool designs, BricsCAD can help bring your visions to life with precision, efficiency, and stunning results.
Note: By comparing to other programs, BricsCAD is more expensive with similar features. You can check other inexpensive CAD solutions before deciding which to use.
Pros
Cons

Offer online training and YouTube videos.
Allow migration from other pool design software.
Offer tools for civil/survey, mechanical, and BIM.

Best for engineering design.
Expensive to start.
Only support Windows.
Top 3. Pool Studio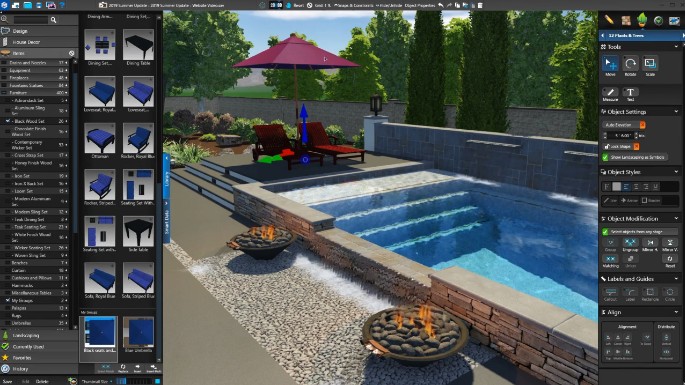 Pool Studio is a 3D pool design software that revolutionizes the way designers conceptualize and showcase their pool designs. It offers an intuitive interface that allows you to effortlessly navigate and design with precision. Moreover, it offers 3 drawing tools and 5 editing tools to make it a cakewalk to create amazing pool drawings. It also enables automotive 3D rendering to visualize your pool in detail.
It also includes thousands of beautiful landscaping models in the extensive library like flowers, trees, shrubs, ground cover, and much more. What's more, it provides thousands of objects for you to add the hand-crafted, 3D finishing touches. Also, if you want to customize every surface in your pool design, this professional swimming pool design software enables you to choose an extensive array of beautifully rendered materials from pavers to bricks, concrete to tiles.
Its Photo and Video Mode will deliver a crystal-clear representation in up to 8K resolutions to amaze you and your client. Are you ready to dive into the world of immersive and lifelike 3D swimming pool design? From creating intricate pool shapes to incorporating water features, landscaping elements, and lighting effects, you have full control over every aspect of your design with Pool Studio.
Pros
Cons

Offer a vast and versatile library.
Provide surface options of types of materials.
Draw in 2D and turn into 3D.
Offer photo and video mode.

Costly for beginners.
Best work for home desgins.
Top 4. LibreCAD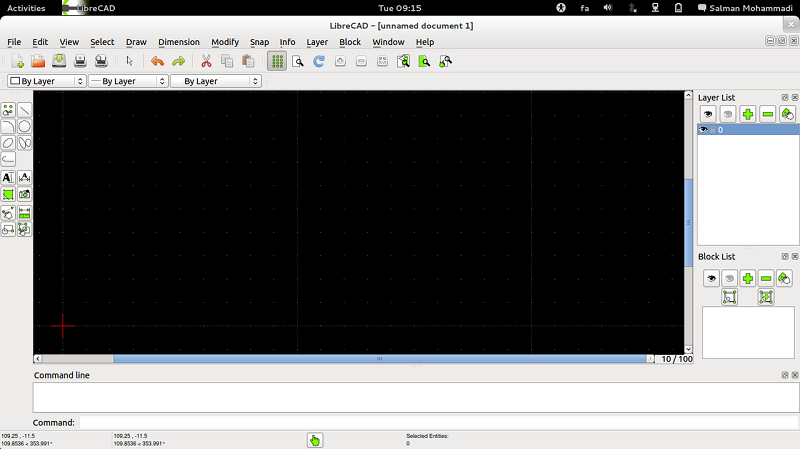 LibreCAD is an open-source pool design software free to use for 2D drawings available for Windows, macOS, and Linux. It supports a variety of file formats, including DWG, DXF, and SVG. That ensures compatibility and seamless integration with other design software. Regardless of your level of expertise, LibreCAD's accessible interface and intuitive tools make it easy to start your pool design for free.
This free 2D CAD software offers an extensive set of drawing tools from lines and polylines to curves and splines. It also provides a diverse array of tools to help you create intricate and accurate designs. You can add dimensions, text, and annotations to your pool drawings that convey your design ideas with clarity and precision. Additionally, it supports layers and blocks that let you organize and manage complex projects with ease.
As an open-source software, LibreCAD benefits from a vibrant and supportive community of users and developers. The community actively contributes to its development which ensures regular updates, bug fixes, and the introduction of new features. No matter the challenge you encounter, you can rely on the community's expertise and assistance through forums, wikis, and online resources.
Pros
Cons

Free and open-source to use.
Support various operating systems.
Offer manuals and assistance in its forum.

lack of advanced features.
Top 5. SmartDraw
SmartDraw is an affordable web-based 2D design tool that offers a free trial for designing pools online. You can access your pool designs from anywhere, at any time. This provides flexibility for remote work and collaboration through shared projects. In addition, it integrates seamlessly with other popular design tools and platforms to ensure a smooth workflow and efficient transfer of data, including Microsoft Office, Google Workspace, and Atlassian apps.
As one of the remarkable layout design software, it offers a comprehensive set of tools specifically tailored for pool design to effortlessly create stunning and accurate pool layouts. With its drag-and-drop functionality, you can easily place pool shapes, adjust dimensions, and add features like steps, decks, and water slides with precision. It allows you to integrate surrounding elements such as landscaping, hardscaping, and outdoor living spaces into your designs.
As an added advantage, it offers extensive collaboration and sharing features. You can easily export your pool designs as high-quality images, share them with clients or team members, and even print them in large formats for presentations. If you want to work on a project with your team from anywhere, SmartDraw can be a good option to consider.
Pros
Cons

Easy to scale and draw a pool.
Compatible with apps and platforms.
Allow cloud storage.
Share drawings in PNG/SVG or as a link.
Offer a library of thousands of templates and symbols.

Paid to use.
Rely on a good network.
Top 6. Planner5D
Planner5D is an online tool that allows you to create room design and interior decoration in 2D & 3D without any special skills. Meanwhile, being free pool design software, it also can be used to design a pool online free of charge. It offers a comprehensive set of tools specifically designed to bring your pool ideas to life. You can start from its dedicated templates, for example, a two-story house. Then, you can start designing your dream pool outside.
It enables you to create precise and detailed pool layouts with ease. You can customize the dimensions, shape, and placement of your pool, as well as add essential features like steps, benches, and lighting. The 3D rendering feature provides a realistic and immersive experience. This pool rendering software is said to take only seconds to convert a 2D design to a fully-furnished 3D mockup, which is faster than most similar software.
It not only offers an extensive library of pool-specific design elements, including deck materials, water features, landscaping elements, and furniture, but also provides detailed tutorials on YouTube for beginners to master the platform. Whether you're a professional designer or a homeowner with a passion for creating beautiful outdoor spaces, Planner5D empowers you to turn your pool design dreams into reality.
Pros
Cons

Provide 3D models and objects.
Enable 360° panorama viewing.
Offer realistic 4K renders.
Simplify the collaboration and execution.

Best for floor designs only.
Break down under bad connection.
Top 7. Realtime Landscaping Architect
Realtime Landscaping Architect is a CAD software available for Windows 10/11 that is widely used by architects and home designers. It enables you to design both above-ground pools and below-ground pools with ease. Moreover, it lets you use infinity edges to create an optical illusion that makes your pool design more stunning and appealing. You may also turn the pool into SPAs and hot tubs choosing from a variety of different in-built styles and materials.
The software offers a vast library of design elements of over 22,700 items to make your design more vivid and lifelike. You can choose from a wide range of pre-designed pool shapes, materials, water features, landscaping elements, and furniture to create a custom design that suits your style and preferences. In addition, there are more than 300 accessories specially curated for pool designs that enable you to personalize your pool designs.
This landscape design software also lets you add a pool light and adjust the lighting condition as needed. When done, you can change between the 2D plan view and the 3D perspective view in just a click. Moreover, you can upload your pool plan to a cloud storage service, print it, or send it to your client by email. With its advanced features, user-friendly interface, and realistic 3D rendering capabilities, Realtime Landscaping Architect brings your pool design visions to life like never before.
Pros
Cons

Provide thousands of items and pool accessories.
Turn pools into SPAs and hot tubs.
Offer infinity-edge effects.

Best for landscaping and house designs.
Only support for Windows 10 and 11.
FAQs About Pool Design Software
How Can Pool Design Software Help in Creating the Perfect Swimming Pool?
Pool design software allows you to create ideal pool designs with a streamlined process. Moreover, you can make real-time modifications to your design and experiment with different layouts, shapes, and features. Through realistic 3D rendering, you can visualize your pool design from different angles and perspectives.
This helps you identify any design issues, make necessary adjustments, and ensure that the final result meets your expectations. Moreover, some of the best pool design software includes cost estimation features that help you determine the budget required for your project.
Can Pool Design Software Work for Both in-Ground and Above-Ground Pools?
Yes. Most pool design software enables you to design both in-ground and above-ground pools. However, there are some things you should pay attention to when designing a pool. First, ensure that the software supports the type of swimming pool and specific features you require for your plans. Second, consider the installation of relevant equipment and piping, such as pumps, filters, and drainage systems if you're designing an in-ground pool.
Third, consider the cost differences between above-ground and in-ground pools. Underground pools are typically more expensive due to excavation and underground construction. Last but not least, ensure that you accurately measure the dimensions of the pool site before starting the design process.
Conclusion
| | | | | | | |
| --- | --- | --- | --- | --- | --- | --- |
| | Type | Best for | Ease of Use | Platforms | Price | Stability |
| ZWCAD | 2D & 3D | Anyone | Easy | Windows, Linux | Subscription starts at $322/year; Perpetual purchase starts at $899 | High |
| BricsCAD | 2D & 3D | Anyone | Easy | Windows, Mac, Linux | $314/year | High |
| Pool Studio | 2D & 3D | Professionals | Medium | Windows | $147/month | Medium |
| LibreCAD | 2D | Beginners | Medium | Windows, Mac, Linux | Free | Medium |
| SmartDraw | 2D | Anyone | Easy | Online | $9.95/month | Low |
| Planner5D | 2D & 3D | Beginners | Easy | Online, Windows, macOS | Free | Low |
| Realtime Landscaping Architect | 2D & 3D | Professionals | Medium | Windows | $599/one-time | Low |
After taking a comprehensive look at the 7 best pool design software, do you get a preferred pick now? If you still have no idea, then here are the suggestions.
Try LibreCAD or Planner5D if you're looking for free pool design software.
Try Pool Studio and Realtime if you're looking for a professional pool designer.
Try ZWCAD if you want to enjoy the best pool design experience with advanced features on different devices. Also, it's a good deal to opt for a one-time purchase and enjoy lifetime benefits.