MicroStation and AutoCAD are both popular CAD software that are widely used to create, edit, and analyze 2D and 3D designs. While sharing some similarities in CAD capabilities, each of them has its appealing features. AutoCAD has a better, cleaner interface whereas MicroStation has a complicated interface with toolbars. However, Microstation has tools for batch processing while AutoCAD requires you to write routines to automate tasks.
Moreover, some people who like using a mouse may have a crush on MicroStation, but those who prefer to use a keyboard will be into AutoCAD. When comparing MicroStation vs AutoCAD, there is no clear winner. What is suitable for you makes it the best choice. Therefore, let's learn about the advantages, disadvantages, and differences between them here and see which one is good for you.
---
Contents
---
MicroStation vs AutoCAD: Advantages and Disadvantages
Now, let's start to figure out what MicroStation and AutoCAD are along with their silver linings and downsides.
MicroStation is an engineering design software developed by Bentley Systems. It is primarily used for computer-aided design (CAD) and drafting in various industries such as architecture and construction. With MicroStation, professionals can create, edit, and analyze 2D and 3D designs for infrastructure projects like buildings, roads, bridges, and more. It provides a range of tools and features to support the design, visualization, and documentation processes.
AutoCAD is an architectural CAD software by Autodesk. It is also widely used in various industries such as architecture, engineering, and construction for creating 2D and 3D designs. AutoCAD provides a comprehensive set of tools and functionalities to aid in the creation, modification, and documentation of designs. It allows users to draw precise geometric shapes, apply dimensions and annotations, generate 3D models, perform simulations, and create detailed layouts and drawings.
MicroStation
AutoCAD
Advantages

Interoperability – Allow seamless collaboration with other software applications and formats.
Industry-Specific Solutions – Provide customized solutions tailored to specific industries such as architecture, civil engineering, and geospatial mapping.
Powerful 3D Visualization – Excel in 3D visualization and rendering to create realistic and detailed models.
Geo-Coordination Capabilities – Offer extensive geospatial referencing and geographic coordination tools.
Perpetual License – Allow for one-time purchase and save money for long-term use.
Smooth Performance – Ensure a quick and fluent workflow in processing designs.

Widely Used– Have a large user base and extensive resources available.
Versatility – Offer a wide range of tools and features for both 2D and 3D design.
Extensive File Compatibility – Support multiple file formats for users to collaborate and share designs with others.
Customization Options – Enable users to create scripts, macros, and plugins to tailor the software to their specific needs.
Strong Community Support – Have an active and supportive community for users to exchange knowledge and seek assistance.
Great Compatibility – Available on Windows, macOS, and Linux.

Disadvantages

Less Popular – Have a smaller user base compared to AutoCAD, which may result in fewer available resources, tutorials, and community support.
Less Resources – While MicroStation does have learning resources available, they may be relatively less abundant compared to AutoCAD.
Compatibility Challenges – Compatibility issues may arise when sharing designs with AutoCAD users or other CAD software users.
Windows Only – Do not work on macOS or Linux.

Cost – Allow for subscription only and cost a lot beyond long-term use
High System Requirements – Demand substantial hardware resources, such as memory and graphics capabilities.
Sluggish Performance – Process designs and commands at a slow rate.
What Are the Differences Between MicroStation and AutoCAD?
Being CAD software, MicroStation and AutoCAD share similarities beyond doubt, but they still have differences in terms of user interface, application, format interoperability, add-on extensibility, learning curve, and price. Let's take a quick look at the table below and take a deep dive into the following.
| | | |
| --- | --- | --- |
| | AutoCAD | MicroStation |
| User Interface | Toolbar menus and ribbon menus | Customizable toolbars and menus |
| Application | Architecture, civil engineering, mechanics, etc. | Specialized fields such as architecture, civil engineering, electricity, GIS, etc. |
| 2D Drawing | Powerful tools for accurate mapping | Supported |
| 3D Modeling | Supported | Powerful and advanced rendering capabilities |
| Format Interoperability | Support for DWG, DXF, and other formats, strong interoperability | Support DGN, DWG, and other formats with strong interoperability |
| Add-on Extensibility | More Versatile | Supported |
| Learning Curve | Simpler with tons of training resources, tutorials, and community support available to learners | More difficult with smaller learning resources and communities |
| Price | Expensive with a subscription only | Money-saving beyond long-term use |
User Interface
MicroStation has a unique interface that follows a ribbon-based menu system, similar to Microsoft Office. It offers customizable toolbars and icons, providing a user-friendly and intuitive experience.
AutoCAD has a classic interface with a menu bar and tool palettes. It also offers customization options that allow users to create their own workspace and personalize the interface to their liking.
Application
MicroStation is commonly used in industries such as architecture, civil engineering, geospatial mapping, and infrastructure design. It provides specialized tools and features tailored to these fields.
AutoCAD is a versatile CAD software used in various industries, including architecture, engineering, construction, manufacturing, and product design. It offers a wide range of tools and functionalities suitable for different applications.
Format Interoperability
MicroStation supports a variety of file formats and offers strong interoperability with other software applications. It can import and export files in formats like DWG, DGN, DXF, and more.
AutoCAD is renowned for its compatibility with the DWG format, which is widely used in the CAD industry. While it supports other formats as well, its interoperability with DWG is particularly seamless.
Add-on Extensibility
MicroStation offers a comprehensive development platform called MicroStation Development Language (MDL). It enables users to create custom applications, macros, and plugins to extend the functionality of the software.
AutoCAD provides several extensibility options, including AutoLISP (a scripting language), .NET APIs, and ObjectARX (a C++ programming interface). These options empower users to develop custom tools and automate tasks.
Learning Curve
MicroStation may have a steeper learning curve, especially for users who are more accustomed to AutoCAD. It has its own terminology, workflows, and interface, which may require additional time and effort to become proficient.
AutoCAD has a relatively gentler learning curve due to its popularity and extensive availability of learning resources. There are numerous online tutorials and communities that provide support for beginners.
Price
AutoCAD (2D+3D)
AutoCAD LT (2D Only)
MicroStation (2D+3D)

Subscriptions
$1,975/year

$5,925/3 years

$245/month

$490/year

$1,470/3 years

$60/month

$2,135/year (3 pcs)

Lifetime Plan
/
/

Reach out to the MicroStation Team to buy the perpetual license With SELECT according to your country and specific needs.($6,386 as of January 2022.)
The price of MicroStation can vary based on the license type (perpetual or subscription), and AutoCAD follows a commercial pricing model with different versions and licensing options available. As you can tell from the table, AutoCAD LT (a simplified version) offers a more affordable alternative compared to its full-featured version. Also, MicroStation can be a cost-saving option if you're going to use it for a long time.
Cost-Effective Alternative to AutoCAD and MicroStation You Should Know
To be honest, either MicroStation or AutoCAD is costly, especially for individuals and small businesses. There is also a more affordable alternative to AutoCAD and MicroStation with superior features for your reference.
ZWCAD is a cost-effective pick for both beginners and professionals in all industries. This excellent CAD software has flexible pricing and plans for different versions. Its standard version is set at $322 for a year and $870 for 3 years. Better yet, you can purchase the perpetual license respectively at $899 and $1,199 with the best value.
In addition to cheap plans, ZWCAD also insists on offering advanced capabilities for users. It provides a familiar environment for anyone to quickly get started with an intuitive interface, commands, and aliases from Classic or Ribbon, Dark or Light. Moreover, it has innovative features like File Compare (Discover the differences in two drawings at once), Area Table (Automatically calculate area and generate area tables), and Sheet Set Manager (View, access, manage, and plot several drawings in one panel).
ZWCAD utilizes a self-developed kernel and only adds the most useful features. Being a lightweight CAD software, it requires minimum specifications of 2GB RAM and 1GB graphics card to ensure a smooth performance 1.7x faster than AutoCAD. It also offers a 30-day free trial for you to give it a taste.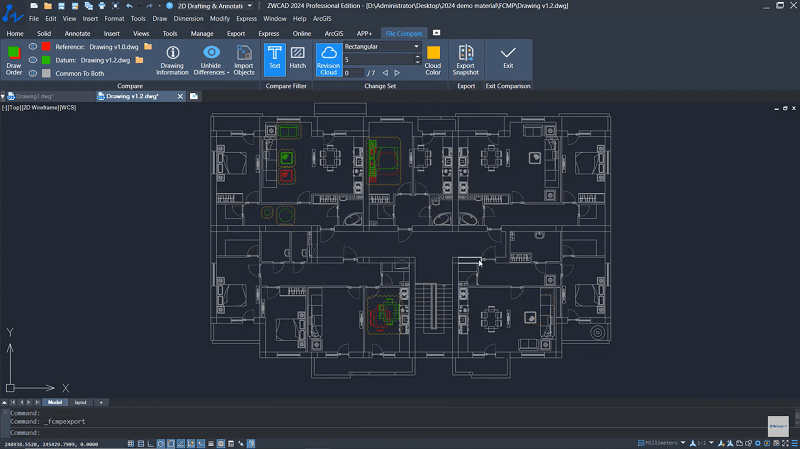 Summary
After comparing MicroStation vs AutoCAD, which one do you prefer? In short, MicroStation has a more powerful 3D modeling capability, flexible file compatibility, and a customizable user interface. In contrast, AutoCAD is a more popular choice with a vast user base, learning resources, and more versatile add-ons. If you attach importance to the pricing, ZWCAD is a more affordable pick with a familiar environment and amazing features as well.
FAQs About MicroStation vs AutoCAD
Why Is MicroStation Considered to Be Better than AutoCAD?
From MicroStation to AutoCAD, people always look for a better CAD program. Though AutoCAD is a popular CAD solution. MicroStation outperforms it with its excellent technology. Microstation is smoother, more powerful, and highly customizable than AutoCAD.
Most of the commands are built in MicroStation while you need to create special routines in AutoCAD. Moreover, settings and views are active in MicroStation Commands, but you need to restart the command to reuse it in AutoCAD. MicroStation also offers more affordable plans than AutoCAD. Meanwhile, it offers a lifetime plan that AutoCAD doesn't. That's why Autocad users are moving to Microstation but not vice versa.
Can You Convert MicroStation to AutoCAD?
Yes, you can switch to AutoCAD after comparing them comprehensively. Meanwhile, don't worry about your previous MicroStation files. Even though AutoCAD doesn't support DGN, you can convert DGN files to DWG files before using AutoCAD.
Launch MicroStation and choose the "File" tab to open the "Backstage" view.
Choose "Export" and select the DGN file you want to convert.
On the Export dialog box, select "AutoCAD DWG Files" and choose the DWG version.
Then, select "Option" > "General" > "Save As DWG/DXF". You can now open the file in AutoCAD.