AutoCAD is indeed a helpful CAD tool for designers, but it doesn't always get in the groove. Recently, quite a few users have reported that they're in trouble with the problem that the AutoCAD drawing file is not valid as the image is shown below.
In this case, the DWG file is not opening in AutoCAD, yet it's unable to confirm whether the file is corrupted or the software is malfunctioning. Now, let's grasp the idea of why this happens and how to fix such an annoyance with 8 solutions proven to make out in this guide.
---
Contents
---
Why Is Your AutoCAD Drawing File Not Valid?
There are many possible causes that will lead to the AutoCAD file not opening problem. Before we go through all the fixes, let's figure out why this is happening.
Hardware Failure – Hardware issues, such as bad memory (RAM) or storage (HDD or SSD) malfunction will make AutoCAD unable to open files, SO please first make sure your hardware is in good condition.
Transmittal Issues – If files get corrupted during the transfer process, make sure to use reliable transfer methods, such as FTP or a reliable cloud storage service.
Improper File Conversion – Make sure to perform file format conversions correctly when necessary to avoid format incompatibility issues or failure in the process.
Files Stored in the Cloud – If you're storing drawing files in the cloud, please download them to your local hard drive when needed. Sometimes, cloud sync tools can cause file problems.
File Location – The storage location of your drawing files should be accessible by AutoCAD. Make sure the file path is correct.
Files Downloaded from Outlook Express – Outlook Express 2007 is not a common source for AutoCAD files. Ensure that files aren't distorted or damaged during the download.
Non-Autodesk Data – AutoCAD is compatible with certain CAD file formats only like DWG and DXF.
VPN Connection Failed – Use a reliable VPN connection and ensure it remains stable.
File Encryption – If files are encrypted, make sure you have the correct decryption key to open the files.
File Length – Make sure that the file extension doesn't exceed 255 characters.
8 Solutions to Fix 'AutoCAD Drawing File Is not Valid' Issue
Now, you might as well try the following solutions and see how to fix drawing file is not valid in AutoCAD. If one doesn't work, get to the next one in order.
1. Locate the Backup or the Auto-Saved File
AutoCAD will create backup files (.bak) when a DWG file is automatically saved or is overwritten by another automatic save. Moreover, it has an auto-save feature that will create automatic save files (.sv$) by default every 10 minutes.
You can use the MOVEBAK command to locate the folder where all backup files are stored after they're created. If you want to find the location of autosave files, you can go to "Files" > "Options" > "Automatic Save File Location" on Windows PC while going to "Preferences" > "Applications" on Mac.
2. Make Sure That the File Format Is Compatible
If you're prompted that the AutoCAD drawing file is not valid, you should check whether you're working with a DWG or DXF file, which are compatible with AutoCAD. If yes, but it still cannot be opened, you can open it in other CAD software and save it again. Also, you can directly open the drawing file rather than open it through the shortcut.
Besides, you can open the drawing file with a text editor like Notepad to see whether it has the correct version code format that AutoCAD supports. AutoCAD's supported DWG version code formats including MC0.0, AC1.2, AC1.4, AC1.50, AC2.10, AC1002, AC1003, AC1004, AC1006, AC1009, AC1012, AC1014, AC1015, AC1018, AC1021, AC1024, AC1027, and AC1032.

3. Force Insert the Drawing
Here's a trick you can give it a shot. You can open a blank drawing file first in AutoCAD. Next, use the classic version of the INSERT command to force insert the previous drawing file that is not valid in AutoCAD. After that, see whether AutoCAD can open the drawing file now.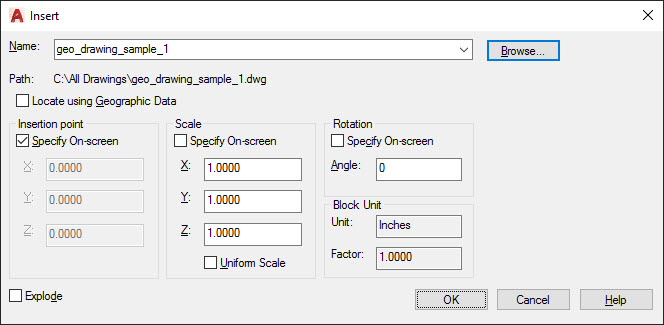 4. Use the RECOVER Command to Repair the File
Actually, AutoCAD has included some drawing utilities to deal with file corruption. Here we can take advantage of 2 commands ( Recover, and Purge) to fix the AutoCAD file not opening issue. Now, let's see how to use these commands to repair the problematic file.
Type "RECOVER" on the command line and choose the faulty file in the "Select File" dialog.
After checking the error, type "PURGE" on the command line. Then select all checkboxes and "Purge All".
Now, type "PURGE" again and enter "R" followed by "*". Finally, type "N" to verify and save the drawing.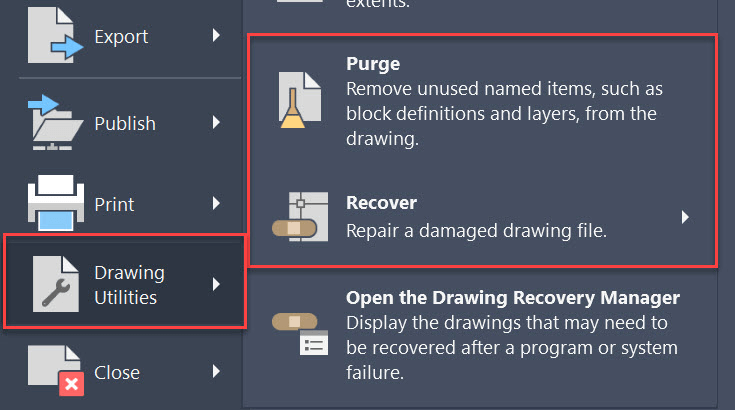 5. Use Autocad Drawing Recovery Manager to Recover the File
AutoCAD has introduced the Drawing Recovery Manager ever since 2006, and it will create backup and auto-saved files for you. Therefore, you can find your drawing files back when there was a crash before you could not open drawing files in AutoCAD.
Generally speaking, the AutoCAD Recovery Manager will automatically ask you whether to restore the .bak file or .sv$ file after a crash. Also, you can go to "Application" > "Drawing Utilities" to open the Drawing Recovery Manager manually. Then, choose a backup file or auto-saved file to restore.
6. Use Volume Shadow Copies to Restore the Drawing
Windows systems have an in-built feature known as VSS (Volume Shadow Copies Service). After enabling VSS, it will create copies of files and folders and enable you to restore them to previous states at later time points. The primary purpose of this feature is to provide support for data backup and recovery. Therefore, if you've made a copy with Volume Shadow Copies before the file is not valid, you can try to restore it to a previous state.
7. Investigate Environmental Factors
There are some environmental factors that may result in the "AutoCAD drawing file is not valid" error. Please follow the tips below to rule out one by one and get the error fixed.
Download the drawing file to local storage instead of directly opening it from a cloud service.
Unzip the drawing file rather than directly open it, or try to move it to another folder.
Move the drawing file to another location or disk and test whether it can be opened in AutoCAD.
Download the drawing file from the latest version of Microsoft Outlook.
Reduce the length of the file path, file name, and extension to make sure it's less than 255 characters.
If you receive the drawing file from social apps or email, redownload it or ask the sender to resend it.
Reinstall the cloud drive and disable the on-demand access if the cloud storage is the culprit.
8. Ask Autodesk Customer Support for Help
If you already try out all the solutions above but the error still persists, you may have to turn to Autodesk Customer Support for help. Autodesk has online support for technical issues, and you can look for help with its AI assistant.
Try the Best AutoCAD Alternative to Enjoy Stable and Smooth Operation
AutoCAD is a great CAD tool with no doubt but its bells and whistles are making it ultra-heavy and hard to get started. Moreover, it needs high system requirements to ensure smooth performance. After using it for hours, the software may start running slow and faulty. Therefore, using more lightweight but still powerful AutoCAD alternatives is suggested.
ZWCAD is a top-rated and compact CAD program that enjoys a great reputation worldwide. It has a familiar interface that lets you quickly get down to designing your artwork. It supports popular drawing files in DWG, DXF, DWT, PDF, JPG, and PNG and ensures that you can always open such files smoothly and quickly. Thanks to its exclusive technology, the overall performance can outperform AutoCAD at a 1.7x faster speed.
Moreover, it only comes with the most useful and advanced features like Point Cloud which can process complex point clouds seamlessly, Sheet Set Manager which lets you view, access, manage, and plot multiple drawings in one place, File Compare which can spot the differences between two drawings at once, and Area Table which can automatically calculate area and generate tables with ease.
In addition, this amazing tool also introduces its unique and smart features including Smart Plot, Smart Mouse, Smart Select, and Smart Voice. Meanwhile, it can work on any Windows PC with only 2GB RAM and 1GB graphics card. By comparison with AutoCAD's subscription, ZWCAD offers a perpetual license that you can enjoy forever updates and support after a one-time purchase.
>> Grab more cheap CAD programs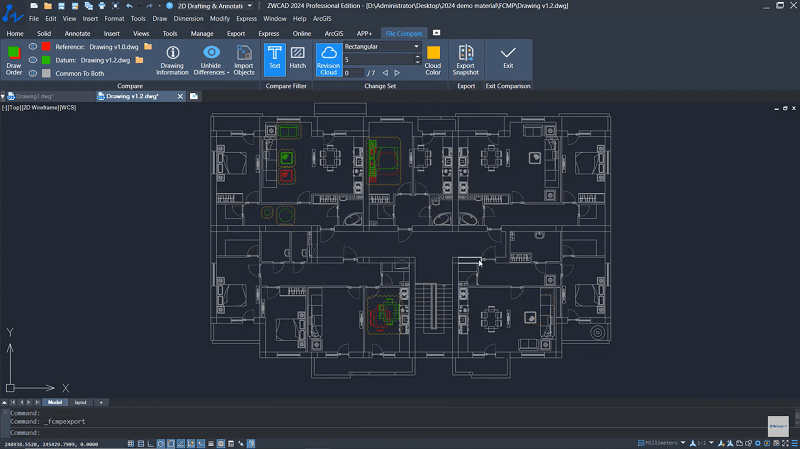 FAQs About 'AutoCAD Drawing File Is not Valid'
How Do I Know If My CAD File Is Corrupted?
A corrupted drawing is also unable to be opened in AutoCAD. To check whether your CAD is corrupted, you can follow the instructions below to have a test.
If the CAD software crashes, freezes or behaves abnormally when working with a specific file, it could be a sign of corruption.
Corrupted CAD files may exhibit missing or distorted 3D objects, surfaces, lines, or other elements within the design.
If the file size is significantly smaller or larger than expected, it could indicate data corruption.
If you are unable to save changes or export the file to other formats, it may be due to file corruption.
If text, dimensions, annotations, or attributes within the file appear missing, garbled, or unreadable, it suggests corruption.
How Can I Avoid AutoCAD Invalid Drawing File Issues?
The following tips are going to help you avoid the AutoCAD drawing file not valid issue. Let's take a look and grasp ideas.
Make sure to regularly back up your drawing files to prevent data loss.
Save your drawing files in reliable local drives or cloud storage.
Ensure that your AutoCAD software is up to date to receive the latest fixes and improvements.
Make sure drawing files are sent from reliable sources and transmitted in a compressed or secure manner.
Try to avoid using unofficial or unauthorized AutoCAD plugins and extensions.
Maintain your computer system in good condition by deleting unnecessary temporary files and junk files.
Final Words
The error that the AutoCAD drawing file is not valid doesn't always indicate your CAD file is corrupted or damaged. You can give it a shot at these 8 solutions to get the error fixed quickly on your own. Moreover, using the best alternative like ZWCAD is also an optimal workaround to ensure a smooth, streamlined, and flawless performance.