BricsCAD and AutoCAD are powerful CAD software, offering various features and capabilities for various designs, engineering modeling, and more. As the industry standard software, AutoCAD provides a comprehensive solution that can solve all your 2D drafting and 3D modeling requirements. However, its high subscription price has scared many people. When BricsCAD comes up, you may be curious about BricsCAD vs AutoCAD, which is better? Which one should you choose?
In this article, we will discuss the differences between BricsCAD and AutoCAD in various aspects, including features, prices, performance, and more to help you figure out which is much more suitable to fit your needs. Also, an excellent alternative to BricsCAD and AutoCAD will be offered in the following if these two are not the right options for you.
---
Content
---
What Is BricsCAD?
BricsCAD is seen as one of the best alternatives to AutoCAD since they have many similar features at a more affordable price. This powerful and versatile DWG-based CAD platform can help you to create professional 2D drawings and 3D models with ease in various industries, such as mechanical engineering, civil engineering, architecture, various designs, and more. Serving as one of the best engineering design software, it includes many unique features, such as parametric blocks, assembly modeling, stress analysis, and AI and machine learning tools to improve your workflow effectively.
Also, BricsCAD provides different versions to cater to the varying needs of users.
BricsCAD Lite is ideal for 2D drafting and detailing, designed to be user-friendly and affordable while offering essential drafting tools such as dynamic input, layer management, and dimensioning.
BricsCAD Pro is a full-featured 2D/3D CAD and modeling solution for professional users, which includes all the features of BricsCAD Lite and more advanced features such as 3D modeling, rendering, and scripting.
BricsCAD BIM is a highly efficient AI-driven BIM solution that helps in building design, construction, and management, with features such as parametric modeling, clash detection, and quantity takeoff for architects, engineers, and contractors.
BricsCAD Mechanical is specially designed for engineers to manufacture products, and it includes all the features of BricsCAD Pro, along with sheet metal design, assembly modeling, and kinematic analysis.
BricsCAD Ultimate is the most comprehensive version of BricsCAD that combines all the features of BricsCAD Pro, BricsCAD BIM, and BricsCAD Mechanical for ultimate productivity and efficiency.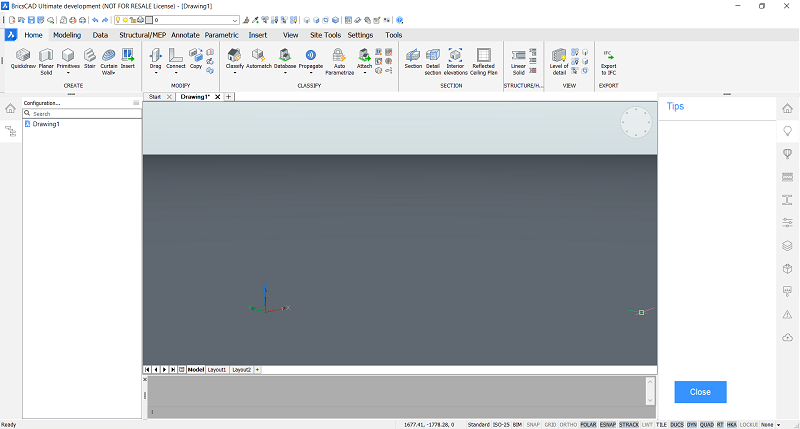 What Is AutoCAD?
AutoCAD is the industry-leading computer-aided drafting (CAD) software platform developed by Autodesk in 1987. It is a mature and well-established 2D and 3D CAD software application that is widely used by millions of professionals around the world, serving as one of the best CAD software for architecture, engineering, construction, manufacturing, and other industries.
Throughout its 30-year history, AutoCAD has continuously evolved into a highly capable and versatile CAD software platform. It can be used for various design tasks, from simple 2D drafting to complex 3D modeling. With its rich features and functionality, users can enjoy precise 2D and 3D drafting tools, powerful modeling capabilities with solids, surfaces, and mesh objects, as well as extensive documentation features for dimensioning, hatching, and text editing. Additionally, it provides collaboration tools like version control and markup tools as well. Whether you are a beginner or a professional, AutoCAD is the perfect solution for all your design needs.
However, such all-function CAD software can be an unpreferable option for many people mainly because of its high price, especially for small businesses and individuals. Also, some people said that it is bloated with features that you will never use, which also makes it difficult for beginners to get started. Overall, it is a great CAD software, but if you need a more streamlined set of features, then the AutoCAD alternative can be a more ideal option.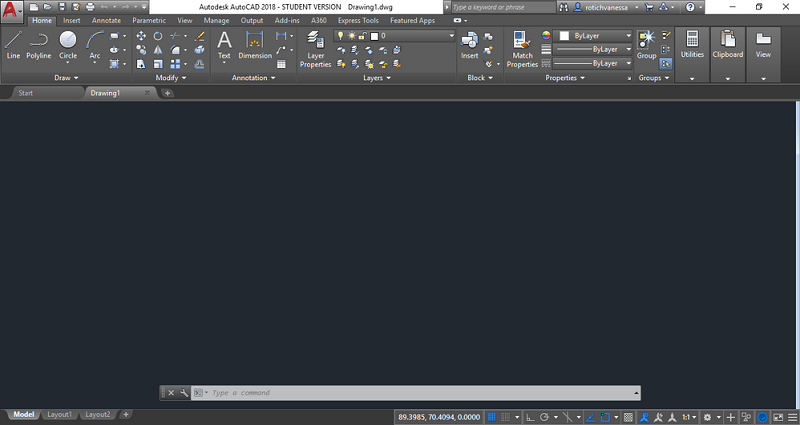 BricsCAD vs AutoCAD: A Quick Comparison
BricsCAD and AutoCAD are both excellent CAD software for 2D and 3D design on the market. To figure out AutoCAD vs BricsCAD, which is better, here is a quick comparison listing the key differences between these two for you.
BricsCAD
AutoCAD
UI & Ease of Use
More intuitive with a shallow learning curve
More complex with a steeper learning curve
2D Drafting
Yes
Yes
3D Modeling and Rendering Abilities
Yes
Yes
Plugins and Extensions
Fewer
More
File compatibility
DWG, DXF, DWT, DWF, PDF, ACIS, IGES, STEP, XCGM, JPEG, PNG, etc.
DWG, DXF, DWT, DWS, DWTx, DGN, SVG, PDF, EPS, TIFF, JPEG, PNG, etc.
Performance
Faster
Slower
System Requirements
Windows, macOS, and Linux
Windows and macOS
Licensing Prices & Licensing
Free trial,

Perpetual: Start at $590

1-year subscription: Start at $314

3-year subscription: Start at $850

Free trial,

1-month subscription: $245

1-year subscription: $1,975

3-year subscription: $5,925

Community Support
Smaller and less active
Larger and more active
BricsCAD vs AutoCAD: Explore Differences in Detail
In this part, we will show you the main differences between BricsCAD vs AutoCAD in detail. Which one is better, the industry standard or the up-and-comer? Let's go through the comprehensive comparison in the following.
Features
When it comes to CAD software applications for 2D drafting and 3D modeling, both AutoCAD and BricsCAD are popular choices that offer extensive features. However, AutoCAD is generally considered to be the more advanced and feature-rich application, boasting a wider range of 3D modeling tools, industry-specific tools, AutoCAD Mechanical compatibility, and advanced customization options. Also, it is the industry standard CAD software application, widely used by businesses and organizations of all sizes.
BricsCAD comes with several unique features such as AI and machine learning tools, LISP programming support, and DirectD3D support. Moreover, BricsCAD is also compatible with AutoCAD, making it a great option for users who need to work with AutoCAD drawings.
Performance
BricsCAD and AutoCAD have similar performance when it comes to basic 2D drafting and editing tasks. However, BricsCAD generally outperforms AutoCAD in terms of 3D modeling and rendering.
AutoCAD has been around for over 30 years, and it has accumulated a large codebase over time. This codebase includes all of the features and functionality that AutoCAD has to offer. However, the larger codebase also means that AutoCAD takes longer to load and start-up.
BricsCAD, on the other hand, is a newer CAD software program with a smaller codebase. This means that BricsCAD can load and start up faster than AutoCAD.
However, it is important to note that performance can vary depending on the specific hardware and software configuration that you are using. Therefore, it is always a good idea to test both BricsCAD and AutoCAD on your own system before making a decision.
System Requirements
Both BricsCAD and AutoCAD are demanding and require a good computer to run smoothly, but there are some key differences. Since AutoCAD is an all-in-one design solution, it has higher system requirements than BricsCAD. Additionally, AutoCAD is only compatible with Windows and Mac, while BricsCAD has higher compatibility, available to run on Windows, Mac, and Linux.  Here is some detailed information:
AutoCAD System Requirements
Operating system: Windows 10 (64-bit) or later, macOS 11 or later
Processor: 3+ GHz or faster (64-bit) multi-core processor
Memory: 8 GB RAM (32 GB recommended)
Display: 1920 x 1080 resolution or higher
Disk space: 10 GB available disk space
BricsCAD System Requirements
Operating system: Windows 8.1 (64-bit) or later, Ubuntu 20.04 or later, or macOS 10.15 or later,
Processor: 2 GHz or faster (64-bit) multi-core processor
Memory: 8 GB RAM (16 GB recommended)
Display: 1920 x 1080 resolution or higher
Disk space: 7 GB available disk space
Licensing & Prices
When choosing BricsCAD vs AutoCAD, pricing is always one of the major factors to consider. Currently, AutoCAD is offered on a subscription basis only with no perpetual licenses available. You can choose a monthly subscription at $245,  a yearly subscription at $1,975, or a 3-year subscription at $5,925. AutoCAD is the industry standard CAD software, but it is also the most expensive.
In contrast, BricsCAD is more friendly to small businesses and individuals, providing more flexible subscription purchase options, including Perpetual (starting at $590), 1-year subscription (starting at $314), and 3-year subscription (starting at $850 ). This gives users with different budgets more choices, making it a more affordable alternative that offers many of the same features as AutoCAD.
If you are looking for the most affordable option, BricsCAD is the clear choice. If you need an all-in-one design platform or are already invested in the AutoCAD ecosystem, then AutoCAD may be a better fit.
>> Check cheaper CAD software with similar features
Community Support
As for the comparison of community support between BricsCAD vs AutoCAD, AutoCAD has a much larger and more active community than BricsCAD. This is mainly due to AutoCAD being an industry-standard CAD software that has been around for a longer time.
The AutoCAD community boasts over 4.5 million users and 10 million posts, catering to both beginners and experts. This thriving community enables users to ask questions, share tips and tricks, and find solutions to problems. The wealth of knowledge and experience is readily available to AutoCAD users.
On the other side, the BricsCAD community is smaller and less active, but it is showing signs of growth. The community has over 100,000 members and 2 million posts. Although the BricsCAD community is less active than the official Autodesk forum, it is still a valuable resource for anyone looking for help with BricsCAD.
The Best Alternative to BricsCAD and AutoCAD You Should Know
AutoCAD is a robust and comprehensive design solution. However, its high price range makes it an unviable option for most individuals. Furthermore, its running speed is relatively slow. On the other hand, BricsCAD is one of the excellent alternatives to AutoCAD, offering a similar interface and commonly used CAD tools. It provides various purchase subscription plans to fit different budget needs. Nevertheless, the final price ($1,265) of BricsCAD Pro's full version is still a bit high for users on a strict budget.
Therefore, if you require powerful and affordable CAD software, we highly recommend ZWCAD, a next-gen 2D and 3D CAD software developed by ZWSOFT. It is used by a large range of professionals in the AEC and manufacturing industries, including architects, engineers, designers, and drafters. As a popular alternative to AutoCAD, it offers similar features and functionality at a more affordable price. Here are some advantages of using ZWCAD:
More affordable pricing: ZWCAD is significantly more affordable than AutoCAD, making it a more cost-effective solution for businesses and individuals on a budget. Moreover, ZWCAD Pro requires $1,199 for a lifetime purchase, which is a lower price compared to BricsCAD Pro.
High compatibility: ZWCAD is fully compatible with AutoCAD, allowing users to import and export DWG files seamlessly without any loss of data or functionality.
Ease of use: ZWCAD has a user interface that is very similar to AutoCAD, which means that users who are already familiar with AutoCAD can quickly learn and use ZWCAD. Additionally, it offers various tutorials and helpful resources to assist users in getting started.
Powerful features: ZWCAD offers the same features as AutoCAD, including 2D and 3D modeling, graphic design, and engineering analysis.
Fast and stable Performance: ZWCAD is optimized for speed and performance, requiring only 2GB RAM to provide fast and reliable performance, even when working with complex drawings.
As you can see, ZWCAD offers similar features to BricsCAD and AutoCAD but at a significantly lower price. This makes it an excellent option for users on a budget. If you are looking for a powerful, affordable, and user-friendly CAD software program, then we highly recommend ZWCAD.
FAQs About BricsCAD vs AutoCAD
Is BricsCAD Better than AutoCAD?
To some extent, the answer is yes. AutoCAD often needs more time to load files, resulting in slow opening and running speed. However, when you open BricsCAD, you can immediately proceed with the draft design.
Moreover, it supports the LISP Developer Support Package (LDSP), which can help users quickly solve problems encountered in design. In addition, the price of BricsCAD is far lower than that of AutoCAD. Users can obtain powerful features that are similar to AutoCAD at an affordable price.
BricsCAD and AutoCAD: Which Is Better for 3D Modeling?
AutoCAD vs BricsCAD, which one is better for 3D modeling? BricsCAD and AutoCAD are both powerful tools to consider. However, choosing the right software for your needs depends on your specific requirements and budget. BricsCAD offers an extensive range of 3D modeling tools, including solid modeling, surface modeling, and mesh modeling. On the other hand, AutoCAD also provides a vast variety of 3D modeling tools, but some of the more advanced features require additional add-ons.
As for the rendering engines, BricsCAD uses RenderMan, which is considered to be a very powerful engine. AutoCAD, on the other hand, uses Arnold, which is also capable of producing high-quality renders. However, RenderMan is generally considered to be the more powerful of the two. In terms of performance, BricsCAD is known for its speed and efficiency, particularly when working with large and complex 3D models.
Overall, BricsCAD is an excellent choice for 3D modeling as it offers a range of features, powerful rendering capabilities, and good performance at a lower price than AutoCAD. However, AutoCAD is still the industry standard for 3D modeling and is used by many large companies and organizations. It provides a wider range of add-ons and support resources, making it a popular choice in the industry.
Conclusion
When it comes to BricsCAD vs AutoCAD, it is hard to pick the best one. To sum up, BricsCAD is an ideal choice for those seeking CAD software that is both affordable and user-friendly, while still delivering good performance.
However, if you require a more comprehensive set of features and capabilities or compatibility with existing AutoCAD drawings, AutoCAD is the better option. It's worth noting that the software's performance may vary depending on the specific features and capabilities you use and the hardware you have. Additionally, if you're on a tight budget but still need a powerful CAD software alternative, ZWCAD comes highly recommended. Don't forget to share this post to help more people.